"Does Journalism Have A Future," headlines a New Yorker article from earlier this year, and it's a question many journalism students have considered at one point or another.
Newsrooms have been laid off around the country, many of which were local newsrooms, according to the Washington Post.
However, "Newsgathering isn't dying; instead, it's becoming stratified, with real implications for our knowledge of the world," reporter Christopher Daly said in an article for the Washington Post.
Social media platforms like Instagram and Twitter have substituted morning newspapers for many people under 35. When 18-24 years olds get their news, 45 percent of them do so via smartphone, according to research from the Reuters Institute.
In a survey of nearly three dozen students from Southern Methodist University (SMU), over 75 percent of students said they consume most of their daily news from social media platforms. In addition, nearly 90 percent of students either agree or strongly agree that they like to be informed about current events.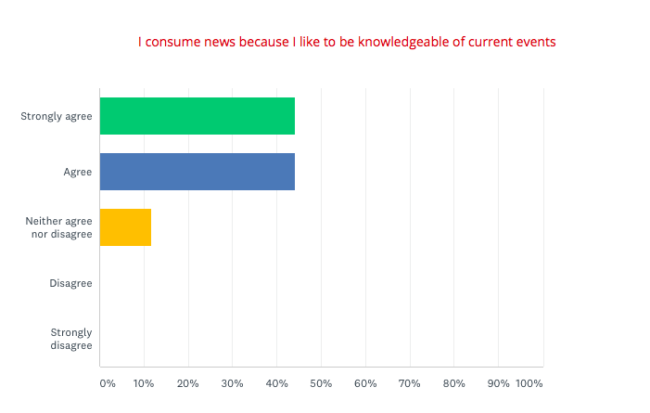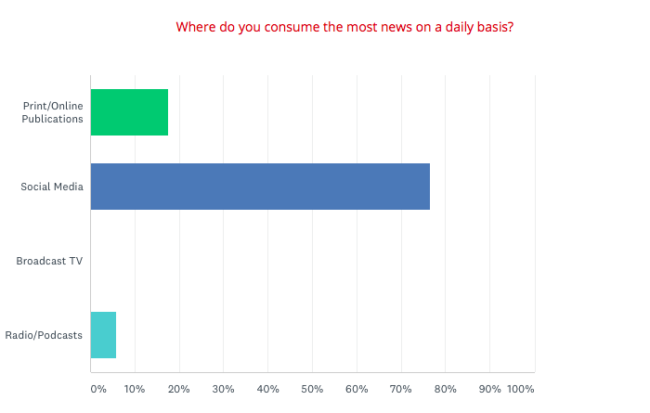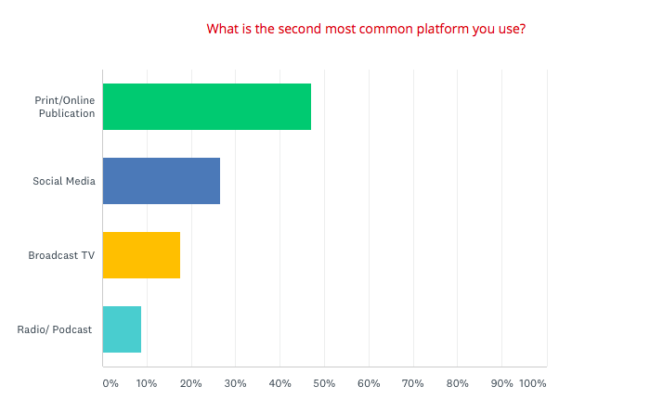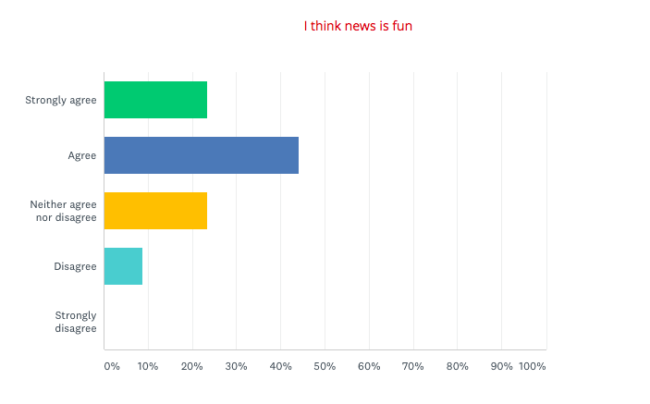 Not only are we consuming news in different ways, but the definition of being a journalist is also changing. Anyone with a smartphone or computer has the ability to write and share their stories.
Traditionally, journalists and publications were the mediators between news and the public. This is no longer the case.
Professor Jake Batsell of the SMU Journalism Department, offers a class called "Media Entrepreneurship" which helps journalism students navigate this new landscape. One of the students in his spring 2019 class was Dana Giles.
Giles had created an online media platform called "I Want The Real" (IWTR) which sought to bring light to taboo topics effecting young people such as drug addiction and dealing family trauma. The site quickly gained traction as readers began flooding to the website.
"When I released it [IWTR], it kinda formed on its own. I felt like I didn't necessarily do that much, but when people read it and heard about it, I felt like they were the catalysts," Giles said.
As a business major, Giles was unsure of how to direct this new hot spot she had created, so she enrolled in Batsell's class.
"She pro-actively reached out to me before the semester started and said that she wanted to come up with a business plan for her website. We worked together in the early stages of the semester to build out her community," Batsell said. "She put together a business expansion plan for the Provost's Big iDea's Contest, and actually won a $5,000 grant to expand the audience."
Listen to an interview with Giles here.
Giles used her grant to purchase the equipment needed to start a podcast. The episodes interviewed people like a Dallas Cowboys Cheerleader, a SMU student who struggled with an eating disorder, and a lacrosse player who got involved with drug dealing.
Giles graduated in May of 2019, and has decided to step away from IWTR at the moment due to the heavy nature of the topics discussed. However, she is just one of several other students on the SMU campus who are journalism entrepreneurs.
Belle Campbell is a SMU junior from Little Elm, TX majoring in fashion media and minoring in photography, advertising, graphic design, and arts entrepreneurship.
After noticing a gap in the student media, she started her own magazine in the fall of 2018 called "The Green Book". The magazine features articles about members of the black community at SMU.
"I try to use as many of their words as possible and really capture how unique each experience is, while also emphasizing the many similarities that tie us together as a community," Campbell said.
At the moment, The Green Book is a fully funded publication thanks to financial aid received from Engaged Learning, Big iDeas, and the arts entrepreneurship program.
After seeing the positive response from the community, Campbell is looking to revise her business model in order to make it more sustainable.
"I do the interview legwork, I take the photos, I layout the magazine, I talk to the printers, I do it all. It's the best way I've found to make sure the magazine stays true to the mission I've envisioned for it. But, I've got my eye on a couple of people in the SMU journalism department, so that could change soon," Campbell said.
Another group of SMU students also saw group of underrepresented voices on campus, and decided to begin their own publication. Temi George, a junior English major, is the co-founder and co-editor-in-chief of a magazine called Hugo, which started in the spring of 2019.
"Our point is to give students, who don't feel like they have a voice in on-campus publications as they stand now, a platform to be able to speak about things that they think matter," George said. "Also to give access to people who want to hear those voices."
Hugo magazine aspires to promote diversity and inclusivity by capturing cultural moments and adding commentary to them.
For example, one of their recent articles is a review of the Dallas Theater Center's musical, "In The Heights." The article discusses the significance of its Latinx representation and the work on Lin-Manuel.
For the moment, Hugo is the limited to online. However, the staff would like to publish a printed publication as they continue to grow.
Currently the magazine is being advertised only through word of mouth, but will soon begin engaging with their audience through social media.
A challenge Hugo has faced is adjusting from a staff of four to ten students.
"We are trying figure out how we fit everyone in, process articles, and what is the publishing process for us. Also, we know that we want to recruit in the future, so we know that we will keep expanding," George said.
These young journalists are bringing light to people and subjects that are often neglected in the media.
Perhaps journalism isn't dying; rather, the stories people want to read and hear are changing. Each one of these entrepreneurs have built their platforms based audiences with specific needs, like visibility and honesty.
The future of journalism looks bright from where these publications stand.