"Do you have toilet paper?"

"Do you have hand sanitizer?"

"Where are the masks?"
These are just a few of the questions I get asked on a daily basis while working at an "essential" place of business: SuperTarget.
You might wonder, "What is it like working in a supermarket during the COVID-19 pandemic?"
Chaotic.
The place is bustling both with germaphobes who need their toilet paper and groups of bored teenagers with nowhere to hang out. Then there's us, the "essentials." How did we get this title?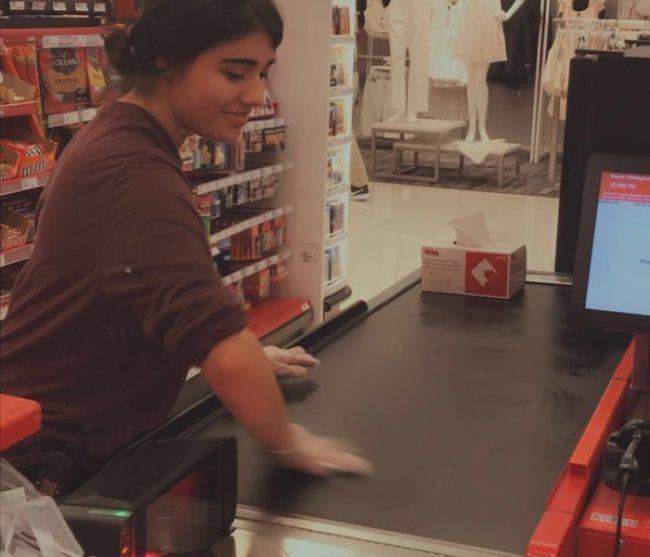 "Thank you for your service," is now a phrase I hear every five minutes at work from customers. When did we become first responders?
I have worked at Target for two years, mostly as a barista at the store's Starbucks. I have had amazing experiences. I have dealt with two Thanksgivings, two Black Fridays, and two Christmas Eves, during which I had seen the store packed and busier than ever.
Well, I thought I had.
I remember the moment I knew the Corona outbreak was going to be different than any other epidemic. I came back to work the weekend before spring break and all of our toilet paper, paper towels, cleaning supplies and boxed foods were gone – shelves empty. It was like a scene out of a movie.
I have witnessed something shocking, something heart-breaking, and something heart-warming every day at work since this began,
On the day before the store shut Starbucks down, a man threw his coffee at me. Needless to say, I cried, but I got a glimpse of humanity when a woman comforted me, gave me a package of Oreo's and thanked me for working.
Employees who have worked at Target longer than me have experienced things they never thought they would.
A Target employee of three years, Tara*, said her worst experience was "watching a woman start sobbing because we were sold out of toilet paper" from so much panic-buying.
"It was hard to watch," Tara said. "And I could not even hug her because we cannot touch anyone."
Some experiences seem worse than others.
"A guest called me a dumb bitch because I chose to protect myself and wear a face mask," one employee said.
Another employee said, "a guest was angered with me by the fact that they can only have one package of toilet paper and paper towels per family."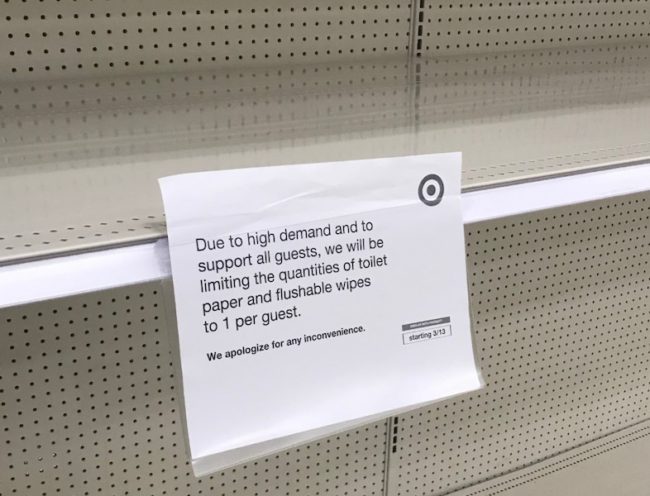 But among these awful experiences, there have been positive ones to remind us that some people actually do appreciate our work.
"I have been thanked more times in a week than I have ever been thanked in the 16 years I have worked here," Target employee Robert said. "The guests treat me like I am a first responder when all I am doing is stocking shelves of toilet paper."
But the truth is, we are risking our and our families' health by being in an environment that is highly susceptible to this virus. Fortunately, Target stores have recently mandated sanitizing and cleaning every register, basket, touch screen device, payment device, etc., after every purchase and interaction. However, employees are still fearful even with the increased cleaning and sanitization.
"I wish people were taking this more seriously," a Target team lead said. "In stores people are not social distancing. They are treating shopping as a leisurely thing to do, but when they do this, they are putting all of us [Target employees] at risk…You don't show symptoms immediately, so while they are shopping they could be infecting many people."
Unfortunately, as some grow bored with the quarantine and shelter-in-place restrictions, they flock to the only open businesses to entertain themselves.
"This is not a mall," Tara said. "This is an essential place of business for essential needs only. When they say 'stay home', we expect you to stay home unless you really need to be here."
As silly as it might sound, I feel for the first time that my job as a Target employee means something important. This pandemic is changing everything about how we live. Now grocery store workers are considered as essential as doctors or nurses.
So, what can you do to help us make this easier? If you can stay home, please stay home. We want this to end as much as you do.
*Names have been shortened to protect employees' jobs and privacy
The Daily Campus welcomes opinion contributions from students, faculty and community members. Submissions should be no more than 1000 words and are subject to copy editing. Please email submissions to [email protected], and include a cell phone number and a short biography.