Over a million international students across America could be forced to leave the country after Immigration and Customs Enforcement (ICE) announced Monday that all international students studying in America will have to leave if their universities switch to online-only courses in the fall semester. SMU is grappling with the implications this may have for the international student and campus community.
Under the new regulation, international students on non-immigrant F-1 and M-1 visas must leave the country if SMU decides to move to online-only classes before or during the fall 2020 semester. Additionally, international students who are currently in their home countries will not be allowed to enter the U.S. to study at SMU in the fall.
This announcement comes when many international students are already facing difficulties. Some students have had the choice to return to their home country, however border closures and lack of international travel have made it nearly impossible for others to return home to their families.

SMU international Chinese student Dongwei Hu said that this regulation makes him feel like international students don't matter to the U.S. government.
"This action is spreading salt on our wound," Hu said. "This law [should not] be enforced because it's not reasonable."
The university is planning to adopt a hybrid of in-person and online classes for the fall semester.
"We believe this provides our international students the greatest opportunity to continue their education in light of the recent announcements from the Department of Homeland Security," SMU officials said in a statement.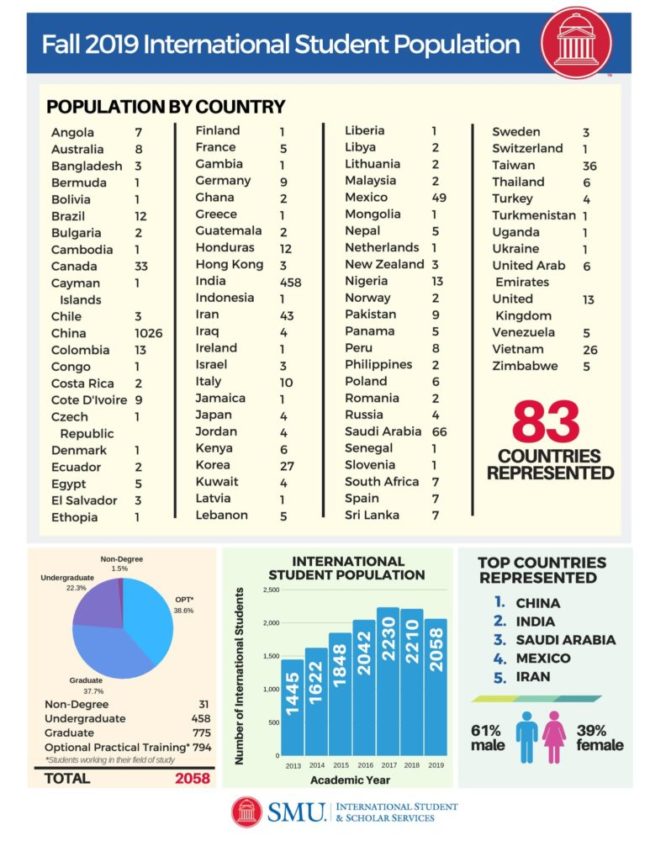 International students who plan to take online-only courses must fill out a form through the International Student & Scholar Services Office proving that they will not be in the U.S. during the fall semester.
If the university decides to move to online-only classes at the last minute, then international students have the option to transfer to a different university where they can attend in-person classes. However, most international students won't have the chance to transfer once the semester has already begun.
Vietnamese student Lisa Phan said that international students will have a hard time finding ways to travel back to their home countries if they have to leave the U.S.
"I can't imagine how bad it would be just getting the plane tickets," Phan said.
International students who are forced to leave would have to scramble to find transportation back to their home countries. Due to the coronavirus, international flights are extremely scarce and expensive, and could put the traveler in a potentially unsafe situation. Those who are unable to return home will be forced to leave the U.S, even with nowhere to go.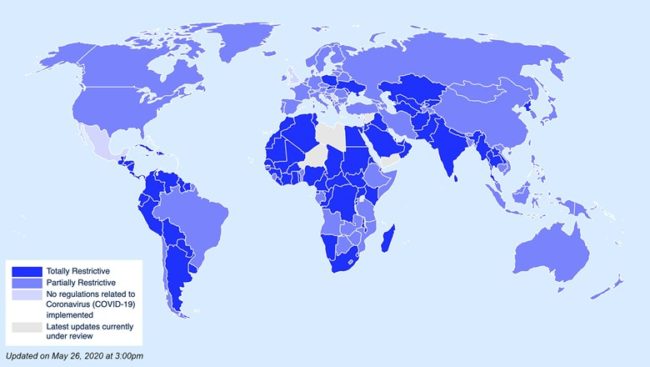 Some universities are fighting back on behalf of their international students. Harvard University and the Massachusetts Institute of Technology (MIT) sued the Trump administration on Wednesday regarding the regulation. The lawsuit aims to block the directive and argues that it violates the Administrative Procedures Act.
A petition from faculty across the country has garnered over 29,000 signatures and includes almost 30 signatures from members of the SMU community. Domestic students are also voicing support for their peers by signing petitions and spreading awareness for international students through social media.
Sophomore Natalie Clark says,"this announcement by ICE gives international students an impossible decision to make, which risks their health at the expense of their education, which is something no one should have to choose between."
https://www.instagram.com/p/CCWhf-IpgHB/?igshid=e0hpw275a0bfSome students are starting a movement on social media to #reclaimyourcampus, asking college students to push university officials to "bar the presence of immigration enforcement agencies on campus."
According to SMU's International Student and Scholar Services office, the university is certified under the Department of Homeland Security's Student and Exchange Visitor Program to host international students on F and J visas.
"SMU is required to report the enrollment and current address of SMU students during the government registration period, which takes place every semester. The University is required throughout the year to report any academic and biographical changes that may occur," university officials said.