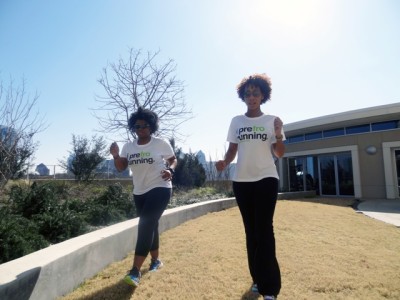 An SMU aluma found a way to combine passion and hair care into a business. In 2010, Whitney Patterson '07  founded Sporty Afros with Alexandria Williams. The duo wanted to give advice to women, especially African American women, about nutrition, fitness and hair care.
"We were both working out and we were training for our first triathlon. Whenever we be in the gym or out running or biking or swimming, women, especially black women, would come up to us asking what we were doing with our hair, wondering what our training regimen was, and how we were staying fit and looking cute and all of these different questions," Patterson said.
The company initially started as a blog for friends and a place to direct women who wanted advice. The blog became a big hit. Now, Sporty Afros has a hair care line and is on multiple social media platforms including: YouTube, Pinterest, Instagram, Facebook and Twitter.
Patterson and Williams believe hair is often an excuse for African American women to not workout.
"I think hair is used as an excuse. Honestly, I mean it is kind of blunt and kind of harsh and a lot of women don't necessarily agree with us. But at the end of the day, African American women have one of the highest obesity rates in the United States and we're about breaking down the barriers for more women to become active," Patterson said.
In 2013, the Center for Disease Control and Prevention released a report stating that African American women had the highest obesity rates in the country from 2007-2010.
"For African American women, one of the big things is hair… A lot of women use that as an excuse to not work out. Our hair is a little bit harder to manage and it's very expensive to upkeep, depending on your style and whatever it is that you want to wear," Patterson said.
Sporty Afros strives to provide tips and motivational advice to a diverse group of women. Besides hair care tips, women can find workout tips, a motivational blog, hair care products and recipes. There are recipes for meat-eaters, vegetarians and vegans.
Most of the company's hair care advice is geared toward African American women. However, Sporty Afros believe their tips can help women of different ethnicities.
"We do have tips that are specific for African American hair, but there are tips that are applicable if you have curly or wavy hair as well. We have found there are a lot of women, specifically Hispanic women or Indian women who have the curlier or wavier hair. They have the same issues that we have. Women with curlier hair can benefit from our hair care tips," Patterson said.
The duo feels that women should use products that moisturize hair and promote hair growth. The Sporty Afros hair care line contains two products: a moisturizing spray and ayurvedic oil. The hair care products are offered on the company's website.
According to Patterson, African American women need to keep their hair moisturized because sweat can dry out the hair when working out.
Hair care tips include hairstyles for working out. Women can find hairstyles like pin-curls and "The Janelle Monae." For women who wear ponytails, Patterson advises women to use elastic bands that don't have metal around the elastic to prevent snagging and breakage.
"It is the tension from the rubber band. It can be damaging and break your hair, especially if you put the ponytail in the same place every single time. If you do wear your ponytail move it around," Patterson said.
Patterson believes every woman should use a deep conditioner at least once a week to keep hair strong.
According to Patterson, the key to having a healthy lifestyle is starting as soon as possible.
"I think that the earlier you start, the better because when you have those healthier habits in place you don't run into the stuff that a lot of people run into. A lot of people start getting healthy when some kind of medical issue, some weight issue, disease or something going wrong," Patterson said.
Patterson believes it can be difficult for women to maintain a healthy lifestyle. She encourages women to take baby steps, find their motivation and find 20-30 minutes three times a week to workout.
Williams and Patterson like to remind Sporty Afros readers, that they are ordinary women just like them.
"We are not fitness models, we're not professionals, we are both just every day women who are trying to live a healthy lifestyle and help out other women," Patterson said.
Both of the women work full time outside of Sporty Afros. Williams has a career in public relations and Patterson works for a marketing firm.
Patterson thinks her time as a Corporate Communications and Public Affairs major at SMU helped her tremendously. Many people have asked what firm does public relations for Sporty Afros, but the truth is Patterson and Williams do their own public relations, marketing and social media.
Here is what one SMU student had to say about hair and fitness in the African American community:
"I actually didn't know there was a stigma with black women and going to the gym because of our hair until I came to SMU," senior Ashley Garner said. "A lot of my friends complain about sweating their weave out or not wanting to ruin their hairstyles. I definitely sympathize with not wanting to ruin a cute hair style because I believe curly, kinky, ethic hair takes more effort than people with naturally straight hair. Everyone worries about their hair, no matter what hair type or texture."
More information can be found at their website, sportyafros.com.