As any college student will understand, the transition from living at home to a new school, city, or lifestyle is a huge adjustment.
Not only are students learning to take care of themselves, make new friends and do well in school, but students with ESAs (emotional support animals) are taking full-time care of another being. Students depend on these animals to provide comfort in times of change and hardships.
While time-consuming and complicated, they would tell you they would have it no other way.
Junior Liv Fuller got her service animal, a golden retriever named Tucker, in April 2020 during the pandemic as a replacement for the in-person therapy she could not attend.
But Tucker is not any ordinary puppy.
After only eight months with Fuller, Tucker was certified from an emotional support animal to a service animal in January 2021 to help her cope with her anxiety.
"Honestly, I'm really thankful I got Tucker approved as a service animal when I did," Fuller said. "I don't know where I would be if I couldn't have him with me in college."
Before arriving at SMU in Fall 2021, Fuller feared Tucker would not be certified through SMU's Disability Accommodations & Success Strategies (DASS) program to live in her dorm with her. Tucker living with Fuller was crucial to her well-being while starting college in a new city. Although Tucker was eventually approved by SMU DASS, Fuller faced adversity throughout the process, causing her more anxiety.
"With SMU, it was a lot of paperwork and it was difficult in the sense that I felt like it wasn't fair to have Tucker in a dorm, so I had to go through this whole off-campus living process," Fuller said.
Fuller ended up moving off campus, but still having to pay for the dorms.
Like Fuller, Julia Knowles, an SMU fifth-year, has had her medium German shepherd mix, Max, since Fall 2020, though she has lived on campus while being in college.
The approval process with SMU DASS was also complicated for Knowles.
Knowles said. "At first, my ESA was [denied], which left my family and I frustrated and confused. I was determined to make this happen, so I reached out to my DASS advisor over the phone and had a more in-depth conversation where she finally approved the request."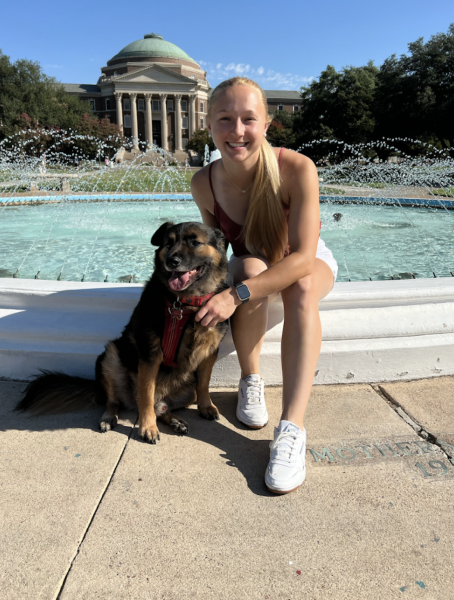 Texas State Representative Vikki Goodwin enacted the new House Bill No. 5206 September 1, 2023, which redefines the offense of "improper use of assistance animals" to "false representation of animals as service animals," as well as increasing the fine of support animal misrepresentation from $300 to $1,000. Health practitioners and businesses must now provide guidelines, notices, and recommendations concerning emotional support and service animals.
"Any animal or breed can qualify as an emotional support animal," according to the US Service Animal website. However, a mental health provider must confirm there is a mental, psychological or physical condition that requires the comfort and support of an ESA.
SMU's DASS director, Alexa Taylor, explained the support animal certification process.
Students with an emotional support animal are granted the same opportunities on campus as any other student; however, students with emotional support animals would have added responsibilities taking care of their animal, so students must understand their responsibilities before pursuing a request.
Statistics regarding how many emotional support or service animals are on campus were not available.
"If a student believes they need an Emotional Support Animal (ESA), they must request this as an accommodation through SMU's DASS office," Taylor said. "They submit our online request form along with supporting documentation from their current mental health provider as to their disability and the need for the animal as part of their treatment."
Fuller and Knowles were thankful to have both Tucker and Max approved by SMU's DASS program. But now, with House Bill No. 5206 in effect, the general population will experience even stricter guidelines than what they experienced.
"Max is a huge support to me which brings comfort when times feel tough," Knowles said. "I always feel safe on and off campus when he is with me because he is very protective of me."