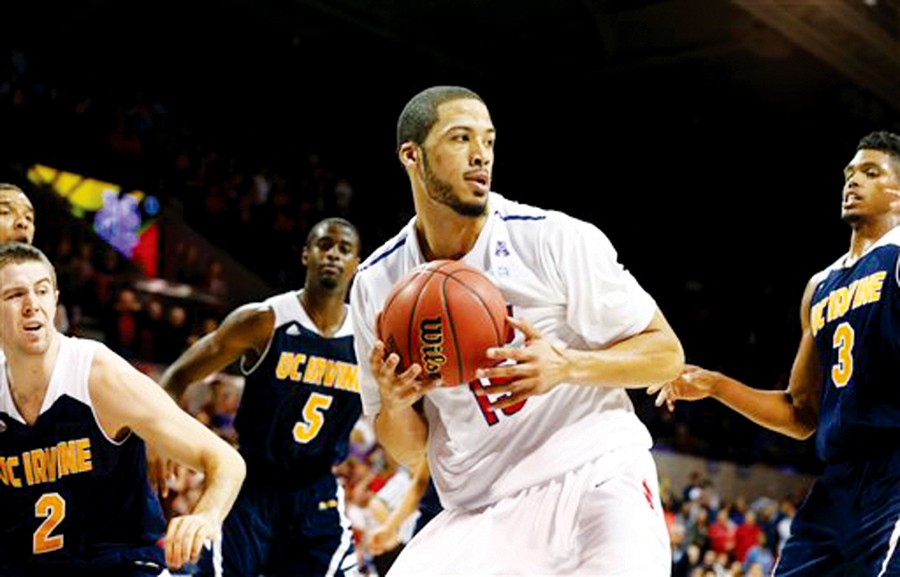 The SMU Mustangs rebounded from the tough news of not making the NCAA Tournament with a win over UC-Irvine Wednesday in the first round of the NIT at Moody Coliseum.
The Mustangs' next challenge is LSU, who comes into Moody Coliseum for tonight's matchup, after upsetting San Francisco in their first round matchup.
"They're really long and athletic and well-coached," SMU Head Coach Larry Brown said. "If they played as good as they're capable of playing, they can beat anybody."
With two stellar forwards in Jordan Mickey and Johnny O'Bryant III, SMU will have one of their biggest challenges of the year.
Mickey and O'Bryant are averaging 12.7 points and 7.9 rebounds per game and 15.4 points and 7.7 rebounds per game respectively.
"I think their front line is as good as any front line in the country," Brown said. "We don't focus on who we're playing against, we just focus on our game."
If SMU can get O'Bryant into foul trouble, SMU will be able to pound away inside and will be able to dominate the paint like the team has done so well this season.
SMU was happy to get the win over UC-Irvine, especially after the snub from the tournament and while the team came out a little slow, the biggest challenge was getting the team mentally ready, but the team responded well.
"As a coaching staff, our whole emphasis that week was trying to get the guys back up because obviously the kids were disappointed, but we had a lot of neat people come by and talk to the team. Their message was pretty good," Brown said.
"We had a great opportunity. I thought we responded well. The fans were really great and that really helped, but obviously we have a great challenge tomorrow night."
Cannen Cunningham, Ben Moore and Markus Kennedy combined for 37 points and 16 rebounds in the team's win over UC-Irvine, but their play will have to elevate even more against the Tigers.
SMU's point guard Nic Moore did a nice job facilitating SMU's offense in the last game, especially in the second half. Moore had one turnover and recorded eight assists.
LSU comes in with a 20-13 record on the season. The game is sold out and will be televised on ESPN at 8 p.m. CT.