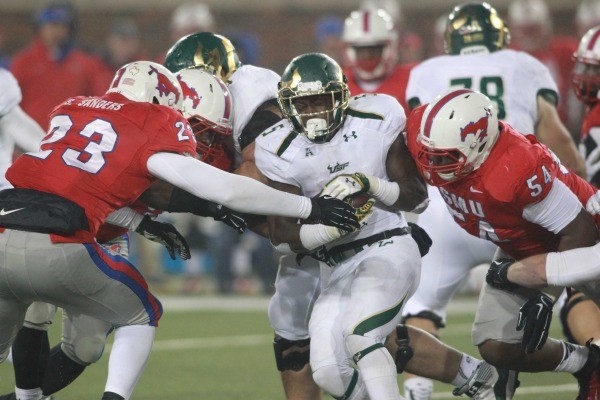 During a weekend of fun activities the Mustangs looked to gain their first win of the season, but lost 14-13 in the final seconds of the game on Saturday. The Mustangs are now 0-9 overall and 0-5 in American Athletic Conference play.
"There's a lot of different ways we could have won that game and we didn't get it done," Head Coach Tom Mason said. "The football gods aren't with us right now and somebody has to make plays. Somebody has to step up."
SMU was leading 3-0 in the first half and with :26 left when South Florida fumbled the ball giving Cody Rademacher the opportunity for a 49-yard field goal. He made it as the time expired and the Mustangs led 13-0 at the end of the half.
Coming back into the second SMU kept the lead until USF's Mike White had a 12-yard strike to teammate D'Ernest Johnson for a 48-yard drive.
The Mustangs kept the lead until White connected with Andre Davis for a 4-yard strike with :04 remaining in the game.
"However you look at it we didn't get it done," Mason said. "I told these kids we have to learn to finish. We had that game and there's no reason to lose that ballgame."