With the start of September and the beginnings of fall finally in the air, spring 2016 is the last thing on students' minds. But the fashion industry is always seasons ahead, and Kate Spade New York currently has fashionistas everywhere dreaming of springtime. On the agenda for next year is the whimsical clothes and accessories brand's first athleisure line.
Kate Spade New York will collaborate with Beyond Yoga to debut a limited-edition collection of yoga wear with the preppy label's signature flair. The athletic line will include peek-a-boo bras, halter camis, leggings and, of course, a bow-adorned jacket. Plus, the entire collection isn't too pricey, ranging from $84 for sports bras to $179 for the jacket.
With early 2016 such a long ways away, imaginations are already springing forward with what could be in store for Kate Spade New York's Beyond Yoga line.
Printed tops are a must, because this witty brand always says what it means on its clever T-shirts, sweatshirts and accessories. "Namaste in bed, anyone?" Since bright colors are definitely expected, Kate Spade's daring color combos may mean great things for your yoga pants. And the company's sweet embellishments (i.e. bows) already upgrade all the other everyday activities of life; imagine what they can do for your downward dog.
Mary Beech, executive vice president and chief marketing officer of Kate Spade & Co., told Yahoo! Style the new line is "a thoughtful expansion of our lifestyle offerings." Anticipate the perfect blend of the bright colors and details Kate Spade is famous for with Beyond Yoga's comfy fabrics and body conscious-silhouettes.
With this announcement, the $1.14 billion apparel and accessories company is now several steps closer to becoming a bona fide lifestyle brand. This is a complete turnaround considering it ceased production of both Kate Spade Saturday and Jack Spade lines earlier this year.
On the even brighter side, the company has plans to expand its line of goods far beyond your closet – and into kitchens, living rooms, kids' closets and chapels.
In addition to the Beyond Yoga collection, spring 2016 will also see the release of the brand's first sleepwear, loungewear and bridal lines. In a collaboration with pajama aficionado Carole Hochman, the sleepwear and loungewear line will include short and long pajamas and separates ($48 to $98), chemises and nightgowns ($58 to $98) and robes ($68 to $118).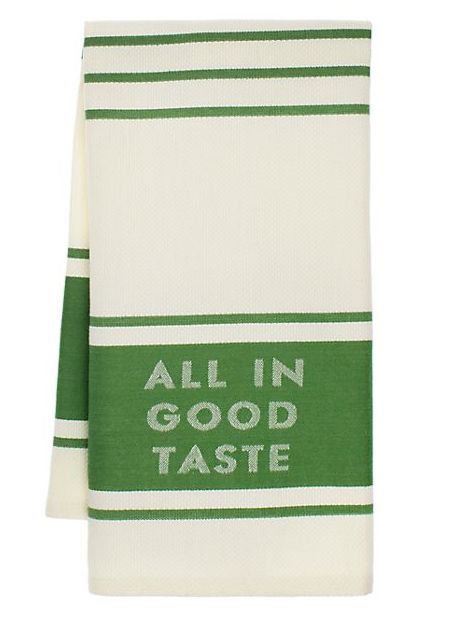 To help you through the wait, Kate Spade is expanding its All in Good Taste line to offer its customers a new kitchen accessories collection in October. The collection will include 116 different pieces of cookware, dinnerware, flatware, glassware and hostess gifts. The items will feature clever idioms and bold patterns and range from $7 to $120 in price. The line will be sold exclusively at Macy's and on macys.com, or on katespade.com come January. Bedding, rugs and furniture are all slotted to be next.
The brands third coffee table book, All in Good Taste, will also be available in October.
This fall will see the release of Kate Spade's new line for babies and young children as well. The youngsters' apparel, ranging from $22 to $44 for babies and $19 to $74 for kids, will be available online or in select Kate Spade New York boutiques.
Most exciting (and unique!) is the announcement of Kate Spade's upcoming October collaboration with every New York It-girl's favorite guilty pleasure: Magnolia Bakery. This fun capsule collection is set to include a cupcake-themed tote, banana pudding-inspired crossbody and cookbook clutch. Yummy!
When discussing the Magnolia line, the president and chief creative officer of Kate Spade & Co., Deborah Lloyd, told WWD, "The Kate Spade New York girl has a strong appetite for a novelty piece and a conversation starter."
Put us down for one of everything, please.