To the east of Central Expressway on Northwest Highway sits Half Price Books. A little further down there is a Starbucks and a store for outdoor recreation. Turn left onto Shady Brook Lane, and there's a new development brewing behind the recreation store. Right now, there is a skeleton of a building and a sign labeling the development as BookMark.
BookMark will become a mixed-use office building owned by Half Price Books. It will have three stories of offices with retail stores and local restaurants on the bottom floor. This land was owned by Half Price for decades and used to be the site of the original bookstore.
Half Price Books has been on the edge of Vickery Meadow, a community of immigrants and refugees off of Central Expressway, since 1972. Kathy Doyle Thomas, the chief strategy officer of Half Price, said that she sees Vickery Meadow and Half Price as partners.
"We see our center, on the corner, like a gateway to Vickery Meadow," Thomas said. "We support Vickery Meadow and we support the people who live there. They're our customers and they're our neighbors. If anybody wants to have a retail place in the area, we would love for them to come to our center."
Almost 30 percent of Vickery Meadow's population of about 40,000 is under the poverty line. This neighborhood is threatened by the rising rent prices that comes along with gentrification. BookMark will join new high-cost apartments, the Shops at Park Lane, The Village and other new developments in the neighborhood.
After the growth of The Village complex a few miles away, Thomas said that this expansion alongside the success of Northpark Mall and the Shops at Park Lane motivated them to move forward with BookMark.
Not all residents feel as though this bookstore plays a role in the community. Resident Sina Sabet identifies this development as a sign of gentrification and fears the impact of it. However, nonprofit director Martha Stowe said this is the least of her worries.
Martha Stowe, the executive director of the Vickery Meadow Youth Development Foundation, has concerns about the development on the periphery of the community.
"You're really seeing kind of what I call a donut," Stowe said. "All the outsides of these gentrified areas used to be called Vickery Meadow. It's all around us and in the middle are older apartments that are being held onto very tightly."
Stowe defines gentrification as taking out the old and bringing in the new. She said gentrification is something that she is worried about because it prices residents out of their homes. However, she is not worried about Half Price's new development as much as other areas.
"They are a good community partner," Stowe said. "They care about the community and they care about people in general. They are a company that has proven itself to try to do the right thing."
Half Price has had a history of working with Vickery Meadow. They worked with Conrad High School, they donate books, and they are committed to being environmentally friendly.
"On the weekends, it's kind of like a community center," Stowe said. "There are so many things going on. There's people doing music, there are pets being adopted, there are girls scouts selling cookies. And they have been a good community neighbor so they are the least of my worries."
Thomas does not see BookMark as contributing to gentrification. She associated gentrification as the building of high-rise apartments and said that she doesn't have to address gentrification as much because Half Price is just building office space.
"Our mixed-use is just office and retail," Thomas said. "We could have built a 26-story high-rise and done parking underneath. It's technically zoned that way. But we didn't want that. We didn't want to change the space of the neighborhood."
Gentrification is more than building apartments. It is a process that attracts upper or middle-class people to a historically disinvested neighborhood with new homes or businesses and displaces the original residents.
Thomas has seen the rent prices around Half Price climb up and understands the concern with redevelopment.
"Redevelopment is a hard thing," Thomas said. "I know that some people feel like they are getting displaced. We feel like we are partners with the people that live there."
However, some residents of Vickery Meadow disagree. Sina Sabet has lived on and off in Vickery Meadow for about 13 years. He moved to the United States as an Iranian refugee when he was a 15-year-old. Sabet works with the Junior Youth Spiritual Empowerment Program in Vickery Meadow.
"Maybe there are different ways to define gentrification, but if you are asking me if these projects are pushing out the neighborhood, that is happening," Sabet said. "If you are building something that is really expensive and that is fancy-looking, naturally it will also attract apartment development and naturally increases the rent of the apartments."
He has seen the neighborhood change, rent prices increase, and Vickery Meadow population decrease during his time here. According to the 2017 American Community Survey, Vickery Meadow has a population of 40,464. However, according to the 2000 Census, this area had a population of 52,329. Between 2013 and 2014, the Vickery Meadow population began to grow again.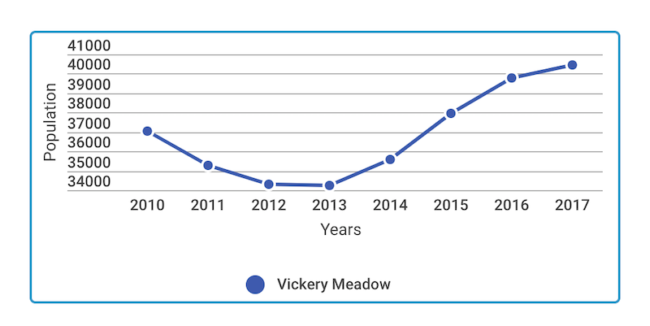 Sabet values the diversity in Vickery Meadow and considers it his home. He said that Vickery Meadow is special because there are people whose countries are at war with each other, but they are able to live in the same spaces.
"It was a big deal because I was in a new country," Sabet said. "This is where I learned the language, where I made my first friends. This really felt like the home that I had lost. I left Iran and I had a new home. It was an amazing experience being able to interact with people of different backgrounds, religions. It's hard to find that anywhere else."
Sabet claims that although many identify Half Price as a community center, he has never felt that. He has seen Half Price come out to community celebrations and give out books to residents, but he does not see Half Price having a role in the Vickery Meadow community.
"The more I thought about it, I even talked to some of the youth in the neighborhood and basically what they said was that Half Price doesn't really play a role in the neighborhood," Sabet said. "They're not accessible to people here because it is just– it is not very welcoming or accessible to the youth or the people that live in this neighborhood and the majority of the population here."
After learning about the new development, Sabet fears that BookMark will attract wealthier customers, not Vickery Meadow residents.
"It just doesn't seem like the kind of thing that would attract the people living in this neighborhood," Sabet said. "Even if their goal is to make the neighborhood better."
These fears have not gone completely unnoticed by city officials. The city is taking small steps to protect affordable housing. In May 2018, Dallas approved its first comprehensive housing policy to combat the decrease of affordable housing for areas including Vickery Meadow, KERA News (Station 90.1) reports.
Stowe said that the city is particular with what is allowed to enter Vickery Meadow in order to preserve the neighborhood. However, she said that there is not a solution to the decrease in affordable housing, although she wishes there was.
This article is part of a series in a special project on gentrification in Dallas from an SMU Division of Journalism course titled Advanced News Reporting. The class is taught by Karen Thomas.