Doak Walker's historic 1948 season is one of the greatest standout seasons for any SMU Mustang. The Doak Walker Art Gallery intends to commemorate Walker's brilliance by releasing a special collection of images, titled Doak '48, for sale after being colorized for the first time in history.
The 1948 football season was one of the golden years for SMU football. The Mustangs had a star player whose name is recognizable to anyone that has spent time on SMU's campus or is a fan of the Mustangs football team. Walker, who is immortalized with a statue in front of Ford Field, became the first Mustang to win the Heisman Trophy.
Walker led the Mustangs to a 9-1-1 record that includes a Cotton Bowl Classic victory, lifting the Mustangs to a final ranking of No. 10 in the AP poll. Elite football players in today's game are considered such if they standout at one position; Walker was a standout at multiple. He played running back, rushing for over 500 yards. He played wide receiver and caught three touchdowns. He also threw for six touchdowns. He played defense as well, intercepting three passes that season. On special teams, he punted for an average of 42.1 yards. To top it all off, he was also the placekicker for the team. Walker, a star at six positions, was truly deserving of the All-American distinction and Heisman award he earned that year.
Looking back on the season, Doug Murray decided that Highland Park and Dallas residents should have the opportunity to look back on the exploits of one of their own. The two created the 48th collection of the Doak Walker Art Gallery and launched it at a 2018 Bush Library event that drew names such as Tim Brown and Herschel Walker.
Katie Murray shares that the collection showcases "14 of the most iconic Doak Walker images", all photographed by Brad Bradley, colorized for the first time. The collection's intention is to give Walker and SMU Football fans a chance to display a piece of history that tells a story in their homes.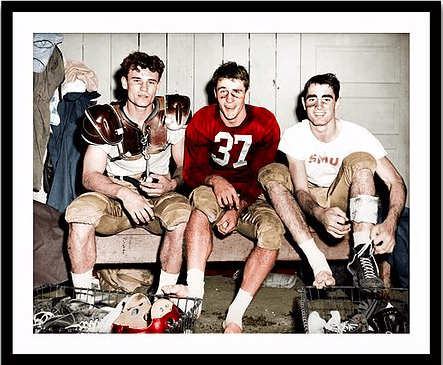 The art pieces are available as fine art paper versions and hard acrylic portraits on metallic paper; They come in four different sizes ranging from classic to extra-large. The prices start at $1500 for the classic size, $2500 for the medium, $4500 for the large, and $7500 for the extra-large pieces. There are also artist proofs of each size available. The Doak Walker website includes images of the art collection as well as a montage of the Bush Library event. On September 8th, 72 years later, the images representing the history of SMU Football and perhaps its greatest ever player are finally available for purchase.