Yom HaShoah, or Holocaust Remembrance Day, was observed from the evening of April 17 to the evening of April 18. During this period, the Jewish community remembers and mourns the six million Jewish lives lost during the Holocaust.
On April 19, the commemoration coincide with the 80th anniversary of the 1943 Warsaw Ghetto Uprising. The uprising was the largest Jewish revolt of the World War II and was planned to demonstrate that though the chances of success were highly improbable, Jews would not die in silence.
"The opposite of love is not hate, it is indifference," Elie Wiesel's famous quote was consistently repeated during this period of mourning and encapsulates what Holocaust Remembrance Day encompasses.
Hillel at SMU began the observances on April 16 by hosting the March of Remembrance — a march in protest of antisemitism and in remembrance of the of atrocities committed during the Holocaust by the Nazis.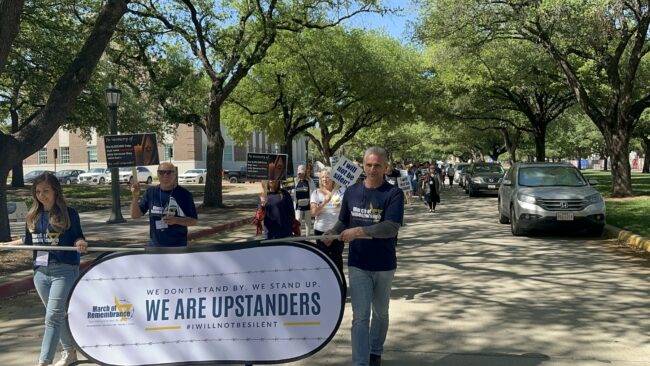 The organization, a branch of the global March of Life movement and has spread to 18 countries, started the march at SMU with a service. During this service, attendees heard from two Holocaust survivors, who described their experiences in fighting for survival.
Rosian Zerner, a Lithuanian survivor, escaped Nazi persecution through a hole dug by her parents under the fence surrounding the ghetto she was placed in. Rescuers hid her in attics and barns, with some pretending that she was their biological daughter.
"It takes a certain kind of courage and faith to do that," Zerner said passionately, regarding the people who risked their life to help and rescue Jews. She and her parents were reunited after the end of the war.
Tova Feldman, from Czechoslovakia, spoke about surviving a concentration camp, a bombing, and a shooting in succession. Her parents and their five children lived in a bunker for nine months in order to escape Nazi occupation. All seven of them survived the war.
Due to the lengths they took to survive and the low probability of success, both Feldman and Zerner attributed their stories to "miracles." It was also miraculous that their entire immediate families survived the Holocaust and lived long lives after World War II.
On the evening of April 18, Hillel held a Yom HaShoah Holocaust memorial service featuring guest speaker Amy Delgado, a fellow of the Witness Institute. Delgado is currently pursuing master degrees in Holocaust and genocide studies from Gratz College and religious education from Loyola University New Orleans.
Delgado spoke about the differences between those who chose to be upstanders versus bystanders during the events of the Holocaust.
Upstanders, or rescuers, were non-Jews who defied laws in Nazi-occupied Europe and acted of their accord and volition to save Jews and other targeted groups. These rescuers made up 0.5 percent of the non-Jewish European population. This accounts for 1 in every 200 people at the time, a significantly small amount.
Delgado said there is sufficient research to examine the differences between upstanders and rescuers psychological traits, ones that stem from variables such as their family dynamic and their faith. She emphasized the lack of Christian and Catholic activity during the Holocaust, and the devastating consequences it resulted in.
However, despite bystanders being the majority, religious groups and actors had combatted the Holocaust and continued to fight antisemitism. Pope John 23rd took action to save Jews, sparing and liberating entire concentration camps due to his intervention. His historic Second Vatican Council redefined Catholic relations with the Jewish community.
"We need to encourage a culture of encountered [interactions]," Delgado said, referencing Vatican II's historic declaration and importance of respecting diverse groups of people and their humanity.
Within the Dallas community specifically, Fathers Pascal M. Kis-Horváth and Denis Farkasfalvy rescued and saved Jews when they lived in Europe during the Holocaust. In World War II, 134 SMU alumni died fighting the Nazis.
Yom HaShoah calls upon all of us to remember the six million Jewish victims and their efforts of resisting Nazi forces. It asks us to fight rising antisemitism and be the upstanders the world needs, no matter our background.