Brian Choi bravely climbed up the steps of a dunk tank while a crowd gathered around him. Whispers turned into hearty laughs as Choi sank into the water seconds after sitting on the hot seat.
Choi quickly swapped places with another student to partake in other activities offered during the Korean Student Association's Chuseok Night event.
"My favorite part about this event is seeing other people have fun," said Choi, treasurer of the Korean Student Association.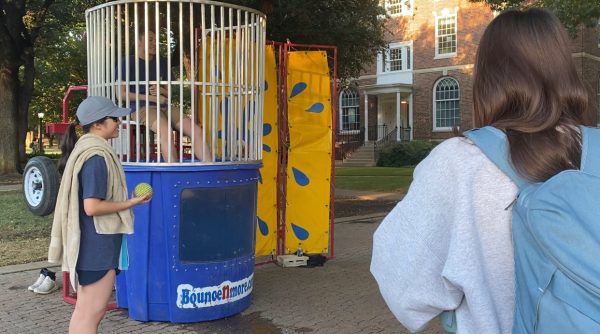 Nearly 300 students gathered Sept. 25 on Dallas Hall Lawn to play archery, take photos in a photo booth and eat from an assortment of Korean food. Guests also watched Pungmul, a Korean folk music tradition, and a Jindo Drum Dance, a famous Korean folk dance.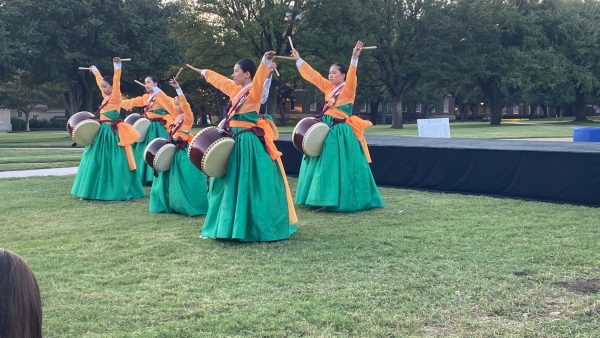 "This opportunity is a good way for us to bring Korean culture and performances here on campus, as well as give American students a chance to try Korean food," said Isabelle Jeanjean, sophomore and HR for the Korean Student Association.
Chuseok is one of Korea's largest holidays that takes place for three days. This year, the holiday will be celebrated from Sept. 28 to Sept. 30. It is a time where families come together and celebrate the harvest season.
"It's like a harvest festival similar to Thanksgiving here in the United States," said Jeanjean.
The Korean Student Association started hosting Chuseok Night in 2019. The event brings SMU students together.
"It's great to just have that community and be able to interact with people, no matter the time of day," said Kaylie Nguyen, sophomore and community development chair of Asian Counsel.
As the semester continues, the organization plans on hosting more events, so students can learn about Korean culture, spend time with their friends and meet others.
"I come to these events pretty much as often as I can go," Nguyen said.