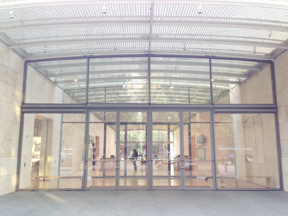 The Nasher Sculpture Center celebrates its 10th anniversary by featuring 10 different works of art in 10 different areas of Dallas.
In honor of its 10th anniversary, Dallas' Nasher Sculpture Center in downtown Dallas is putting on one of its most dynamic and interesting public art exhibitions yet.
The exhibition is called Nasher XChange and features 10 newly commissioned public sculptures by contemporary artists.
The sculptures will be placed at 10 different sites throughout the city of Dallas, so each artist will have their own site.
The sites range from Oak Cliff, Texas to NorthPark Center to Paul Quinn College and the University of Texas at Dallas, rightfully representing what is now the first citywide museum organized public art exhibition in the U.S.
The idea for the Nasher XChange exhibition was inspired by Raymond and Patsy Nasher, who began promoting making art accessible to the public almost 50 years ago when they were the owners
of NorthPark Center.
Nasher XChange aims to showcase a variety of contemporary artists who differ in style.
The artists commissioned for the exhibition are Lara Almarcegui, Rachel Harrison, Alfredo Jaar, Charles Long, Liz Larner, Rick Lowe, Vicki Meek, Ruben Ochoa, Ugo Rondinone and Good/Bad Art Collective.
For those in the SMU area, the closest sculptures to see are Charles Long's "Fountainhead" at NorthPark Center.
Also, Rachel Harrison's "Moore to the point" and Good/Bad Art Collective's "CURTAINS" are located in downtown Dallas.
For those who are technologically savy, the Nasher Sculpture Center is offering a free Nasher XChange app on iTunes.
The app includes more details about the artists, their work, and the different sites as well as a feature that allows you to get quick directions to the sculpture closest to you.
Nasher XChange made its debut Oct. 19 and will be open to the Dallas community until Feb. 16.