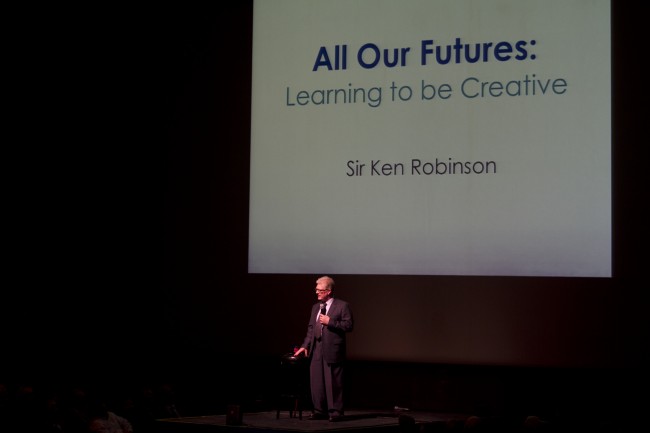 If every person in the world was to consume the same amount of resources as a North American, the Earth could only sustain 1.5 billion people — about a fifth of its current population.
Citing that urbanization and consumption continue to trend upwards, Sir Ken Robinson — a noted education reformer — argued that the answer to global troubles lie with culture and history in front of a full McFarlin Auditorium at SMU's third Tate Lecture of the year Tuesday.
"We are living in times of revolution. We have to think differently if we are to meet this revolution," he said. "We have to do things differently."
For Robinson, the first step to solution creation is accepting the eventuality of change. Citing the decline of the seaport of Liverpool, England — in a witty, anecdotal style that has made him one of the most viewed TED speakers in history — he said that no one could have predicted the downfall of the British Empire.
"If you go there now, you will see whole neighborhoods that were once tremendously wealthy," he said. "The sun never set on the British Empire."
Just a generation after its peak, the British Empire collapsed, ridden in debt and a lack of innovation.
Culture, according to Robinson, dictates a society's surroundings, beliefs and frameworks. Culture, for example, designs a society's school systems and industry.
"The human world is created from the imagination of individuals and communities," he said. And, according to Robinson, that creates culture. While most think of culture as rigid, Robinson asserted that culture rapidly changes. Instead of thinking in terms of millenniums or centuries, people can think in even shorter passages of time.
"So much has happened just in 10 years — no iPods, no Facebook, no Twitter," he said.
Technological change and cultural change go hand in hand. According to Robinson, change will continue to occur at an even more rapid pace. While technology is unpredictable, it can be enormously beneficial in solving society's most difficult problems. By disrupting culture — the old ways of doing things — technology has the potential to create new solutions.
"Technology enables us to do things we couldn't do before," he said. As Robinson has argued worldwide, no system has more potential for reform than education.
Much like the carrying capacity problem the Earth now faces, education has the power to solve societal problems.
But, according to Robinson, this type of solution-making will not occur within the constraints of the current education system.
"Education is an industrial system. Students are seen as just inputs," he said.
The current system limits creativity and stunts talent. Robinson remains optimistic about the future, however.
"We have it within our reach to convert these systems," he said.
For Robinson, it's just a matter of thinking differently — less about the past and more about the future.