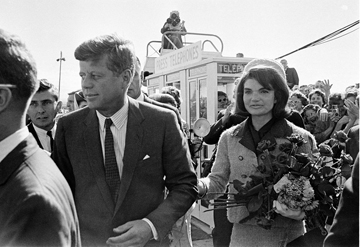 The legacy of President John F. Kennedy will be honored today at the commemoration of his assassination 50 years ago at Dallas' Dealey Plaza.
During an event featuring Dallas' civic leaders, distinguished speakers from across the nation and prominent military groups and personnel, the memory of Kennedy as an American leader — not a victim of assassination — will serve as its purpose.
Dallas philanthropist Ruth Altshuler, SMU alumna and trustee, has served as chairman for the President John F. Kennedy Commemorative Foundation, the organization charged with fundraising for and planning in entirety the commemoration.
Altshuler told D Magazine in October that when she accepted the position, she did so partly to remove the 1960s label of Dallas being the "city of hate."
"If there was just anything that one person could do, to clean that off the record," Altshuler told D. "So I took it, and I'm glad I did."
In the months leading up to the Nov. 22 pinnacle, Dallas and Southern Methodist University have been remembering the JFK legacy through panel series, author lectures, film screenings and more. On campus, such events included a panel debate between those who served on the Warren Commission, entrusted with investigating the assassination and drawing conclusions to be presented to President Lyndon B. Johnson. The Rosine Smith Sammons Lecture in Media Ethics featured a panel on the changes in media brought on by the assassination, and a symposium on the effect of crises on American presidents is planned for February of 2014.
Among the aforementioned, as well as a number of additional JFK-focused events, the SMU libraries have dedicated many galleries and displays to the Kennedy memory — including displays in the DeGolyer Library of multiple letter collections, addressed to some of Dallas' most prominent leaders of the past era.
This issue of The Daily Campus features coverage highlighting SMU's ever-present ties to the Kennedy presidency and assassination, and its overall impact on the city.
Semester-long coverage is featured on The Daily Campus website, and live coverage of the commemorative event today can be followed both on smudailycampus.com and through the hashtag #SMUJFK50.