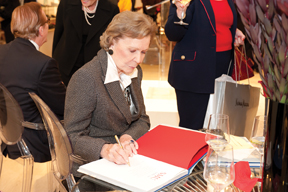 Dallas' renowned philanthropist Ruth Altshuler received a call from Mayor Mike Rawlings a year and a half ago with a prestigious and imperative request: he needed Altshuler to design and achieve the Commemoration ceremony honoring President John F. Kennedy, 50 years following his assassination at Dealey Plaza.
Serving officially as chairman of the President John F. Kennedy Commemorative Foundation, Altshuler has worked in conjunction with Laurey Peat, whose Public Relations firm Laurey Peat + Associates is charged with overseeing the event — namely, keeping count on the $3 million price tag. Altshuler herself raised all needed funds by sending out personal letters to about 40 of her friends and acquaintances. In an interview with D Magazine, Altshuler said with most people, she asked for $50,000 donations. With about half responding, some gave significantly more, and others gave slightly less.
After a life-long career dedicated to raising money for philanthropies and projects she held close to her heart, the commemoration was the project that brought her out of "retirement" and back to what she does best.
"Life has not been wasted on me, that's for sure," Altshuler said in an interview with The Dallas Morning News last February. "I've just been fortunate to meet all these interesting people in all these interesting situations."
One of the highlights for Altshuler in planning the Commemoration has been the selection of David McCullough, Pulitzer-winning presidential historian and good friend of hers, as a featured speaker.
"He may be America's best historian and his voice is so good…He was delighted," Altshuler told D Magazine.
Altshuler also secured the U.S. Naval Academy Choir for music —finding the ideal connection through Admiral Patrick Walsh, Senior Fellow at SMU's Tower Center, who Altshuler learned had been mentored by her brother, Jim Collins.
For all the many prestigious elements that Altshuler has fought for and accomplished, the end product is meant to be one of somber celebration of Kennedy's life, rather than his death, according to a DMN interview with Rawlings.
The planning of an event that carries with it very mixed emotions has not been without its challenges, however. Protesters began gathering several days in advance of the event, and local and national articles have been published citing conspiracy theories and that Dallas is trying to recover from its 1960s label as the "city of hate." In spite of it all, Altshuler told D Magazine she has "no apologies for this [commemoration]."
"It's going to be very dignified," Altshuler said in the interview. "It will be a very touching moment. And I think we'll all be proud of it."
Altshuler, a 46-year trustee of the university, spent a good portion of her life doing work for the benefit of her alma mater, SMU. The Altshuler Learning Enhancement Center (or, A-LEC) holds her namesake, and in 2000, during her time as chair on the board of trustees, Altshuler gave $250,000 to begin the Altshuler Distinguished Teaching Award. She is also a Distinguished Alumna and was awarded the J. Erik Jonsson Ethics Award by SMU's Carey M. Maguire Center for Ethics and Public Responsibility in 2011 — her luncheon ceremony was attended by such distinguished guests as former first lady Laura Bush, and founder and CEO of Susan G. Komen for the Cure Nancy Brinker, among others.