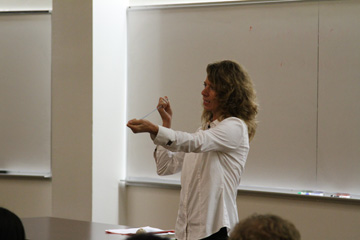 SMU's Elizabeth Wheaton Ph.D., senior lecturer in economics, believes that finding solutions to social issues is possible by examining the economics behind the problem. Wheaton began researching human trafficking in 2005 and since then, along with two other researchers, developed an economic model of human trafficking published in 2010, which she hopes will inspire others to look at social issues from an economic standpoint.
"My goal with writing the paper is to encourage people to use economics to solve huge social issues," Wheaton said. "Whether it's human trafficking or obesity or just whatever the problem is you can look at the economics to focus on a goal that you have. I really just want to teach people how to apply economics to social issues."
The paper, "The Economics of Human Trafficking" co-authored by Edward J. Schauer and Thomas V. Galli, was written after Wheaton and Schauer wrote a literature review on human trafficking. According to Wheaton, her interest in human trafficking came from her interest in child labor.
After earning her masters in international business, Wheaton went back to school and got her PhD in economics in order to focus on child labor, which is what she wrote her dissertation on. Her co-author, Schauer, had written a paper on criminal justice and focused a lot on prostitution.
"I did my dissertation on child labor and my co-author was doing criminal justice and prostitution and in between prostitution and child labor you have human trafficking and so we wrote a paper on sex trafficking in the U.S. and it was just a literature review and then we wrote the economics of human trafficking paper," Wheaton said.
According to Wheaton, their economic model is very basic because the issue of human trafficking is extremely complex. The model breaks down the issue of human trafficking into three parts: the supply of vulnerable populations that are potential victims, the traffickers and the consumers. The model then examines the costs, benefits and incentives of each part.
"It's really looking at the different pieces of the human trafficking market and figuring out what's going on at each part of the market," Wheaton said.
"Then you can look at those pieces of it and say, where do we want to focus law enforcement? Where do we want to focus laws? Where do non-profit organizations want to be involved? Where are the most efficient places for non-profits to be involved in the huge chain? Because there's a lot going on with human trafficking — you can't hit everything at once you kind of have to hit pieces of it."
Wheaton said that they have yet to do an econometric or statistical model of human trafficking because of the lack of data available. Although the federal government is now asking law enforcement to start collecting data, Wheaton said she doesn't have access yet. It was the lack of data or numbers that was actually the most shocking part of researching human trafficking for Wheaton.
"For me as an economists the numbers that are out there that say how much human trafficking there is was the most shocking," Wheaton said. "They're absolutely biased. Some are guessing high and some are guessing low. There's no way to tell and there's no background for the numbers and that's shocking because we don't know how much trafficking is being done in the United States."
For Wheaton, the complexity of the human trafficking issue is what makes finding one solution challenging. However, she believes the construction of an economic model can help. In Wheaton's opinion, eliminating the demand is most efficient.
"I would love to see human trafficking abolished but it's probably not going to happen because it's so complex and so lucrative," Wheaton said.
"If you're looking at the solutions for it, it's not going to be with the traffickers because if you take one out there's another one that's just going to replace that one. That's what most of our laws are right now — to go after the human traffickers.
It's either going to have to be at the supply side or the demand side. As long as there is a demand for traffic victims there's going to be a supply and so a lot of the models, mine included, say we have to go with the demand for human trafficking to wipe it out."
Although it might initially seem easier to eliminate the supply rather demand, Wheaton said eliminating the supply means eliminating human vulnerability, which is an improbable task.
"If you're talking about supply, you're talking about vulnerability," Wheaton said. "You're talking about making sure that people have enough money to survive, that they have protection, that they have psychological and sociological resources, and you're talking about a lot of people. Going after demand is a little easier because there is so much vulnerability in the world. I'm all for helping vulnerable populations but to solve the human trafficking problem, it's probably more efficient to go with demand."
As for helping vulnerable populations, non-profit work is something very important for Wheaton. She actually started her own non-profit, Equip the Saints, which acts as a LinkedIn type organization for other non-profits. Although Wheaton researches other issues besides human trafficking, Equip the Saints is using Wheaton's economic model in order to better programs related to human trafficking.
"My non-profit organization is working with the human trafficking stuff right now," Wheaton said. "Equip the Saints is working with human trafficking non-profits right now to strengthen them and so part of this is looking at the economics with the non-profits and looking at the different pieces of the human trafficking market."
In the future, Wheaton hopes to obtain the human trafficking data and further her research. In addition to the economics of human trafficking, Wheaton also researches the economics of capital punishment and the economics of border security among other things.
According to Wheaton, she has given thought to writing an economics of human rights textbook.