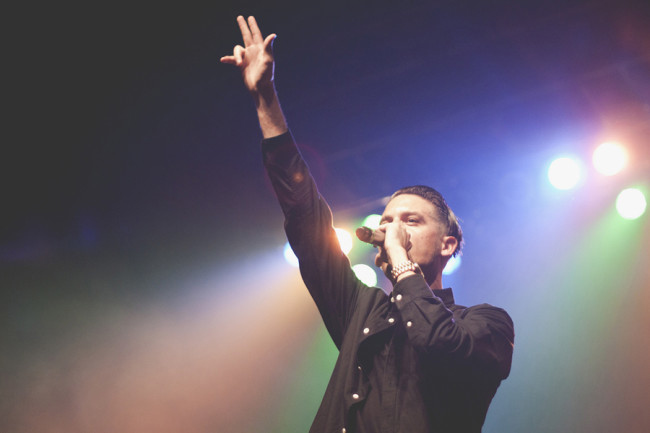 Rapper G-Eazy kicked off his "These Things Happen" tour Friday at Trees in Deep Ellum. Let's forget for a few moments that I had to get cashback at the 7-11 to park at the venue. Let's forget that the buff, oiled-up bouncer got sharpie on my suit when he oh-so-patronizingly put thick black X's on my hands. We can even forget the obnoxious audience — smoking indoors and all doing the same ridiculous dance.
I trudged up the stairs, an old soul in a young world, and tried my best to get into the "artist only" room — but without a blunt in my hand or cough syrup, entrance was highly unlikely. No, no, instead I stood outside the room the entire show – looking down as "Super Duper" Kyle, Tory Lanez, Rockie Fresh and finally Gerald "G-Eazy" Gillum took the stage to the cries of every 18-year-old at the show.
My plan had been to interview Gillum before his performance and ask him hard-hitting questions like, "Who are your musical influences" and maybe even, "If you could be an animal, which would you be?" But hip-hop had a different plan for me Friday night — a plan that involved standing uncomfortably around leagues of people going crazy over mediocre performances.
I'll start with Kyle. Sure, what he lacked in lyricism and intelligible wordplay, Kyle made up for in pure energy and hyper dance moves (he was either dancing or having a seizure in a vertical position). I'll give Kyle a decent grade for his performance because he got the audience going.
The next three hours were a blur of overused airhorns, lousy DJs spinning overdone tracks in between acts, and fans bumping into me as they tried to get into the VIP room to get their T-shirts, hats and breasts signed. After Tory Lanez and Rockie Fresh got off the stage, we waited with buzzing anticipation for G-Eazy – it was almost time to see G-Eazy. Wow! I couldn't wait. I mean, this was a guy I didn't even know existed until I was put on assignment to cover his show — what a thrill.
Above all else, the performance made me consider important philosophical questions, such as – "Did I really wake up in a new Bugatti?" and "How can I get my own hype man?"
G-Eazy had several things to say throughout his performance — such as "I appreciate every single one of y'all" and "What the f**k is up, Dallas?" We're truly dealing with a wordsmith here, ladies and gentlemen.
On a positive note, G-Eazy performed several songs off his unreleased, highly anticipated album "These Things Happen" and older fan favorites like "Lady Killers" and "All I could do." For all my criticism, G-Eazy knows how to hypnotize an audience with his sock-hop meets block party style and tour design. Layer on top of that I found myself attracted to him. Reviewing music is confusing.
Who knew something so Eazy could be so hard?