A navy blue chair covered in feathers sits in the corner of a closet-sized bookstore in Highland Park Village. There is a wooden table there, set with a pale pink orchid. The smell of coffee wafts through the room.
This is the perfect place to sit and flip through the pages of Mario Testino's "In Your Face,"- a conglomerate of the Peruvian photographer's masterpieces.
This is Chapter Two, a tiny bookstore in Dallas' luxury shopping center.
Chapter Two opened its doors in November 2013 and immediately provided a quirky spin on the classic bookstore experience.
Number One Le Jus and Chapter Two are boutiques added to the successful Forty Five Ten boutique on McKinney Ave.
Alexandra Lawrence is a sales representative at both Number One Le Jus, which is next door, and Chapter Two. She believes the new bookstore compliments the Forty Five Ten brand perfectly, considering its opulence and books covering many niches.
"These books stand out and have multipurpose instead of just for leisure," Lawrence said.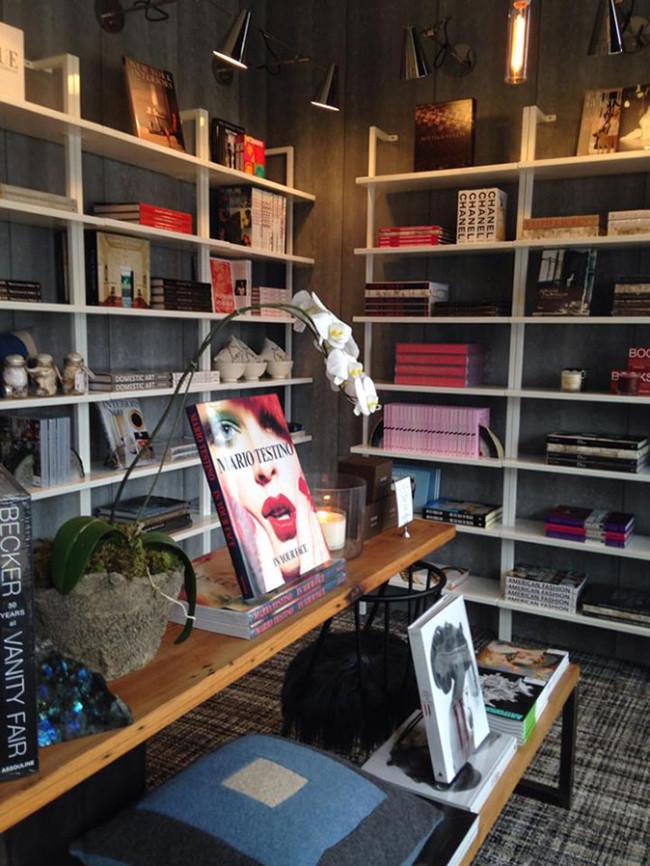 Glossy white shelves reach from floor to ceiling, at Chapter Two, each filled with colorful books and magazines from cooking to haute couture to interior design.
From hard-to-find international magazine editions to Assouline and Taschen hardcovers, this bookstore carries some unique compositions.
The most popular sellers include Rizzoli's "The Kate Moss Book" and David Webb's "The Quintessential American Jeweler." Both books cost about $85.
An open doorway inside Chapter Two connects to Forty Five Ten's Number One Le Jus. Number One is the perfect gathering spot for coffee, juice and shopping lovers alike. Aside from the usual beverages and treats of the café, there is also a small retail section with clothing, shoes and accessories for purchase.
Lawrence believes the two stores collaborate hand in hand when it comes to sales.
"Chapter Two definitely helps sales in Number One," said Lawrence. "Shopper's usually come in to the café for a coffee and go into the bookstore for a look see and vice versa."
Simon Mak, SMU Professor of Practice in Entrepreneurship, believes Forty Five Ten may be using smaller spin-off stores to drive traffic to their most profitable store.
"Maybe the bookstore is really there to drive people to the coffee shop," he said.
Dallas' premier fashion boutique, Forty Five Ten, opened its doors in April 2000 and is the big sister store of Chapter Two. Since then, Forty Five Ten has created an umbrella brand by extending its name to spin-off stores in the Dallas area.
Brian Bolke, co-owner and co-founder of Forty Five Ten, is thrilled with the response so far at Chapter Two.
"I have felt the village has been missing a bookstore ever since the Rizzoli store left a decade ago," Bolke said.
Landen Kerr, regular Chapter Two shopper, collects coffee table books.
"I love to go to Chapter Two and shop because they have a lot of unique titles," said Kerr.
Kerr also loves to do her gift shopping there because they sell such personal gifts, "and they gift wrap which is a bonus."
Small bookstores and large are struggling to survive in today's economy. Border's Group has already closed down all 511 stores in the US.
Mak believes opening this bookstore as a part of the Forty Five Ten brand is a good idea only if it can provide something different and not easily attainable at a traditional bookstore.
"If you can differentiate yourself, you can succeed," he said.
Lawrence believes Chapter Two can survive the bookstore flush as well since the shoppers at Chapter Two have exquisite taste and love giving gifts.
Bolke agrees saying, "Chapter Two sells only coffee table books and cookbooks. It is all about finding a beautiful book to give as a gift or display in your home."
Even in a world embracing technology, Lawrence believes Chapter Two will thrive. The books in Chapter Two are timeless and classic, which make for perfect gifts.
"Coffee table books will never go out of style," she said.
However Professor Mak said, "at the end of the day, if you don't provide value or quality, especially in Highland Park Village, customers won't come back."