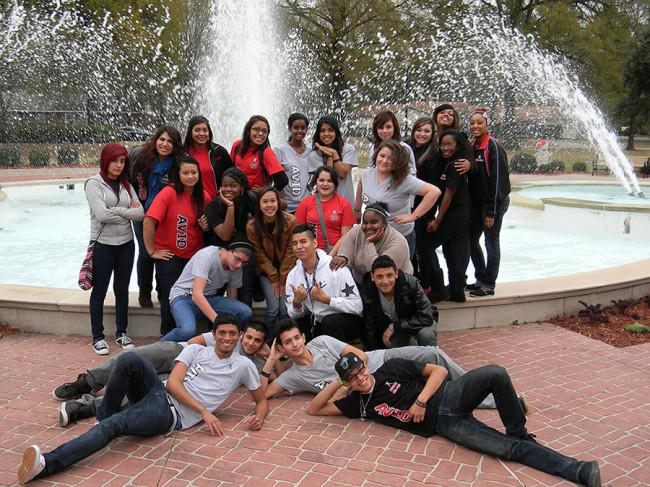 When Kevin Henry was invited to join AVID almost seven years ago he wasn't sure just what he was getting himself into. At the end of seventh grade, though, he'd been to an informational meeting, went through the interview process and was a member of the program by the start of eighth grade.
Five years later, Henry was still a member of AVID as a senior at North Garland High School and would go on to attend Texas State University as a Computer Information Systems major in 2012.
"AVID has definitely helped me establish my abilities as a leader," said Henry, "and taught me to avoid shying away when I needed help."
AVID, an acronym for Advancement Via Individual Determination is designed to help usually low-income black and Hispanic students learn what it takes to attend college. The program began in California in 1980 after city schools were desegregated, causing many inner city kids to attend local suburban schools. Now the program serves more than 700,000 students in over 4,800 schools in 45 states.
Seventy-four percent of AVID students qualify for free or reduced lunch, but according to Janice Howard, Garland Independent School District AVID coordinator, these students have the academic potential and desire to attend college. They're just not on the college bound track.
Many students come from homes where no one has received a college education. AVID instructors assist students in choosing their class schedules, which involves dropping an elective course each semester and instead taking an advanced course that will help them get into college.
"These students feel very supported because they realize that AVID provides a road map and gives them the tools to be successful and prepared for the rigorous courses," said Howard.
In addition to enrolling in the class, students are required to attend tutoring sessions twice a week. Jocelyn Garcia, who has been an AVID tutor for four years, helps students in the problem solving process and documents their progress.
"We really get to know the students on a more personal level," said Garcia, "so it's easier for us to give them advice or guide them in the right direction without them feeling like we're just another authority figure telling them what to do."
AVID strives to create a relaxed environment in which students feel comfortable asking for help. If one student is struggling to grasp certain material, the students help each other, said Henry.
The students "are all striving for the same goals and that brings them together," said Garcia.
Garland ISD's AVID program is nationally recognized, and was recently mentioned in the Washington Post as a "particularly robust" program, with many students starting at the elementary school level. Sellers Middle School in Garland has been recognized twice as a National AVID Demonstration School, with 71 percent of students taking Algebra I in the eighth grade, a course not usually taken until high school.
"AVID has been successful in Garland ISD because there are many students that would like to attend college but do not know what to do to assist themselves in the process," said Howard.
Henry remembers his AVID instructors pulling up the application for Federal Student Aid and showing students how to fill it out. In addition to sharing scholarship opportunities and instructions on applying to different institutions, AVID instructors make sure their students are fully exposed to the college life. Guest speakers visit classrooms to talk about college and its benefits, and job professionals speak on careers available to college graduates.
"Since eighth grade, I have been on field trips to different college campuses," said Henry.
Instructors, however, also teach students the basic skills necessary for college. AVID students, for instance, are taught how to organize their binders by subject and assignment, and how to be swift yet effective when taking notes.
According to Henry, he can take a "quick note", he's become stricter with himself, and he has developed a sense of promptness thanks to his AVID instructors.
Many students, though, are unable to see the program all the way through.
"They are expecting the result, but not willing to put in the work," said Henry.
Students have to see the bigger picture, Henry said. A lot of students saw the class as an opportunity to socialize with friends instead of advancing their education. However, most students that completed the program are benefiting from it and are attending a university. Three-fourths of AVID graduates who applied were accepted to four-year colleges or universities.
Students can be successful "if they have the will and determination to in the extra hours for home work, which is required," said Howard.
There are other college prep programs available to students, like Advanced Placement and Honors classes, Dual Credit courses and the International Baccalaureate program, which students are encouraged to take. However, according to Howard, AVID is a dynamic program that adapts to the needs of its students.
"AVID is a system that is constantly changing to meet the demands and skills needed to be successful in the 21st century."
Myca Williamson is a sophomore from Garland, TX, studying Journalism, Fashion Media and French at Southern Methodist University.