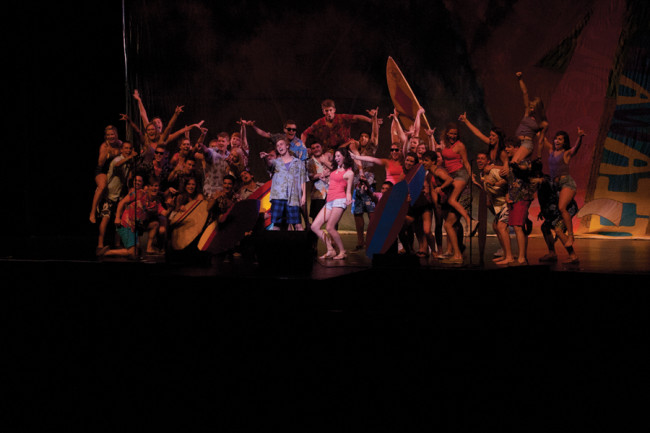 During the day, McFarlin Auditorium stands silent. The open balcony and floor seats are empty; the stage lights are dark and dull. The grand curtain, ornate with sparkling gold and rich red, hangs low, hiding the main stage. But come nighttime, around 8 p.m., the curtain lifts and the show begins. Seats will be packed and lights will be bright, and the historic building will come alive with a SMU tradition that's been running 26 years strong.
Tonight, Sing Song returns like audiences have never seen it before.
Hosted by Program Council, Sing Song 2014 "POP ICONS" features SMU groups Chi Omega, Sigma Chi, Alpha Chi Omega, Delta Gamma, Beta Upsilon Chi, Lyle Engineering, Theta Tau, Pi Beta Phi and Kappa Alpha Order.
"With the vibrant theme this year, [the show]'s packed full of hilarity, energy and unexpected plots and story lines," Program Council Communications Chair Samantha Liles said.
Sing Song Chair Charlie Weber came up with the pop music theme back in August. The "POP ICON" theme required each of the five teams performing to choose an artist from the last decade to celebrate.
The team's skits and musical numbers will include hits by Britney Spears, Beyonce, Pink, Ke$ha and Miley Cyrus. The team that rocks the stage the most and receives the most votes, will win the annual competition.
"The enduring aspect of Sing Song is that it brings groups from all parts of campus together in friendly, fun competition," Liles said. "It's a great place for students to interact with other students they normally wouldn't have, or to stretch the boundaries of what they thought possible."
Program Council President Geenah Krisht didn't think it was possible to get thousands of people excited about the traditional Sing Song event. Social media has helped Program Council spread the word about the modern "POP ICON" theme and increase student engagement.
"Social media has definitely allowed us to reach a much wider audience. Some of our posts have reached over 25,000 views… something I thought was unheard of," she said. "Our Sing Song Facebook campaign has reached over 40,000 people now."
Program Council launched a photo contest on Facebook contest March 31. The performing team with the most photo likes receives an extra five points to their total score. At time of publication, Team Ke$ha with almost 1,700 likes was in
the lead.
"Our expectations about the contest have been shattered already," Liles said. "Social media has made a tremendous impact on the promotion of the event so far."
Huge promotion has led to huge ticket sales. All week, representatives of Program Council have sold tickets at the Hughes-Trigg Crossing for $10 each. Non-student tickets are $12 each and both ticket prices increase at the door.
"Anyone can buy tickets online at www.smu.edu/singsong or at the crossing," Krisht said. "We are hoping for a sold-out show, so students should not wait for last-minute tickets at the door."
Students who can't get tickets to the show can follow POP ICONS on Twitter and Instagram via the hashtag #SingSong. Follow Program Council on Twitter and Instagram at SMUPC. Visit Program Council on Facebook to vote for your favorite team before Friday at 8 p.m and follow the group on Spotify for a special "POP ICON" preview playlist.