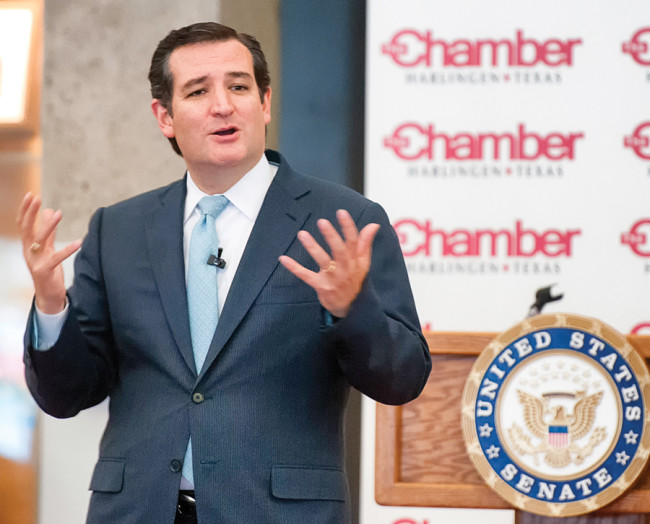 Matt Rinaldi held his breath as the votes trickled in March 4. The lawyer and Tea Party organizer was running for a Texas House of Representatives seat in District 115 against incumbent Republican Bennett Ratliff.
Ratliff outspent Rinaldi 12 to 1, and Rinaldi ran and lost against Ratliff two years ago. But Rianldi thought he just might pull off a victory.
"I was banking on the trend I saw that Tea Party candidates were winning elections for far less money because people were finally paying attention and wanted people to act in Austin like they campaigned," Rinaldi said.
He skipped the big campaign dinners and events and instead went door-to-door speaking to voters.
"A television ad or a radio ad is no substitution to me coming to your door and talking to you for 15 minutes," he said.
Rinaldi ended up winning the primary by only 92 votes out of 8,230, or by less than 1 percent of votes.
The race for Texas House Rep in North Texas' District 115, which is composed of parts of Coppell, Irving, Farmers Branch, Carrollton, Addison and Dallas, is just one of many in Texas where a Tea Party candidate opposed an incumbent Republican in
the primaries.
The North Texas Tea Party endorsed 10 candidates for Texas House and Senate elections this year. Out of those, four won the Republican primary in March, three face runoffs and three lost — not bad odds for a movement that was originally seen as merely reactionary.
"It's maturing from ideas into actions," Rinaldi said. "When the protests stopped, everyone said the Tea Party was dead. But we were busy doing other things like winning elections."
The Tea Party started in 2004, according to the organization's website. But the movement gained traction in 2009, when the most recent recession hit the majority of the country.
On Feb. 25, 2009, 35 Tea Party groups organized simultaneously rallies for national sovereignty and fiscal responsibility, and the movement emerged in force in Dallas, according to the Dallas Tea Party.
The Tea Party has 15 core beliefs, based on a statement by Steve Eichler, CEO of the Tea Party on the organization's website. Among these are the notions that "pro-domestic employment is indispensable," "special interests must be eliminated," "government must be downsized," and "deficit spending must end."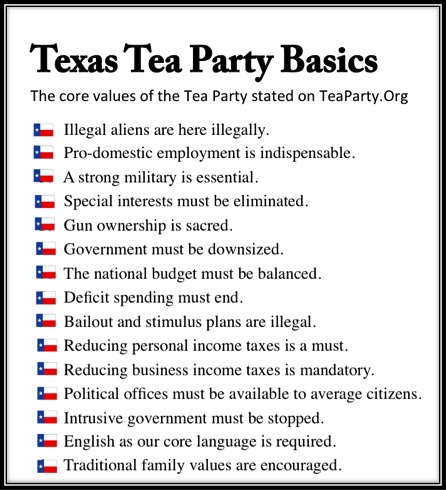 "The Tea Party is not about social issues, it's about national sovereignty, fiscal responsibility, and rule of law," said Russ Ramsland, the head of the Parks Cities/Preston Hollow Tea Party.
Some Republicans, however, do not embrace the methods of the Tea Party.
SMU senior and Republican voter Zane Cavender sees the Tea Party movement to be ineffective in actualizing their ideas because its leaders are not willing to compromise across party lines.
"The biggest fault of the Tea Party is that they'd rather see their own party go down than see bipartisanship work," Cavender said. "I'm not saying I disagree with a lot of what the Tea Party is saying, but the way they are going about it is heinous."
Rinaldi, however, sees the Tea Party as simply holding Republican candidates accountable to the party platform. They may not work across the aisle, but they'll do what they campaigned on.
"Everybody campaigns on the same principles of limited government and fiscal responsibility. The Tea Party's message is simple: You campaigned on it, now do it," Rinaldi said.
It was that idea of trying to hold the Republican Party to its platform that inspired Ramsland to get involved in the movement five years ago. He wanted to bring the nation back to the core beliefs of the Reagan administration.
"The Reagan Revolution is very similar to what is happening today, except this is more intense and much more serious," he said.
Ramsland attended that rally in the spring of 2009 and then decided to take on a greater role.
He organized the first Park Cities/Preston Hollow Tea Party meeting in a mattress store on Oak Lawn in 2009. Only four people showed up.
But today, on average, 150 attend monthly meetings, which are now in Fellowship Bible Church in Dallas.
The group educates members on the Tea Party's view of the Constitution and its core beliefs. It even gives lectures on historical topics, including the Phoenician and Roman government, the history of trade starting with the cave men and what the group believes to be the Judeo-Christian origin of America.
"When people understand exactly what that means, they can articulate why we need to change," Ramsland said. "I'm not about platitudes."
The group works on the broad, educational level and also on the local level — trying to get area Tea Party candidates like Rinaldi elected.
Like Ramsland and his Tea Party group, Rinaldi has seen growth in Tea Party followings in Texas in this election cycle.
Rinaldi isn't the only Tea Party candidate to have challenged an incumbent Republican for a state office this primary and win.
One of the other most notable victories was of Tea Party-endorsed Don Huffines for State Senator against John Carona, who has served six terms in the Texas Senate.
To Rinaldi, the Tea Party owes its recent victories to the voting population under 45.
His campaign's polls show that they lost older voters two to one to his Republican opponent, but won younger voters 7 to 1.
"I relied very heavily on younger voters," he said. "They know something's wrong, and they know the status quo isn't going to solve it."
But not all young, Republican voters agree. Cavender sees the Tea Party movement as detrimental to the Republican Party and needed bipartisanship in Texas.
"Politics is a practical science, and the Tea Party is not practical," he said. "The current track of the Tea Party is the antithesis of progress in this country."
Cavender sees compromising and working across party lines as fundamental to the American political system, an idea not fostered by the Tea Party.
A lot of people see the Tea Party as a far right version of the Republican Party, but leaders like Rinaldi and Ramsland are quick to distinguish themselves.
Cavender isn't the only Republican to not embrace the Tea Party, but on the other hand, a lot of non-Republicans are joining the Tea Party movement.
"They're Democrats, they're independents and they're Republicans," Ramsland said.
Rinaldi agrees and sees Texas of having three political parties.
"A lot of people see the split in politics as Republicans versus Democrats, and it's not a two party system," Rinaldi said. "It's really a three party system: Conservatives, Democrats and a group of moderate Republicans who side with Democrats on most issues."
With the general midterm elections coming up this November, the split among these three groups could become more evident. Rinaldi hopes Tea Party candidates will win and reshape Texas politics.
"We need to be the example for the rest of the country as to why these ideas work," he said.