Clouds were gray, but spirits were high at Dallas' 20th annual Heart Walk Saturday morning, resulting in a crowd of more than 65,000 in the heart of downtown Dallas.
Despite the light rain and low temperatures, numerous volunteers and walkers met at the base of Reunion Tower, all wanting to bring awareness to the leading cause of death in America: heart disease.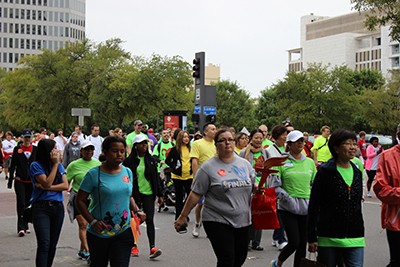 Walkers and volunteers shared their experiences with the disease, often about loved ones who have endured strokes or heart attacks. Survivors were also in attendance, educating others about risk factors and prevention.
SMU's Brad Cheves, Vice President of Development and External Affairs, served on the walk's Executive Committee this year, encouraging over 30 SMU teams to participate in the event, including the Mustang Band, Belle Tones and Southern Gentleman.
Cheves also spoke of the death of SMU sophomore Hannah Moss, whose autopsy revealed cardiac arrhythmia as the cause of death, highlighting the importance of the walk and the purpose it serves.
"It's about heart, and it's about health."
Growing from 450 participants in 1994, this was
the largest crowd Dallas Heart Walk has hosted, hopeful for more growth next
year.