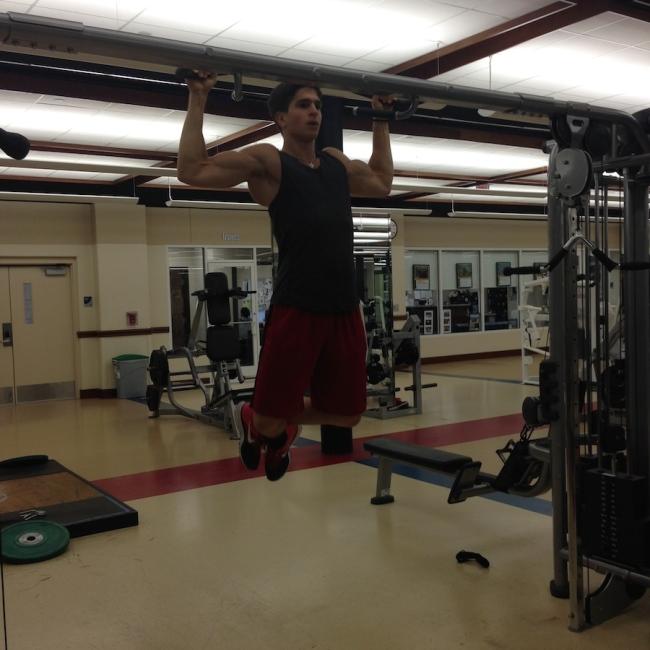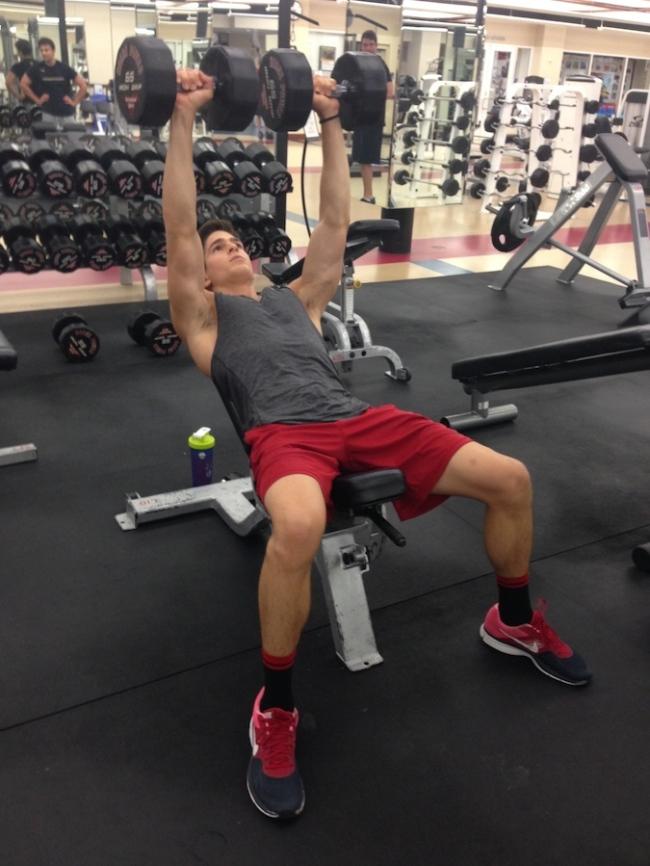 The last place a typical student wants to be at 2 p.m. on a Friday is the gym, but that's where senior business management and pre-med major Oliver Filutowski is. He's doing cardio and strength training with a few friends who share his passion for fitness. They're encouraging each other and helping one another as they rotate machines and weights.
Filutowski trains all the time, but he'll really start pumping it up in the coming weeks and months as he prepares to compete in April for the title of Mr. and Ms. SMU, the university's popular body building contest.
"It's become a lifestyle," Filutowski, who was last year's second-place winner, said about his workout regime and strict diet. He said he is running a few miles and lifting 65-pound weights regularly in order to keep in shape and to prepare for the contest.
Lifting weights is just part of the routine for students who plan to compete in April. Like Filutowski, Charles Karanja and Courtney Thrower are also eating clean and cutting out unnecessary fats. Logging several hours at the gym rather than spending that time at parties is just practical. While this might seem extreme to many, these are the everyday lives of the workout enthusiasts and fitness buffs who plan to compete in the contest.
Thrower is a biology and pre-med major currently training for a triathlon, but she knows that her work now will only help her when the competition arrives.
Athletes like Thrower do increase workouts and partake in stricter diets closer to the competition, but their everyday training is still far more intense than a typical SMU student's. The competition simply allows for the most enthusiastic athletes to compete in a healthy environment while exhibiting their physical prowess.
Tim A. Moore, a former Fitness Director at SMU, started the competition in 1996. He was passionate about competing in body building competitions and wanted to create one at SMU.
"The purpose of the event is to give students the opportunity to demonstrate their ability to develop their body while using proper exercise habits and nutrition," said SMU's Assistant Director of Fitness Gina Garcia.
While only a handful of students compete each year, the competition draws the attention of students, who pack the auditorium in Hughes-Trigg.
"I was really impressed by each competitor," said senior business management major Camille Waterfallen, who has attended the annual event. "It was evident how much time and effort each has invested."
Waterfallen has been interested in the competition since her first year at SMU and is planning to compete herself next year for the first time.
Winners receive trophies and ribbons, and first-place winners have their picture on the wall at Dedman Center.
Charles Karanja is a first year graduate student with a Master of Music in Vocal Performance and came in third place in the contest last year. He competed last year after talking with 2012 winner Ali Asker. Karanja said his workouts are currently rigorous, but they will intensify around 16 weeks prior to the competition.
"The training is more focused on getting yourself as lean and striated as possible," he said about the workouts closer to the competition.
Filutowski said that this strict training helps him be more productive. The workouts take up a lot of time, so he had to learn how to manage his time wisely. It forces him to find a balance for school, exercise and a personal life.
Diet is another crucial element of the preparation process. Filutowski stays in shape by eating clean, unprocessed foods and drinking plenty of water. He eats about six times a day, which is more than a typical student. He does allow a cheat meal or two, but closer to the competition, he becomes much more strict.
"I won't eat a piece of cake when I want it," he said.
Karanja said his diet is also very intense. He is able to have a few more pastries (his favorite cheat food) in the beginning of training. However, he does have to give those sweets up as the competition draws nearer. Two days before the competition, he begins carb loading in order to have a fuller look on stage.
These sacrifices might seem impossible to a typical student, but both Karanja and Filutowski believe that the competition is all about willpower and learning how strong your body really is.
"It's a fun and different experience," Filutowski said. "You learn what you're capable of doing."
Karanja believes that any student can compete. They just need to find the willpower. He is a diabetic, and believes that if he can maintain a healthy life, anyone can.
"Even if you don't win, you'll still come out being in the best shape you've ever been in and in your healthiest state," he said. "You'll learn a lot about who you are in general through all the ups and downs of such an adventure."
See how all this hard training and rigorous dieting pays off this April. The exact date has not been announced yet. For more information visit the website.