It's 3 p.m. on a Friday, and Storey Hall is vacant. An occasional faculty member or student drifts through. Burgundy, tan and brown tones cover walls that hold portraits of distinguished graduates. Shelves, lined against the walls, hold law books for reading.
Jennifer Collins walks in at 3:15 p.m., wearing a smile from ear to ear and a bright teal jacket. She's returning from a meeting, one of the many she attends throughout the day. Her laugh, genuine and cheerful, fills the hall as she leads a reporter to her office.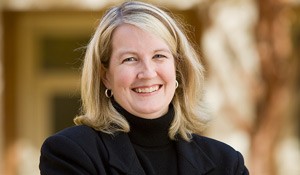 Collins represents the breath of fresh air the Dedman School of Law was looking for in hiring a dean.
"She brings a fresh set of eyes, " said Nathan Cortez, associate professor and associate dean for research at Dedman Law.
Collins began her role as dean of Dedman Law on July 1, replacing, John Attanasio, the law school's dean from 1998 to 2013. Her journey to SMU was both expected and extraordinary, filled with distinctions and high profile positions.
Collins completed her undergrad degree at Yale University, where she obtained her B.A. in history. She then went on to Harvard University, where she received her J.D. in 1991.
"I confess: I was one of the people who went to law school because I didn't know what else to do, " said Collins.
Collins journey after law school led to numerous positions, including a clerkship within the U.S. Court of Appeals, an attorney-adviser for the Department of Justice and an assistant United States attorney in the U.S. attorney's office, working mostly in the homicide section. Just before accepting her first dean's position at SMU, Collins served as vice provost and professor of law at Wake Forest University School of Law in Winston-Salem, North Carolina. While there, she co-authored a book, titled Privilege or Punish? Criminal Justice and The Challenge of Family Ties.
"She has serious, high-level practice experience and is a serious, high–level scholar," said Cortez. "We were lucky to get her."
Collins said her experience has prepared her for one of the biggest challenges she'll face as dean: the still bleak legal job market.
"It's a very tough time to be a law school dean, and there's not a law school in the country that isn't facing these same challenges, " said Collins, adding that law is not immune to recession. "I knew it would be tough."
Although Dedman law students haven't really experienced the lousy job market that other law students might, fear is inevitable. From 2010 to 2013, the percent of employment for Dedman Law students has increased from 87 percent to 91 percent, compared to the national average, which decreased from 84.6 percent to 81.7 percent, according to the American Bar Association.
During the three months she has served as dean, Collins has already executed a four-core commitment to help the law school succeed in challenging times.
This includes providing real-world skills to students through innovative courses such as corporate counsel and federal judicial externship programs, and by adding lab components to existing courses. Second, securing speedy employment for soon-to-be-graduates by developing additional training to make students hirable. Third, reducing the cost of education by looking at the possibility of a three-year JD-MBA, in addition to reducing the time to a degree in general. And finally, emphasizing service to the community through pro bono work, research and scholarship.
This charge has brought energy and excitement to professors and law students.
Sunil Gupta, a law student obtaining a Master of Law in Taxation says Collins has done a wonderful job transforming into her new job responsibility. Recalling his first encounter with her, he was surprised to find an email response from Collins one day, shortly after he had sent her a question.
"You don't see that often, " he said.
Collins' advice to students juggling whether they should become a lawyer or not: make sure that being a lawyer is something that appeals to you, and expose yourself to different kinds of law practice.
"She has a collaborative spirit and distinct vision for moving the law school forward during a challenging time for legal education, " said Jessica Weaver, assistant professor of law at Dedman.
Collins is originally from Massachusetts. She calls her move to Dallas an easy choice, declaring Texas "one of the most exciting places" in the country to live. She said the innovation and excitement she encounters throughout the city reinforces her choice each day. She also doesn't mind the many great restaurants in the city.
Collins arrived in Texas with her husband, also a lawyer, and her three children, who all attend SMU.
So, how does a teacher, administrator and mother juggle it all?
"It's an ongoing challenge, " Collins said while laughing, something she does often. "I have no easy or obvious solutions."
The afternoon is winding down, and there's one last request for the dean: name a book, movie, song or quote that has inspired you. A bit stumped, Collins reveals a few, but her uncertainty is noticeable. Time is up, and she must return to her dean duties.
It's 10:20 p.m. the same Friday. The sound of an email notification fills the reporter's room. Who could it be at this time of night? Then, admiration sets in.
It's Dean Collins. She suggests a better answer to the question asked earlier in the day.
"A Lesson Before Dying," Collins wrote in the email. "It helped inspire my passion for social justice."