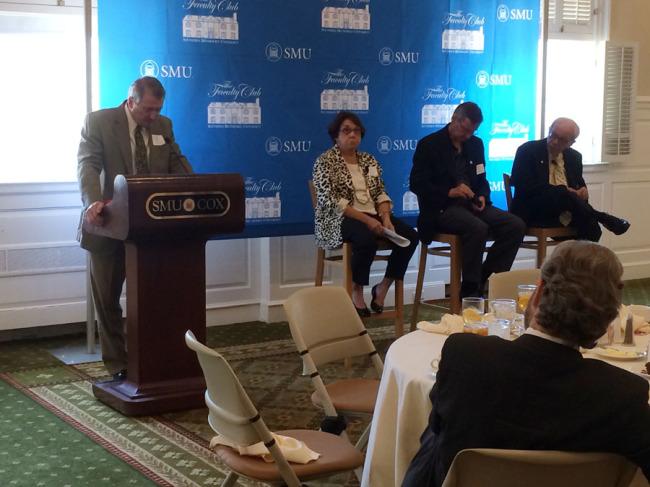 Three of Southern Methodist University's top political minds gave their election predictions Thursday at a Faculty Club luncheon entitled, "Election Day and Beyond: Blue Skies or Storm Clouds."
Dedman College Professor of Political Science Cal Jillson, Dedman College Professor of Political Science Dennis Simon and Meadows School of the Arts Professor of Practice Carolyn Barta gave their thoughts on the upcoming state and national elections.
Midterm Election Trends
"Democrats didn't make a lot of progress in the statewide elections this year," said Jillson. He said Texas has had low midterm election turnout in the last decade, leaving the state in anywhere from 49th-51st place in voter turnout rankings with only 30% of eligible voters participating.
Early voting is now at the forefront of the country's political system and is an indicator for other phenomena. According to Jillson, 64 percent of voters voted early. "That means they made their mind up really early in the process," he said.
These voters are also likely to have voted straight party ticket, as 64% of voters do, Jillson explained. "Straight ticket voting always favors republicans."
According to Simon, voters tend to look at the last two years when making decisions. He pointed to the fact that Obama's approval rating is similar to that of Bush's in 2006, and republicans did not do well in elections that year. Because of the public's current view of Obama, Simon said that republicans are wise to associate their opponents with the president.
Voter ID laws have gained attention again this cycle. Jillson explained that at the root of these laws, despite what many republicans may argue, is a desire to disadvantage certain groups of voters. Jillson compared the laws to the controversial poll taxes of the past. He disagreed with the figure that 600,000 Texans don't have the appropriate identification to vote, but he did say that the distance and documents required to obtain an ID can make it difficult.
"Texas doesn't have the lowest voter turnout by accident," Jillson said.
Texas Election Predictions
As for actual outcomes, the faculty had their own thoughts on who would be buying business cards with the seal of Texas come January.
Currently, there are 88 competitive U.S. congressional districts in the country, with the other 242 districts going blue or red in "landslides," said Simon.
According to Simon, Montana, West Virginia and South Dakota are "in the bag" to be stolen from Senate democrats who took the historically conservative states in '08.
To get a majority, republicans need to win at least three of the following states: Alaska, Arkansas, Colorado, Iowa, Louisiana and North Carolina.
In the lieutenant governor's race, republican State Senator Dan Patrick faces democrat Leticia Van De Putte. Barta labled Patrick's campaign approach "low key," saying, "If people don't know much about you, they're gonna vote Republican in this race."
As for attorney general, republican State Senator Ken Paxton is running against democratic attorney Sam Houston. About Paxton, Barta says, "Even if he wins, he may be indicted," referring to Paxton's financial disclosure issues. She still believes that Paxton will be the favorite due to Texas' conservative political climate but says that this could be the only race that democrats have a chance for a longshot win.
Texas land commissioner often leads to the governor's mansion. Barta believes candidate George P. Bush is attempting to begin his ascent for that seat, which is why people are paying attention to this race versus former El Paso mayor John Cook.
For Dallas Country District Attorney, Republican candidate Susan Hawk has changed parties twice. Craig Watkins, the Democratic incumbent, has been accused of bullying, intimidation, using his office as a power base and misusing office funds.
For county judge, Barta said that Clay Jenkins has been in the spotlight the most. Although he is a democrat, he served as the spokesman for the local government when it came to Ebola. According to Barta, this is likely to give him an edge against former city councilman Ron Natinsky.
All of the panelists believed Abbott is going to be Texas' new governor, but Jillson thought the 16-point lead the Texas Tribune gave him was "a little high."
Texas has not elected a democrat for statewide office in 20 years. Should Abbott win, that would be a sign to democrats that it may be 4-8 years before they have a strong foothold in Texas, according to Jillson. "There will be great angst among democrats," he said.
As for opponent Wendy Davis, Barta said her filibuster was the crest of the wave she has been riding into election week.
Davis was accused of embellishing her personal story by critics. "That was her first real setback," said Barta, citing her higher poll numbers from last year.
"She's turned out not to be another Ann Richards," she said, saying that Davis lacks the charisma and a weak opponent.
"We're not looking for a Wendy Davis win… The question's just going to be how much Greg Abbott will beat her by."
Presidential Election Predictions
With almost 60 percent voter turnout for national elections, the electorate has a totally different profile, according to Jillson. He described midterm voters as "older, wealthier, more highly educated, and whiter," while more minorities come out for national elections.
"If Hillary is a retread, I think we can agree that Jeb is, too," said Jillson about Hillary's presidential outlook.
Simon said he is waiting for the "ABH" candidate, meaning "Anybody but Hillary."
He also isn't confident that the next president already spends a lot of time in the White House, saying that after Obama's second term is over, "Uncle Joe goes back in the attic."