UPDATE: 8:17 p.m.
FORT WORTH– As early election results come in, supporters of Wendy Davis in Fort Worth are still remaining positive.
Kelly Bogart, who has worked on the Davis campaign for the last couple of months, said she's very confident that Davis is going to win tonight.
"I'm a huge Wendy supporter to begin with. I've been interning on her campaign for about 2 months now so I really want her to win. I want to be in the excitement when she does win because I really believe she will," Bogart said.
A friend and supporter of Davis Ashlee Jung said no matter the outcome tonight, Davis is set to do something amazing at the national level.
"Watching the filibuster and the things she's done for women's reproductive rights in the state of Texas, I think she is always going to be that pioneer and that voice for females," Jung said.
Although some news outlets are already calling the race in Abbott's favor, supporters and staff are still hoping for a win.
—————————————————————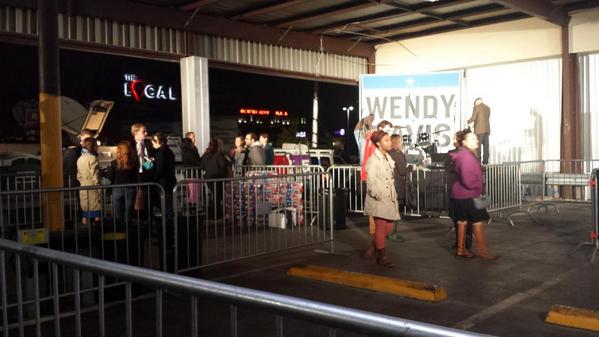 ORIGINAL POST: 7:27 p.m.
FORT WORTH– No matter the outcome, the feeling here is positive although Davis is the underdog. The Communications Director for Davis' campaign Zac Petkanas said Davis cares a lot about higher education and making jobs available for college graduates.
"Our message about education is targeted toward young people to give them a sense of hope for the future in Texas. They can be a part of this 21st century time where Texas is continuing to lead. [She wants to make sure] there are good paying jobs waiting for them after they graduate school in an affordable and easily accessible way," Petkanas said.
Supporters will begin showing up at 7:30 p.m. I'll bring you more updates as they come.
SMUTV reporters on the scene in Fort Worth
Wendy Davis and the Young Vote from SMU-TV on Vimeo.
Wendy Davis Camp from SMU-TV on Vimeo.