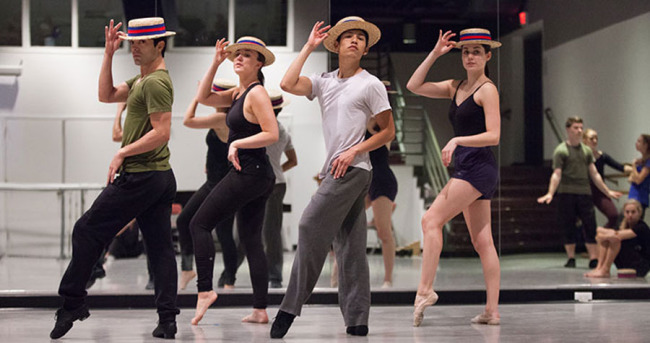 Wednesday marked the start of the SMU Fall Dance Concert series, which lasts through Sunday.
The show, which showcases student dancers across years, featured four innovative contemporary works, including the premiere of SMU faculty member Christopher Dolder's Handle.
Opening to a half-full Bob Hope Theatre, the visually dramatic show focused, across all dances, on silhouettes and dramatic shapes.
Dolder's Handle, a multimedia performance that mixed dance, video, and acrobatics, was an incredible showing of talent. The choreography highlighted the professor's creativity and innovation.
Like Matisse's paintings come to life, silhouetted dancers relied on shapes to express Dolder's intentions.
After the intermission, To the Fore used creative props to light the dancers. Though the synchronicity was not consistent, the dance exhibited the control of SMU's ballet dancers and a modern take on pointe.
Meadows standout Kelsey Rohr once again impressed in Cigarettes a slightly humorous piece that continued the lineup's remarkable use of props. Christopher Dorsey also stood out in the piece, but never took away from Rohr's gracefulness.
To the Fore was a personal favorite and the 2009 choreography by Adam Hougland remains relevant.
The final third of the show included the classic choreography by dance legend Bob Fosse, re-staged by Alex Sanchez. The dance concert was stolen by Hope Endrenyi, who brought charisma and boundless energy to Steam.
A final performance of Sing, Sing, Sing closed out the performance in true Fosse style.
Overall, the first night was full of surprises. The contemporary choreography brought a new flair to the Fall Dance Concert. Though there were a few kinks that will be worked out as each performance continues, overall, the series provided a look into the future for Meadows students.