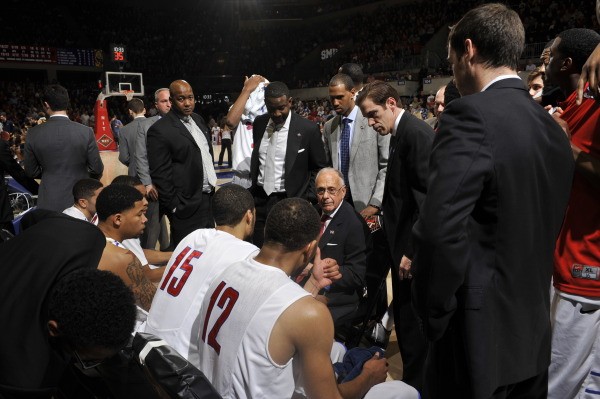 Moody Magic is back! The Mustangs open up the 2014-15 season in Moody Coliseum against Lamar, in front of a sellout crowd, Friday.
The Mustangs are entering their third season under Head Coach Larry Brown after ending last season in the NIT championship game, going 27-10.
Last season, the Mustangs won a program record 18 home games, including a 12-1 mark inside of Moody Coliseum. SMU also set a new home attendance record of 107,412, topping the previous 101,296 in 1984-85. The Mustangs sold out nine of 13 games in Moody Coliseum last season and have already sold out season tickets for the entire upcoming season.
One of the Mustangs defining moments last season came when SMU beat No. 7 Cincinnati in a 21-point victory.
SMU Point Guard Nic Moore was nearly crowd surfing after the win after being hoisted in the air by ecstatic fans. Forward Markus Kennedy had fans hanging on his arms and jumping on his back. Foreign territory to not only SMU Basketball, but SMU Athletics in general.
The next day the Mustangs returned to the Associated Press Top 25 rankings for the first time in 29 years. Media flooded the entrance to the locker-room the Monday before practice to interview our very own Mustangs.
"We want to be an elite program and we have to look at everybody like they can beat us and respect everybody," Head Coach Larry Brown said. "I ask them why did we beat Memphis? Why did we beat Connecticut? And they will all tell you we played harder than them."
Another defining moment for the Mustangs was the game against Temple on Feb. 6 which brought Tony Romo, Jason Garrett and Deion Sanders into Moody Coliseum.
"The harder you work the more respect you will get," Coach Brown said. "We are becoming relevant now."
Coach Brown sent out an email with "Cheer the Right Way" in the subject line the day of the game against Temple to the student body. In the email he thanked the students for their support and reminded them that they represent SMU.
"Without dampening your enthusiasm, I must ask that you refrain from using any foul language or other inappropriate actions at the game," Coach Brown said. "Cheer for SMU–not against our opponents."
For the upcoming season, SMU is ranked No. 22 in the preseason Associated Press Top 25 and the USA Today Coaches Top 25. The Mustangs were also picked to finish second in The American by the league's coaches. Mustang juniors Nic Moore and Markus Kennedy were unanimous preseason all-conference selections.
One of the only questions of the upcoming season came when Emmanuel Mudiay chose to play professionally overseas instead of coming to SMU.
"When you lose a player like that in July and don't get somebody to replace him it's tough," Brown said. "When we have everybody if we all do what's expected of us we could be good, but we lost our two best players."
The Mustangs have 11 returning players from from last season, including standout Nic Moore, who was All-AAC 1st team, NABC All-District 1st team, USBWA All-District and All-NIT after averaging team bests in scoring and assists. Markus Kennedy is also returning from his last season performance of All-AAC 2nd team, NABC All-District 2nd team and All-NIT after leading SMU in rebounding and finishing second in scoring.
Returning seniors for the Mustangs are Cannen Cunningham and Ryan Manuel.
"My basketball IQ has increased a lot and I think Coach has a lot to do with that," Cunningham said. "Coach Brown is creating a basketball tradition. I seriously doubt a program has turned around as fast as ours has."
Aside from excellence on the court Coach Brown is making sure the team exemplifies leadership inside and outside of the classroom. If someone is late to class the entire team is punished, if someone does not go to class everyone is punished and for the first time in ages if there is a loss, the newly formed sixth man will feel it with the Mustangs.
"I tell guys all the time I cut 1,000 guys as good as you, and it's true," Brown said. "But I haven't cut any guys that were talented, that had great character and had this will to win and wanted to do the right thing."
Coach Brown is building a team with integrity, a school with tradition and the start of a basketball era at SMU to never be forgotten
"Your talent is a gift from God and your character is your choice," Brown said.
Coach Brown is a class act, the era is just getting started and the greatest years have yet to come.