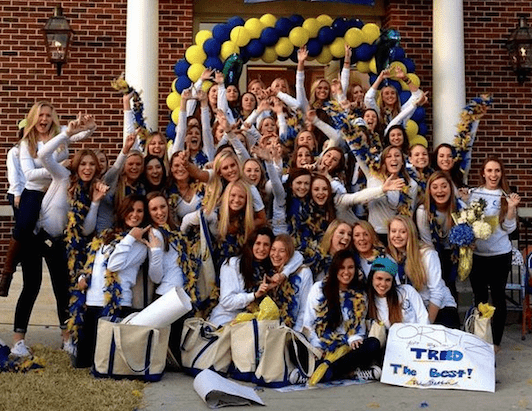 As spring semester approaches the students of SMU, hundreds of eager girls begin preparations for the long-awaited week of recruitment. Unlike many universities around the United States, SMU has a long-standing tradition of deferred Panhellenic recruitment.
Although this feels like an eternity for the girls about to go through recruitment, many current SMU sorority members found that deferred recruitment has more benefits in comparison to fall recruitment.
"Having deferred recruitment is a huge advantage because it gives [you] time to both truly see all the different personalities of the houses and develop relationships with girls in every house," said current sorority woman and junior Molly O'Connor.
Throughout the fall semester it's common for students to notice the abundance of girls in sorority t-shirts on lunch dates, whether in Café 100, Hughes-Trigg, Arnold or any of the other dining halls around campus. These lunch dates allow the girls to get to know each other before actual recruitment begins, an advantage that isn't available for universities with fall recruitment.
"I really liked having the first semester [at SMU] to get my feet on the ground with school," said freshman Lindsey Wilson. "I enjoyed meeting sorority girls and going on lunch dates because you get to see a little bit of what every chapter is about."
However, deferred recruitment has its downfalls as well. According to the SMU Panhellenic Council page, around 500 women participate in the recruitment process every year. They reported: "too often, women go through the process with a more narrow opinion and unfortunately this attitude poses a real danger for disappointment."
It's a well-known idea for women going through recruitment that they should always keep an open-mind and try to keep pre-conceived notions out of the decision-making process. This tends to be more difficult for women beginning the process a semester later, due to existing ideas of individual houses they formed during the first few months of college.
According to the numbers given by Panhellenic Council, only three to four women historically will not receive invitations or "bids" to a house after the process is over. "While the numbers aren't perfect," they especially iterate the importance of open-mindedness.
"With deferred recruitment, you don't have to base [your decision] off of opinions you've heard from others," said O'Connor. "You really have time to see what [each house] is like and find the best fit for yourself."