SMU senior finance major Lance Barnard wanted to gain muscle after previously focusing on cross-country running, so a month ago he sought out a personal trainer. He started sessions with trainer Benjamin Baker at the Dedman Center for Lifetime Sports and immediately noticed the results.
"After the first training session, I was pretty much done for the day," Barnard said. "I couldn't walk very easily."
Barnard admitted he doesn't have much experience in the gym, so Baker leads him through the workouts.
"He not only helps me come up with a good routine, he makes sure I am doing it right," Barnard said.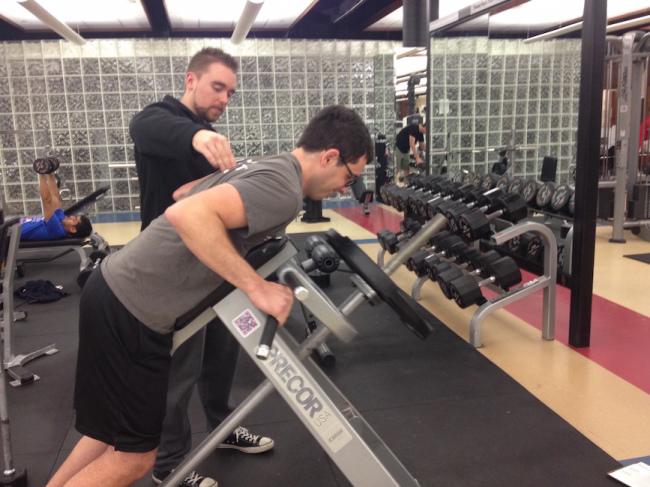 The personal training program at the Dedman Center started in 2003, but did not have nationally certified trainers, like Baker. Now the program has built a diverse staff with a multitude of specialties.
Most of the packages that the trainers offer cost around $50 to $60 per session. But what Dedman Assistant Fitness Director Gina Garcia thinks many people do not know is that all students, faculty and Dedman members can ask for a complimentary session with a personal trainer.
"Why not ask? I've got a great staff," Garcia said.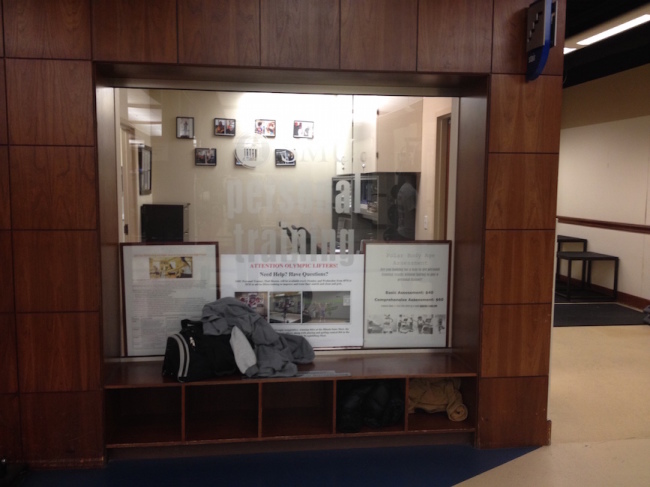 The nine personal trainers at the Dedman Center each have their own specialties, and Personal Training Supervisor Emily Field focuses on those specialties to pair clients with trainers.
"I set up personal trainers with clients that are best for helping them reach their goals, " she said.
But the training does not have to be one on one. The Dedman Center offers group sessions as well. Garcia wants to promote group training since it is a more affordable option for students and because it can be more enjoyable to workout with friends.
"I think students like to work in a group," Garcia said. "It has motivational factors and it's kind of fun to workout with others in your fraternity or sorority."
The Dedman Center even has rooms specifically for group training that Garcia thinks not many people know about.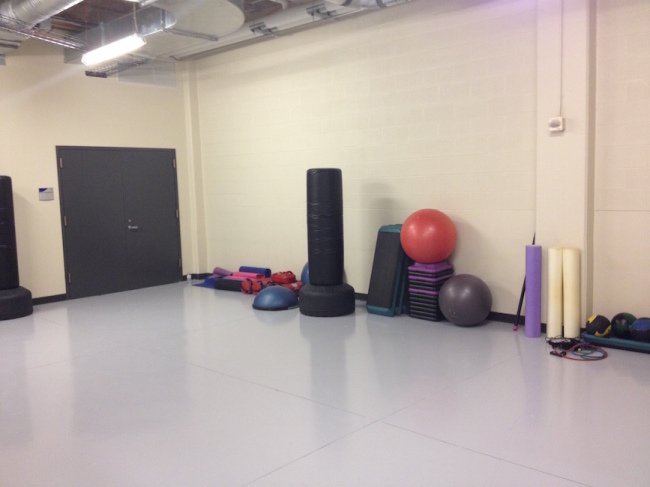 And for others that choose not to pay for any type of training, the personal trainers are always available to give fitness advice and answer questions for free.
Matthew Brown, who joined the training staff in December 2014, realized it's not so easy to teach a movement that he has perfected.
"The first time I ever taught a client how to deadlift, it was the hardest thing I'd ever done," Brown said.
Brown is an SMU student as well as a trainer at Dedman. He balances his classes, job and his own training.
"I have class at 8 a.m. and then I have clients until my next class at 2 p.m.," he said.
The sophomore business management major from Northbrook, Ill. specializes in Olympic lifting, and he placed eighth nationally in an Olympic lifting competition as a high school senior.
"Guiding people that don't really know what they are doing, but they really enjoy it, that's the most fun," he said.
Garcia estimates that about 70 percent of clients are either faculty or community members, but Brown seeks to increase the percentage of students through his relationships on campus.
"It's a very easy introduction for them to have a friend who is a personal trainer," Brown said.
While Brown has the physique of an avid weight lifter, SMU trainer Travis Burkybile emphasizes that people do not have to be bodybuilders to succeed in fitness.
"You never know whether you're judging a trainer or any person that you see at the gym based strictly off their looks," Burkybile said.
Burkybile trains his clients to be physically fit overall, not just for bigger muscles.
"It was never important to me to be the biggest, most muscular guy around but to be strong and be healthy," he said.
Burkybile is from Casey, Ill. and pursued strength training as a teenager for better performance in sports. His interest led to a kinesiology degree from the University of Illinois.
Burkybile uses a stretching technique called fascial stretch therapy to improve his clients' flexibility. Clients lie on a table and Burkybile assists them in movements to stretch connective tissue in the body. The therapy is still growing in the fitness world, but Burkybile has seen it do wonders.
"The comments [my clients] make about how good they feel and how much different they are after having gone through that type of work is pretty rewarding," he said.
Baker, from Garland, was bored one day in his dorm at the University of North Texas and decided he needed a hobby. That hobby became powerlifting.
This new passion led to Baker changing majors at UNT from business to health and wellness promotion. He joined the SMU personal training staff in May 2014.
Baker has made the TRX suspension equipment a staple in training his clients. The apparatus attaches to a high bar, and two cables hang down that allow for a myriad of bodyweight exercises.
"The TRX activates smaller muscles and requires the core to stabilize the body," Baker said.
During his own training, Baker met a trainer that introduced him to the TRX. The trainer set up the TRX so that the cables extended almost to the ground and then Baker was asked to perform a pushup with the equipment.
"I get into position, and I go all the way down," he said. "I fall right on my face."
Many of his clients, however, aren't ready for the TRX immediately.
"I get a lot of clients that have never exercised before or are starting from square one," he said.
One of his clients weighed 300 pounds and had a hip replacement, requiring Baker to research how to train her.
"There's a lot of things those individuals can't do, but I like that because you have to expand your horizons," he said. "It challenges you, and it grows you as a person and as a trainer."
The client has now lost over 120 pounds and "she feels fantastic about herself," Baker said.
Whether clients are performing simple exercises or complex ones, the trainers help to ensure proper lifting form. Barnard struggles with the deadlift, and he knows he couldn't perform the exercise correctly without Baker's guidance.
"Having someone to really help with your form is important," Barnard said.
For more information on SMU Personal Training, visit http://www.smu.edu/StudentAffairs/RecSports/Fitness/PersonalTraining.