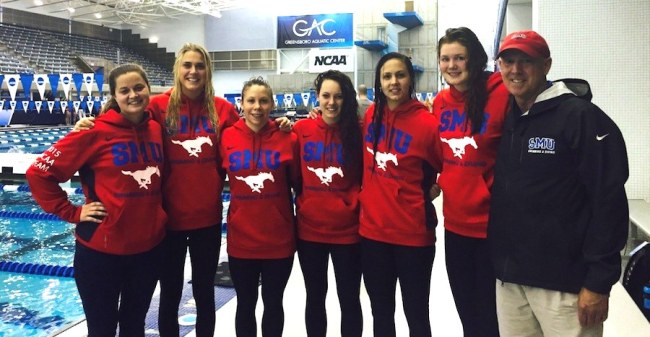 On the final day of the NCAA Swimming and Diving Championship at the Greensboro Aquatic Center, Isabella Arcila posted the second fastest time in school history in the 100-yard freestyle, earning the senior All-American honors.
Arcila posted the 14th best time of 48.36 to qualify for the finals.
The time moved her up to second on the all-time list at SMU, and it was the third personal best posted by a Mustang at the Championship- Martina Moravcova set the school standard in 1999 and is the only Mustang to have clocked in under 48 seconds.
In the Consolation Finals, Arcila clocked in at 48.38- tying her for seventh place. Fellow senior Nathalie Lindborg also competed in the event's prelims and finished with 48.96.
The 200-yard breaststroke prelims featured All-American performers Rachel Nicol and Tara-Lynn Nicholas. Nicol finished second in her heat turning in a time of 2:10.57.
Arcila's points in the 100-free helped SMU finish with a final team score of 27.0. That was good enough for a 31st place finish out of 46 scoring teams and 73 overall.
California took the team title- edging out defending champion Georgia. Stanford placed third and Texas A&M, Virginia, Louisville, Texas, USC, Florida and Indiana rounded out the top ten.
SMU had four individuals earn All-American honors: Nicol, Arcila, Marne Erasmus, and Lindborg.
The Championship signals the end of the Mustangs' 2014-15 team schedule. However, select swimmers swill compete in the Mesa Grand Prix April 15-18.