Well folks, It's that time of year. No, I am not talking about the time for sunbathing days on Dallas Hall lawn. No, I am not talking about the time for relentlessly eating popsicles at Steel City Pops (it's not like I've done that or anything). No, I am not talking about the time for spring shopping when you should be studying (sorry, "probably' should be studying). Though these things deserve an article of their own, I'm talking about the time for the 9th annual Dallas Film Festival.
The Dallas Film Festival premieres narrative feature films, which compete for festival awards, and shows more popular new releases as well. The festival takes place April 9-19 with movies screening all day. This past Friday, filmmakers and actors from half of the competing narrative features attended a press roundtable session promoting their films. Let's take a look at these competitors:
"Echoes of War:"
A spin off of an earlier short film, this Civil War-era feature centers on a man who returns home from the war only to find his family in yet another battle with a harsh rancher. Producer and writer John Chriss noted that he is "really against calling our film a western because what we set out to do was to make an anti-western: to take out all the bullshit gunplay, shooting pistols out of people's hands, roping bad guys, the whole notion of good and bad with the black and white hats, and all this silly western stuff we grew up on and get to the core of films like 'No Country for Old Men' or 'There Will Be Blood.'"
"The Adventures of Pepper and Paula:"
Based on the true story of Pistol Packin' Paula, "The Adventures of Pepper and Paula" follows Paula on her journey to recovery after an accident in one of her famous Wild West shows. Thanks to her dog, Pepper, Paula channels the motivation and energy to face her mischievous replacement in the show. Star of the film Mindy Raymond was actually trained in only two weeks by Paula herself. When asked about the experience of playing a real person, Raymond responded, "I'm very fortunate to be one of the few actors to play a person who was actually with me every day when we were shooting. To play her and to tell her story was awesome. It was a once in a lifetime opportunity!"
"The Love Inside:"
From directors/ writers Andy Irvine and Mark Smoot, "The Love Inside" is about something we can probably all relate to: romantic problems. The film takes place in a rural cabin in Texas where Vaughan's best friends are supposed to get to know his fiancée. Well, things don't go as planned when one of his good friends brings Vaughan's ex-girlfriend. Things quickly go awry in this painfully realistic romantic company. Speaking of realistic, Irvine and Smoot revealed that a lot of the writing for this film involved "drawing from personal experiences." Awkward much?
"Red on Yella, Kill a Fella:"
In this western film with a horror twist set in the early 1900s, Claude Barbee is on the hunt for money hidden after a railroad heist gone wrong. But in addition to the law, something else is hunting Barbee that shows no mercy. Director Justin Meeks said that Dallas is a great place to premiere the film considering the film was shot in Texas. Meeks noted, "Texas is a character itself. It's just as rough and rugged as the outlaws."
"The Jones Family Will Make a Way:"
In this documentary centering on a gospel group, a Pentecostal minister bonds with an unlikely new friend, a secular music critic. The film follows the evolution of their friendship as The Jones Family Singers spread their life-giving music. On Friday, the critic in the film, Michael Corcoran, said, "There has been a lot made about how I am an atheist or non-believer, and they are totally Christian. But really, the way they feel about God is the way I feel about The Jones Family Singers."
"The Outfit:"
From producers Kelly Snowden and HutcH and director Yen Tan, "The Outfit," a short film with a comedic edge, shows how one congressman's choice of clothing triggers a media storm questioning his sexuality. When asked what about the story caught his eye, Hutch responded, "Well, it's just about people learning to accept who they are and their choices whether it be their clothing or what they do. It's just interesting to see the pressures people go through to be themselves." Kelly added, "We like that it's a lighter piece to deal with some heavier issues."
"Treading Water:"
Director/writer/ lead actor Liz Cardenas Franke brings audiences a raw look into the painful reality of caring for an elderly parent in a declining medical condition. In fact, though the film isn't technically a documentary, Franke is actually facing this same situation in life right now (the film was even shot in her dad's house). Franke, J.B. Edwards (who plays her father in the film), and producers Kelly Snowden and HutcH sat down and talked openly about the hardships of making such a heavy film on Friday. While tearing up, J.B. Edwards said, "I actually met Liz's father. It was interesting acting in it because it was scary in a lot of ways because that could be the future for a lot of people." And when Liz was asked if this film was her form of therapy, she replied with tears in her eyes and a cracking voice, "Yeah, it really was." It doesn't get more real than that.
"Dare to Drum:"
Directed by SMU adjunct lecturer of Drumset Studies John Bryant, this documentary tells the story of five drummers preparing for a series of concerts in Dallas. Things go according to plan, but the concerts are to be held during the week of Super Bowl 45, which came to be known as Icemageddon. With the bad weather, the fate of the concerts is up in the air.
The music's theme is Gamelan, which is the music of Bali in Indonesia. When asked about Galeman music, Bryant said, "It's charming music, but it's challenging music because it's illogical to our Western ears."
"Melville:"
Directed by James Johnston, this film stars a character named Marcus, a man dealing with some serious s*** who can't seem to talk about it with anyone. We've all been there, Marcus. Johnston uses hip-hop as inspiration for the film, stating that he always starts with visuals when filming.
Melville is a short film, but Johnston hopes to turn it into a series. Producer Red Sanders credits the community for their help with the film. "Since we're based locally and shot locally, we were able to get the community to help," he said.
"The Day West Shook Texas:"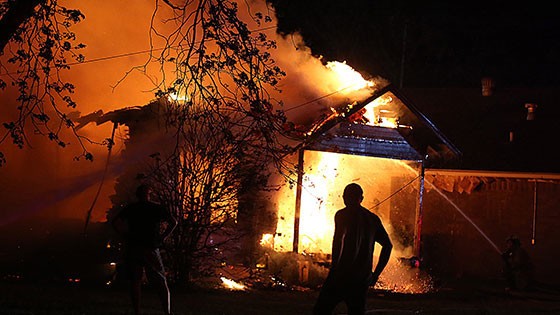 All Texans remember where they were on April 17, 2013, the day the plant explosion occurred in West, TX. Everybody loves that town because of the Czech Stop, so we were all shocked and saddened by the explosion. Thousands of people came to the small town to provide assistance, including the Texas Rangers and Dallas Mavericks organizations, and according to director Jim Gerik, "the help turned tears into cheers." This human-interest film tells the story of West citizens and how they have been rebuilding the greatest small town in America.
"One Hitta Quitta:"
UT Arlington film professor Ya'Ke Smith directs this film that was shot only with iPhones. A young boy who has never been punished for his actions turns to internet violence, which causes him to become violent in real life. "Kids think it's ok to do certain things because there are no consequences for their actions," Smith said. The film shows how people will do anything to become "Facebook famous," even hurting innocent people for no reason. Thanks, WorldstarFights.
"Some Beasts:"
Cameron Nelson directs this film about modern-day Thoreau Sal Damon. He is a loner in Appalachia who discovers a child living on the lam after his neighbor dies. Cameron states that it's a story of life and death in the country. Because Sal Damon is a loner, lead actor Frank Mosley used his childhood to prepare for the part. "Growing up, I was friends with everybody, but I didn't have a specific group, so I felt alone," he said.
"We'll Find Something:"
For those of you in a relationship, you know that choosing a restaurant can be stressful for a variety of reasons. Casey Gooden directs a film about a couple in New York trying to find a place to eat. It takes them several hours to find to choose a place. Due to filming gear being locked up, the crew only had one night to shoot, which worked out well for Gooden. "The actors were tired after shooting for twelve hours, but that makes it look good because in the movie it takes them four to five hours to find a place." This is why you order delivery.
Have a favorite? Want to see which film wins? Check out these films and others at the Dallas Film Festival beginning April 9.