Back in the fall of 1955, SMU's campus was nearly half its size and cars with names like Buick Skylark had no trouble finding a parking space.
Students buzzed about the new Umphrey Lee Student Center that was set to open in the spring with its gigantic ballroom and exterior architecture set in SMU's iconic Georgian theme.
That fall also marked the arrival of a young piano professor, Alfred Mouledous. Today, the professor has been here longer than any other teacher on campus.
Mouledous, now 86, is teaching in the basement of Meadows, where his door is covered with comic strips, personal notes and newspaper clippings accumulated over the past six decades.
"I think the main things in his life are music, fishing and his shelties," said Mary Anna Salo, a first-year masters student studying piano performance under Mouledous.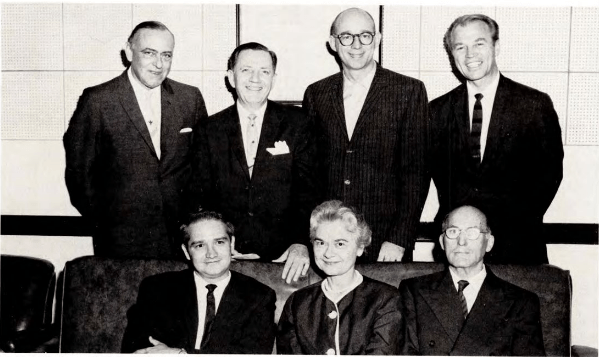 When he isn't teaching one-on-one lessons, he's fishing at Lake Ray Hubbard. Known as an outdoorsman to his friends on campus, Mouledous is known as the professor at the lake.
To the rest of the world, Mouledous is a highly respected musician and his students come from all over the world to learn from the talented pianist and former member of the Dallas Symphony Orchestra.
"I don't know any artist in the world, at any level, that knows their repertoire or that has better ears than he has," said Samuel S. Holland, Dean of Meadows School of the Arts and a fellow piano professor.
Holland calls Mouledous the grandfather or grand-teacher of Dallas's piano teachers since the professor is responsible for instructing generations of pianists.
However, with such a reputation both in Dallas and on campus, Mouledous remains humble.
"He doesn't have an ego and with the training and skill set he has, you can say he'd be totally justified and that is mind blowing. He is really something else," said Salo.
Students call Moueldous' teaching approach exceptionally empowering and that is what sets him apart from other piano professors, that and his old school communication style. He doesn't use email and he can be reached by leaving notes on his office door and by calling his home's landline.
This doesn't keep him from staying involved with his students. Calling him a sweetheart, Salo said Mouledous is always available for his students, even offering lessons during holiday breaks and over the summer.
Holland and Gillian Perry, another student of Mouledous, both agree that Mouledous takes a different approach with his students than most musical professors.
Perry, a first-year undergraduate studying music composition, said that the professor's enthusiasm for the music and his students makes her want to do better for him, not just herself. Perry said it is different with other professors who yell or get upset during lessons.
It is very common for musical teachers to tear down their students in order to build them back up, according to Holland.
"Most artistic teachers think it's important they do that because unless they're strong enough to survive, they're not going to make it," said Holland, "but Mouledous' not that way, his approach is one of helping people be the best they can be."
Mouledous' own career began at the Eastman School of Music in New York. He later studied in Paris as a Fulbright Scholar and under the legendary Walter Giesenking in Saarbrücken, Germany.
It was at Giesenking's master classes that Mouledous met his good friend and fellow SMU piano professor, Joaquin Achúcarro who still travels internationally to perform piano.
"In Saarbrücken, sometimes we would stay in a hostel and of the seven people in the room, asleep, two were awake talking about piano," said Achúcarro.
Referring to themselves as piano addicts, Achúcarro talks about Mouledous as a dreamer.
Achúcarro said many of the people they met while studying piano didn't make it like himself and Moueldous. Achúcarro said Moueldous, however, made it – having played with renowned conductors and in big orchestras.
Salo said she was amazed when she discovered Mouledous' past with the legendary Giesenking. The direct connection to the legendary pianist makes her feel like Mouledous is pulling straight from the past during their lessons.
Mouledous remains a highly talented pianist who keeps his students on their toes… or fingers.
"I think its because he knows the material so well and he might also forget that we students aren't quite as brilliant as he is," said Salo.
How much longer does Mouledous plan to teach?
"Well another sixty years, I expect," said the professor.