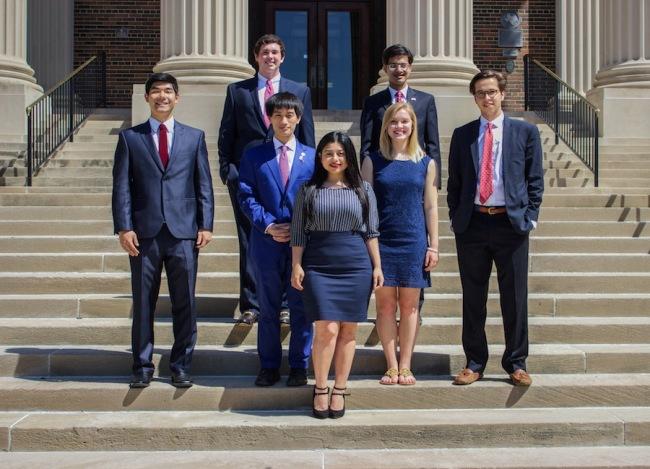 Growing up as a first generation American in a Mexican household, Monica Rodriguez has been fighting for a certain respect from others her entire life. Both of her parents struggle with the English language, which makes outsiders believe they are uneducated.
"I feel like sometimes people look down upon my dad because he is Hispanic, but I feel like people don't realize that because of certain circumstances, he was pulled out of school at age seven to work," said Rodriguez.
After transferring to SMU from Richland Community College in 2014, Rodriguez, who is studying communications, immediately realized there is a major divide on campus among different cultures. It became her mission to make a difference.
Rodriguez began her journey when she was elected as the Hispanic-American representative on Student Senate where she said she writes legislation targeted to bring diversity issues to light. However, she's especially proud of her founding of the United Students Association two months ago.
United Students Association is a student-organized program that believes in unity among cultures and races. The students involved believe that the most effective way to address the issues present at SMU is to bring together a variety of students and have an open conversation – blunt opinions welcomed.
"I love what this organization stands for: to band together and collaborate," said member Emily Dombrowski.
"Like a think tank," Rodriguez chimed in a recent interview with both women.
Racism. Gender equality. Gay and lesbian rights. These are the issues typically discussed at the organization's meetings.
The United Students Association has a founding board of seven members, three faculty advisors, and 30 committed students.
Dombrowski, 20, a junior at SMU, is an original member of USA. Her involvement on campus extends from serving on student senate, to being a Panhellenic woman. Rodriguez initially approached her with the idea of USA during a student senate meeting.
Most of the students who have already joined United Students Association have either witnessed or personally experienced an act of discrimination. Robbie Slaughter, 22, is an African American student at SMU, majoring in Mechanical Engineering. He tells a story about a friend of his, a recent SMU graduate and also an African America, who was walking down a street one day last year when a watermelon was thrown at him from a vehicle driving by.
"People just need to be reeducated on these issues, and realize there is no reason for this animosity," said Slaughter.
According to SMU's Campus Profile 19 percent of the undergraduate population falls into the minority category. This category includes Hispanic, Asian, Black/African American, American Indian, Native Hawaiian, and more. Therefore, United Students Association's largest battle will be convincing the Caucasian population, the other 81 percent, that a change in culture on SMU's campus is a must.
Attracting the majority population to attend a USA meeting is a problem that the organization is facing. However, Emily Provost, 21, went as a representative of the Panhellenic community.
"Attending a USA meeting was extremely enlightening. It has a lot of potential. Their only challenge will be targeting all diverse groups on campus. After all, a unified campus does not exist unless all groups are accounted for, " said Provost, who serves as the current Panhellenic president.
Rodriguez would like to expand the program in the upcoming year. She plans on holding several conferences and workshops. Rodriguez believes that this will help encourage leaders within the SMU community to take action.
"At the end of the day, we are all just human," said Rodriguez.