Finally, summer is around the corner. By now you have probably consumed more coffee than is medically safe and acquired too many paper cuts from flipping through a semester's worth of flash cards. Regardless of how painful – or hopefully painless – your finals experience may be, you will soon have three months of blissful, sunny summer days ahead of you.
This means long days spent outdoors enjoying the freedom of no midterms, no dorm rooms, and no dreary days spent in too long lectures. Hopefully, your summer will entail more than just blissful lounging, specifically some summer vacations. There is no better way to detox and distress from the past few weeks than a getaway.
Before you jet off on your well-deserved escape, you need to figure out what to bring, and packing can take you right back to your not-so-happy place.
If you are trying to forego the $50 and up checked baggage fee, then you are looking at packing a weeks worth of outfits into a suitcase the size of a shoe box. Have no fear, because here are a few simple ways to make a carry-on a carry-all.
Basics to statement ratio
To fit as many outfits as possible in the little space you have, you need to pack in outfits. The way that I do this is by picking three or four patterned or colorful bottom pieces and then grabbing a handful of neutral tops to go along with them. In the picture below, you can see how one skirt can go a long way. You could easily swap a pair of printed pants into any of those ensembles and have three perfectly new outfits to see all the sights in.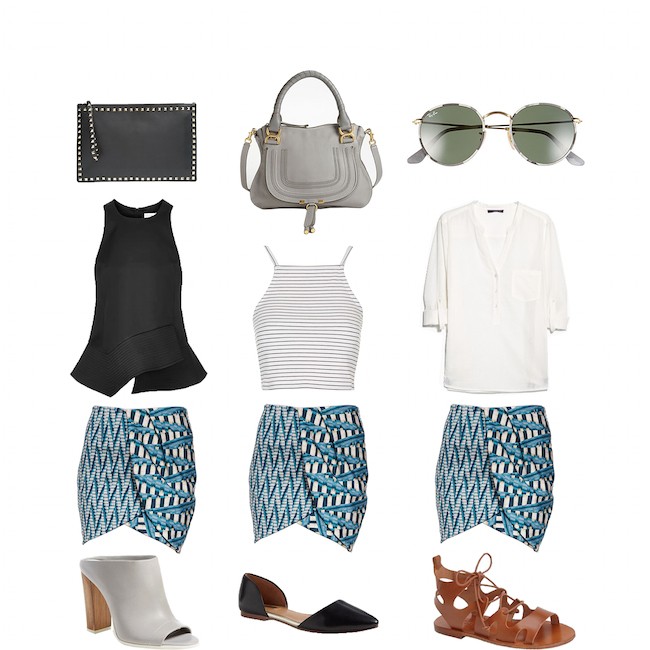 Know your accessories
When you compile your outfits, you need to also pair them with accessories. You are going to need one carry-all bag for the day time and one clutch or nighttime bag. That is it. Cut yourself off from bringing any other bags after that.
Also, you need shoes. You will need one pair of heels, sandals, and flats or closed-toe shoes, all preferably in neutral tones. Just like the bags, cut yourself off after you've selected those three pairs. Shoes take up a ton of space, so keep it to a minimum. Grab your few favorite pieces of jewelry and sunglasses and you are ready to rumble.
Let an app do the work for you
If you aren't familiar with StyleBook, then you should quickly become acquainted with it. This app lets you photograph the items in your closet and save them by category so that you can virtually mix and match outfits on the go. This will save you lots of digging and throwing items out of your closet, and will also cut your clean up time in half.