We know what you did last semester.
And we've got the signatures to prove it.
From President's Scholars to class clowns, many SMU students feel a particular sense of accomplishment after successfully sneaking into the abandoned room atop of Dallas Hall and inking their autographs on the walls.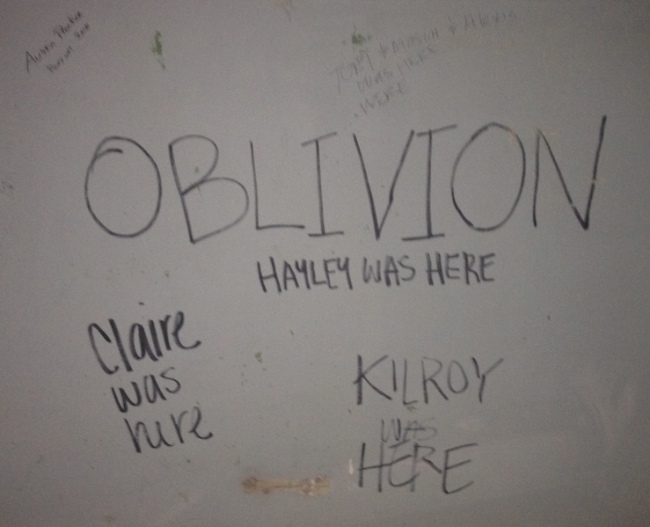 Although these students may be willing to wander through the dust-laden dark crevices of SMU's oldest building, most Mustangs are scared-y cats to admit it on the record. A nervous freshman sped away when asked to give his name to the paper.
One all-around brave soul, senior psychology and Latin major Marissa Moyer, was willing to describe her journey to the abandoned room in detail. She even admitted to venturing up there in search of the supernatural.
"I definitely believe in ghosts," Moyer said. "Rumor that the room was something straight out of 'Ghost Hunters' was my main incentive for going."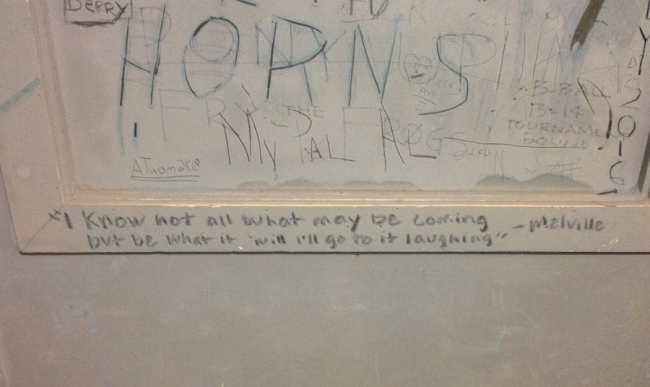 The approach of Halloween is another enticement to go on nightly explorations of campus. For students in search of goblins and ghouls, SMU provides several creepy crawly places to explore. In addition to the abandoned room in Dallas Hall, the adventurous can seek out the supposedly haunted west stacks in Fondren Library and the cave-like tunnels underneath campus.
SMU officials, however, would prefer if they didn't.
The abandoned room is not open to the public, warns SMU's Grounds Manager Ann Allen.
"It's not safe. It's rickety and you must walk on an elevated ramp around the dome to get to the apartment," she said.
The tunnels are even more dangerous, Allen said, and a potential liability.
"If someone got lost down there, and it was really hot and they couldn't get out, they could die," she said.
Dallas Hall
The abandoned room on top of Dallas Hall features graffiti-filled walls that prove students have been venturing to the building's highest point since at least 1973. Moyer said the date "9/3/1973″ is still visible on one corner.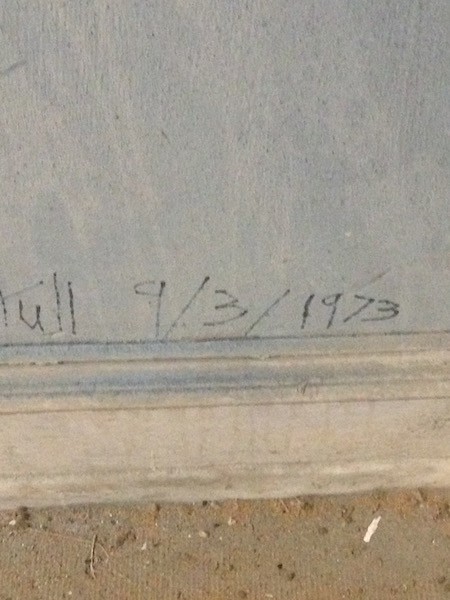 "We went up there at night, and my friend was able to jimmy the door handle in order to get in," Moyer said.
Through the door, one meets only darkness. Locate the light switch and visitors can quietly scurry up the stairs. Atop the staircase next to another door, a student has written, "The chamber of secrets has been opened," in choppy handwriting, an eerie ode to "Harry Potter."
The second door leads to the passage that outlines Dallas Hall's rotunda. Walk the complete circle to discover the abandoned room, as well as an even creakier staircase that leads to a small hole through which the sky blue and metallic gold paint of the dome can be seen at eye level.
The abandoned room differs from the rest of the hallway in that it was once finished with carpet and paint. Today, the flooring is worn bare and the faded blue paint is scratched and smudged with students' signatures. Moyer said she saw only a half-empty can of Keystone Light and a rat skeleton. No people, and no ghosts, either.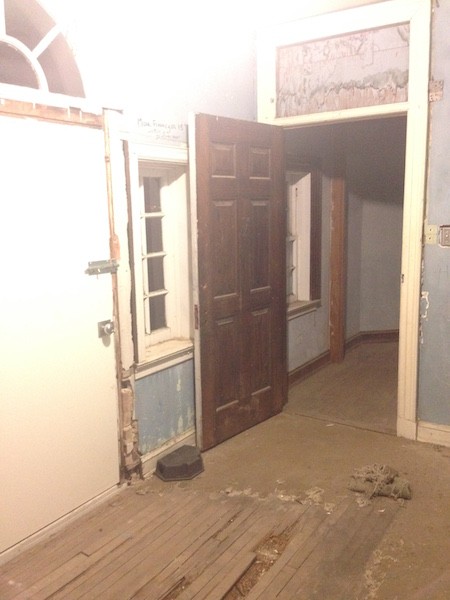 Student rumors suggest that the room once held the president's office, but Joan Gosnell, a university archivist in DeGolyer Library, can put those rumors to rest.
"The abandoned room on the top of Dallas Hall was originally housing for a few male students in the very earliest days of SMU," Gosnell wrote in an email.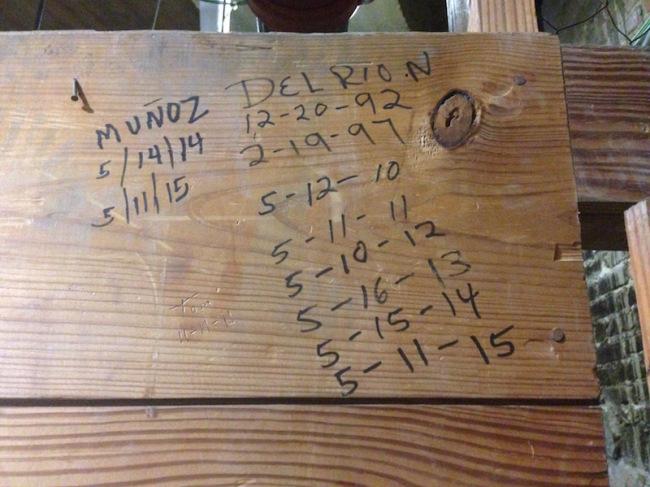 Another popular rumor is that SMU takes leaders of the student body to the top of Dallas Hall, but Student Body President Carlton Adams confirmed that this is untrue.
West Stacks
Maybe SMU's ghosts reside in the west stacks instead?
School legend has it that former SMU President Umphrey Lee died of a heart attack while in Fondren Library and now his spirit haunts the stacks. In a 2008 Daily Campus story, Marshall Terry, a former SMU English professor, confirmed that Umphrey Lee did die in the library while working on a book in his third floor office. Any ghosts, however, have yet to be confirmed.
Senior political science and communications major Laura Sullivan is a frequent visitor to Fondren and believes the rumors of spirits are absurd.
"People believe in Fondren ghosts since usually when you're in Fondren late at night you're so strung out because of lack of sleep and stress that of course your mind is going to play tricks on you under all that duress," Sullivan said.
In any case, with Fondren under reconstruction until next July, students must look elsewhere for their autumn school spooks. And no one can deny the presence of the famed tunnels underneath campus.
Tunnels
One of SMU students' favorite sources of gossip, the tunnels first appeared in the student newspaper in October 1924. An article entitled "Steam Heat By End of Week Promised," reports on the new concrete tunnels as they are being installed.
The tunnels emerged again in 1929 in an article entitled "Tunnel System On Campus Enables 'Six Foot Man' To Walk 1600 Feet Underground." Now, they are things of legend. And although a Daily Campus article from April 2012 entitled "A tour through the university's tunnels" noted that all entrances of the tunnels are now secured with padlocks and keycards, the truly dedicated can still sneak their way in.
In the spring of 2013, a freshman visited the tunnels one night with friends. The student, now a senior, said she accessed the tunnels through Perkins and went all the way to Meadows before getting spooked and exiting the way she entered.
"We didn't stay in the tunnels for very long because it was dark and damp," the marketing major from California said. "Plus, the tunnels were very narrow and at some points we even had to crawl."
Although the tunnels reminded this particular student of catacombs, Gosnell again confirms the less-scary truth that "the tunnels under school are simply steam heating/venting tunnels in mostly the older part (or north part) of campus."
Central plant manager Cogan Semler can provide students with new nightmares, though.
"Foot-long ants have been reported down there," Semler said. "Not proven by science, but I've got some pretty legitimate sources that there are ants in the tunnels. Twelve inches. Ants. That Big. Down in the tunnels."
He further explained that Charles Glenn, a former HVAC technician and plant operator, was conducting a routine utilities inspection years ago in the tunnels when he came across a skeleton. Glenn focused his flashlight on the skeleton only to notice "the walls around him were moving." As ants covered the wall, he snatched the skull as evidence before making his escape.
"His conclusion that the skull is from a giant ant is up to you to decide," Semler later wrote in an email.
Giant ants or not, the marketing major carries no regrets about her trip down to SMU's most iconic creepy place.
"The adrenaline rush was definitely worth the risk of getting killed," she joked. "Or worse, expelled."
Allen has worked at SMU for the past 10 years and has never heard of a student being expelled for visiting either the abandoned room in Dallas Hall nor the tunnels beneath school.
Unfortunately, the newest rumor on the Boulevard is that SMU officials are attaining a list of every signature in the abandoned room in order to dole out current student repercussions as well as installing cameras in the tunnels to catch any future explorers.
Okay, not really, but wouldn't that be SMU's scariest rumor yet?