A mechanical engineering major won an all expenses paid trip Los Angeles Wednesday night. His company, Fiddler, offers affordable wind energy to the average consumer.
SMU senior Jonah Kirby was selected as the winner of RECESS's pitch contest. Kirby now has the opportunity to pitch his idea for the chance to win more prizes at the RECESS Pitch Finals in Los Angeles this January. An SMU team won the contest last year.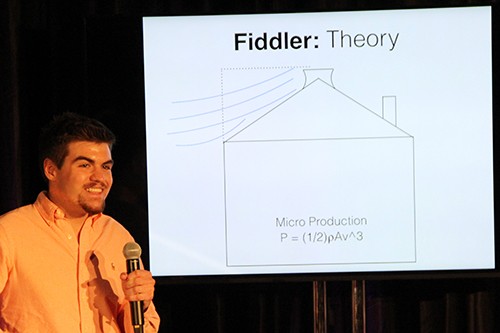 RECESS Music and Ideas Festival visited campus Wednesday. RECESS is sponsored in part by Southwest Airlines, which provides roundtrip flights to the pitch winners. The all-day event began in the morning with a networking event on Dallas Hall Lawn, continued with lectures and discussions with successful entrepreneurs, and finished with a pitch contest for student entrepreneurs.
Kirby began the day as an alternate for the pitch contest. He was essentially on a waiting list to participate in the event. Then, one of the teams dropped out Wednesday morning. He received an email regarding the open spot at 10:50 a.m. on the day of the contest.
"This result was just unexpected," Kirby said. "When they announced that I won, all I could think was 'Are you kidding? That was so fast'."
Kirby competed against four other teams: CSV Link, Wear Sawyer, Pangea and Crowd Surfers.
CSV Link was presented by Dylan Thompson. He offered an app that would connect businesses and consumers to data generated by sensors in modern machines.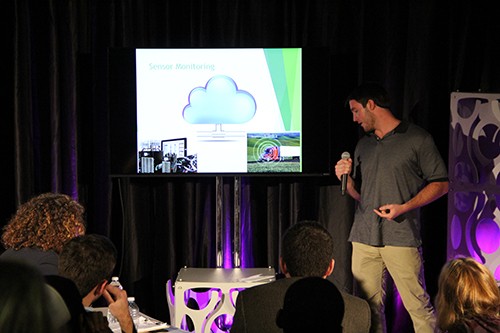 Wear Sawyer's presentation featured Tyler Roberts, who pitched a new brand of sunglasses for the more preppy student.
Pangea, co-founded by 2013 SMU graduate Austin McBride, provides consumers with an aggregated feed that includes posts from social media accounts, text messages and emails.
Crowd Surfers, presented by Chris Alfano, is an app that shows users a live feed of various locations in their area. Customers can use the app to determine which bars, restaurants and gyms are more packed than others.
SMU professor Simon Mak was one of the six judges for the pitch competition. He teaches an entrepreneurship class in the Cox School of Business.
"All of the ideas presented tonight were great," Mak said. "But the winner had the greatest global impact."
Mak sat next to other notable judges including Total Frat Move CEO Madison Wickham and CNET reporter Ry Crist.
RECESS is itself a college startup. Co-founders Deuce Thevenow and Jack Shannon began brainstorming the idea for RECESS during their time as undergrad students. The company originally began as a music festival and has since then expanded into other areas.
"We wanted to be a platform to help other startups," Thevenow said.
Mark Cuban is one of RECESS's most prominent investors. But the co-founders didn't go on "Shark Tank" to get him as a partner.
"We just sent a blind email to Mark Cuban and everything followed from there," Thevenow said.
Another highlight of the night was the Southwest Airlines roundtrip giveaway. Not only did the pitch contest winner receive a free flight to Los Angeles, a lucky student in the crowd did as well.
Tristan Sandor was that lucky student, but he didn't attend just for the chance of a free roundtrip.
"I'm looking to pitch a company myself," Sandor said. "Seeing the teams pitch today gives me some inspiration and ideas of how to do it."
The key piece of advice Mak had to offer to entrepreneurs was in preparedness.
"You should always be prepared to pitch," he said. "If you're going to do a pitch, practice it."