By: Madeleine Kalb
There is no way to possibly rank our favorite Dallas pizza restaurants. Each restaurant provides a uniquely curated dining experience and so many different mouth-watering tastes. When I composed this list of SMU's favorite pizza restaurants, I surveyed the SMU student body and went out to investigate (I ate a lot of pizza) the five most talked about pizza restaurants.
The best way to pick your pizza restaurant would be to ask your appetite what it's craving today. A greasy New York style pizza? An authentic and clean Neapolitan pizza? Craft?
I would also like to include that all five of the restaurants that were investigated provided an unrivaled dining experience — wonderful staffs, delicious pizza, and totally unique atmospheres and styles. There is no way to compare these five restaurants as each pizza has a different taste and each restaurant provides its own perspective on pizza.
Deep Ellum and Lakewood: Cane Rosso, 7328 Gaston Ave. and 2612 Commerce St. Dallas, TX. Delivery via Caviar.
Cane Rosso is a specialty sit-down pizza restaurant that is true to the craft of the Italian Neapolitan-style pizza. Their restaurants cook the pizza in a true Neapolitan wood-burning oven imported from Italy; there are just a few dozen of these ovens in the United States.
"Cane Rosso is the best pizza place in Dallas for sure, the quality never waivers," Arturo Hernandez, a customer of the Commerce Street location, said. "Good ingredients, good beer, good atmosphere and a good looking staff!"
The pizza is cooked for less than 10 minutes in front of diners who are seated at the pizza bar. When you bite into the thin-crust Cane Rosso pizza, it's a gooey and flavorful delight. The texture of the pizza is doughy and the ingredients are inventive and fresh.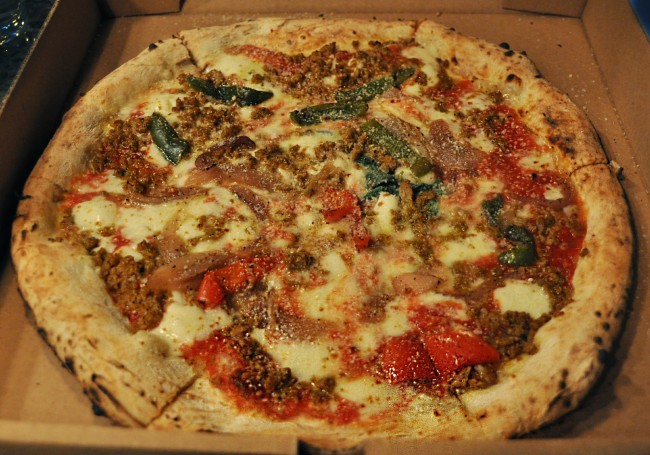 I ordered the "Zoli" which is a 14-inch, $15 pizza that features local sausage, hot soppressata, hand-crushed san marzanos, house-made mozzarella and basil.
You cannot buy the pizza by the slice, but after one bite, one slice would not do!
Make sure to check the hours of operation when you plan your dining experience at Cane Rosso as both locations hours are particular.
East Dallas: ZaLat, 2519 N Fitzhugh Ave, Dallas, TX 75204. (469) 573-2007. Delivery available.
This late night favorite stays open till almost sunrise at 4 a.m. to cater to all the Dallas night owls and party animals. The patio of this Fitzhugh pizza restaurant has a ping-pong table and arcade games for the late night customer who is waiting for their take-out.
"Our hours are helpful to our business since we get a lot of business after 2am. We are always busy," Jane, an employee of ZaLat, said. "Our patio gets very full when the bars close."
Chris Green, a Dallas photographer and ZaLat customer, said that ZaLat was his favorite Sunday morning treat and described the pizza as real, authentic Brooklyn-style pizza.
"ZaLat is where it's at, and even great for a hot date if you're on a budget!" Green said.
I ordered the basic pepperoni pizza, 14-inch for just $12.00. It was authentic pizza, and I could imagine it being even tastier at 2am. This pizza place is for the straight up pizza eater who doesn't want a fancy "craft" experience. Good pick Dallas!
ZaLat doesn't sell by slice. Customers can decide between a 14-inch or an 18-inch pie.
Deep Ellum: Serious Pizza, 2807 Elm St, Dallas, TX 75226. (214) 761-9999. No delivery.
Known for their supersize slices and cheap beer selection, Serious Pizza is one of the coolest places to eat in Deep Ellum. Wash your massive 30-inch pizza down with a bottle of Old English before you hit up a club show in the neighborhood. You can expect to hear the eccentric tattooed staff singing along with Rick Astley, Starhip and Kim Carnes on their throwback music playlist.
I ordered a huge supreme slice for $3.25 and washed it down with a Lonestar beer. The last time I visited Serious Pizza, it was difficult to find a seat in the packed restaurant. The restaurant has now expanded into the retail space next door, providing ample booths and seating for its customers.
"It's the embodiment of Deep Ellum," Chad Higgs, a customer and mechanic, said. "Affordable and quality beer and pizza, great music, fun staff, what more could you want."
Unless you have a serious appetite, one slice is probably enough! The drool-worthy slices are so large it's probably equivalent to two or three slices at another restaurant.
You can order by the slice or buy a whole pie.
You can expect to have anything but a serious time when you visit Serious Pizza.
University Park: Piggie Pies Pizza & Pasta, 5315 Greenville Ave 120 B, Dallas, TX 75206. (214) 696-9200. Delivery available.
There are two types of customers to this pizza restaurant. Some customers visit Piggie Pies for their delicious pasta while most come for the pizza.
One happy customer dined in on a fresh, green salad and a bowl of pasta. Other customers rushed in and out, picking up their take-out pizza.
I ordered the Piggie Pies $6 lunch special that consists of two slices with two toppings and a drink. The crust was doughy and delicious. The restaurant itself was quiet and there was little space to dine-in making it seem like customers are urged to take-out.
They open at 11 a.m. everyday and close at midnight, except on Friday and Saturday when they close at 1 a.m. They also deliver for free!
Customers can buy by the slice or purchase a whole pie.
According to one customer, Piggie Pies is known for the "Pig Pen Pizza" which is composed of pepperoni, ham, sausage, onion, mushroom, green peppers, black olives and jalapenos. The Piggie Pies menu is stocked with a wide array of custom toppings, all fresh.
Oak Cliff: Eno's Pizza Tavern, 407 N Bishop Ave, Dallas, TX 75208, (214) 943-9200. Delivery available.
Oak Cliff has a homey and nostalgic small town feel with its brick sidewalks and historic business fronts. Eno's Pizza is a carefully curated dining experience featuring antlered chandeliers, wooden antique furniture and an ever-changing supply of craft beer from all over the country. Oh and I'm not kidding about the ever-changing beer selection. While I was seated at the bar, the craft beer selection was updated within an hour!
"All of our ingredients are from local farms pretty much delivered everyday," Brent, an Eno's employee, said. "Our produce is grown without pesticides, farmed with ladybugs in hydro-chronic farms. Every now and then we might get a piece of produce with a ladybug still on it!"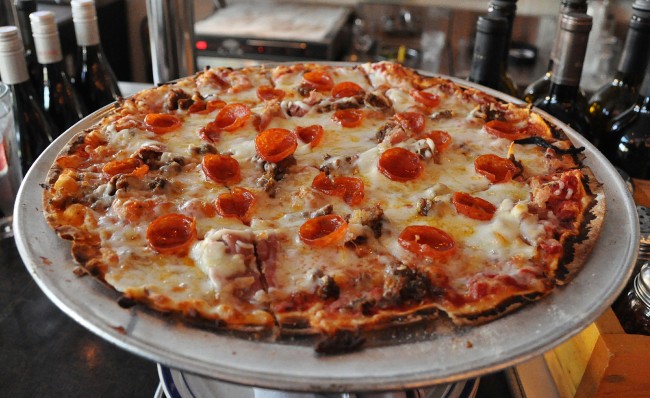 Brent also included that the fresh, locally farmed ingredients really come through in the taste of their pizza.
Eno's pizza is cooked in a stone fire oven. They are famous for their "Pig Smiley" pizza that is composed of local honey, Benton's ham, Eno's spicy sausage and Calabrese pepperoni. I ordered the 14-inch Pig Smiley for $16.
The honey is drizzled on the top of the pizza after it comes out of the oven and adds a very discrete sweetness that is very much welcomed.
According to Brent, the Pig Smiley is ordered 20-to-1 everyday.
Eno's does deliver pizza but customers cannot order by the slice.
The only downside to Eno's is that, like all of the Oak Cliff shops, it is closed on Monday. Eno's opens everyday at 11:30 a.m. and closes at 10 p.m. except for Fridays and Saturdays when they close at midnight.