Editor's note, April 3, 6:11 p.m.: This story has been updated throughout.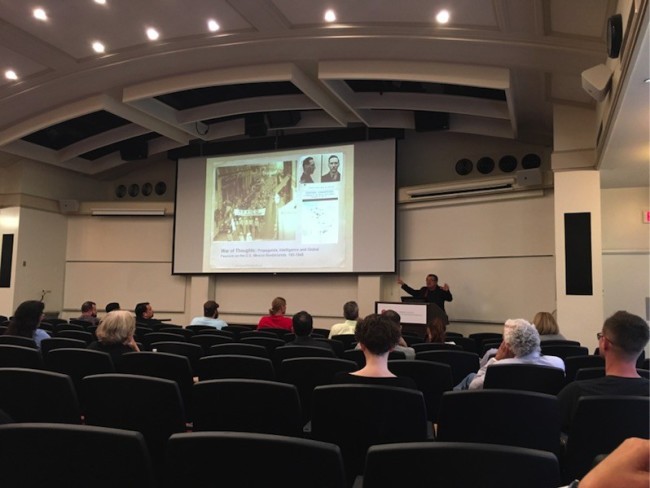 SMU Summerlee Fellow Dr. David Romo came to SMU Wednesday afternoon to discuss propaganda and drug trafficking on the U.S.-Mexico border during the 1930s and 1940s. About 30 students, faculty, and community members attended Dr. Romo's lecture in the McCord Auditorium.
Dr. Romo lectured about the impact of German, Japanese, British, American, and Mexican propaganda on the U.S.-Mexico border around World War II. He grew up on both sides of the U.S.-Mexico border, in El Paso and Ciudad Juarez. This unusual upbringing sparked his interest in this geographical area.
The lecture is part of SMU's Clements Center Monthly Talks.
Sherry Smith, co-director of the Clements Center for Southwest Studies, introduced Dr. Romo as a "citizen of the world" because he has studied and traveled across the globe.
Dr. Monica Rankin, a professor at UT Dallas, said that she researches similar issues as Dr. Romo, but appreciates his focus on the borderland and the influence of drug trafficking.
"This is a new and important contribution," said Rankin.
Dr. Romo studied at The University of Texas at El Paso, Centro di'Attivita Musicale in Florence, The Hebrew University of Jerusalem, and Stanford University.
Dr. Romo is a Summerlee Fellow for the Study of Texas History for the current academic year. The fellowship helps produce successful books, providing time and resources, and promotes the expansion of the fellow's research.
The fellowship is open to anyone studying Texas, the American Southwest, or the U.S.-Mexico borderlands, and is funded by the Summerlee Foundation, which supports work on Texas history.
Through his research at SMU, he hopes to complete his book, "Axis & Allied Propaganda and Intelligence Along the US-Mexico Border: A Global Microhistory of El Paso and Ciudad Juarez, 1933-1945."