Several Students, faculty, administrators and community leaders assembled on the first floor of Harold C. Simmons Hall for an open forum to discuss the issues, trials and tribulations surrounding the education and experiences of the African American community.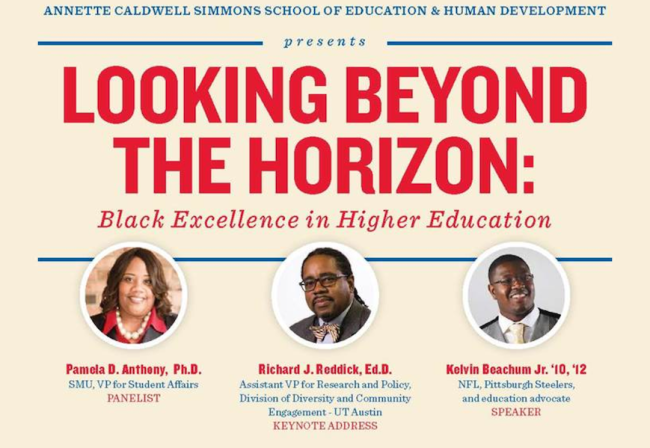 The Annette Caldwell Simmons School of Education and Human Development hosted the Looking Beyond the Horizon: Black Excellence in Higher Education conference on Friday, April 1, in order to discuss and examine the conditions for creating academic success for African Americans in colleges and universities. The school aimed to advance people's knowledge and thinking, giving them the opportunity to learn from great minds from both SMU and elsewhere.
Dr. Richard Reddick, the assistant vice president of research and policy for the division of diversity and human engagement at the University of Texas at Austin, was the keynote speaker for the event. He addressed that even though the graduation rate of African American students has increased between 2003 and 2013, the gap between blacks and whites graduating has increased.
"I would say it's time for PWIs, to quote Snoop Dog and Lil John, step the game up," Reddick said.
He emphasized the fact that some Predominantly White Universities (PWIs) have aimed to recruit African American students, faculty and staff, but questioned if and how the climate and experience would go along with that.
https://twitter.com/thatssocharlo/status/715914297591730176
Proud to be a part of this discussion: #BlackExcellence in Higher Education. We must recast the narrative by sharing the success stories

— Beachum.eth (@KelvinBeachumJr) April 1, 2016
Reddick touched on some of the injustices that African Americans have experienced in recent years, mainly focusing on the activism of college students against prejudice, such as the SMU #BlackLivesMatter movement.
Bro @FlowersDarien proud of you holding up the light. #BlackatSMU https://t.co/kZ1KhFBlzU

— Dr. Richard Reddick (@DrRichReddick) April 1, 2016
The first panel focused less on higher education and geared more toward the early years of education and the struggles that kids may face. The panel discussed that community is a key player in education and that it is the responsibility of the community to aid children and students in reaching their full potentials.
"I never like to concede that kids are lost because I feel very strongly that as their elders and their leaders, their mentors, their parents, their educators that we have the responsibility for guiding them," Judge Tonya Parker said.
The second panel acknowledged that there is still progress to be made, but noted that the environment has changed.
"Transformation has happened, and so sometimes students get here and think 'it's just horrible', but it's about perspective, and so how do we teach our students how to be successful? It's our job and our responsibility as faculty and staff and administrators, and even their fellow colleagues," Dr. Pamela Anthony, the SMU student affairs vice president, said.
SMU VP Pamela Anthony: Students are powerful resources. They need partnerships with peers. #black excellence @smusimmons @smu

— Nancy George (@SMUngeorge) April 1, 2016
"The faculty and staff at SMU, particularly in the Simmons school, believe that we need to be committed to taking action and seeing results in making a difference," said Dr. David Chard, the dean of the Simmons School of Education.