A sobering silence filled McFarlin Auditorium as SMU Police Officer Mark McCullers' headshot faded onto the screen behind the stage and Rev. Dr. Stephen Rankin stood at the podium. The uncomfortable yet fitting silence continued for several seconds as the honor officers slowly marched to salute the portrait of Officer McCullers situated below the stage. The crowd watched in unity, remembering and celebrating a man whose life was taken just weeks before.
This salute on Thursday marked the beginning of Officer McCullers' memorial service, bringing hundreds of family members, friends, students and uniformed officers to the Hilltop. The service was split into two parts with the first half filled with prayers and speeches from many who had shared in Officer McCullers' life. The second half took place outside the auditorium with traditional military honors and a 21-gun salute.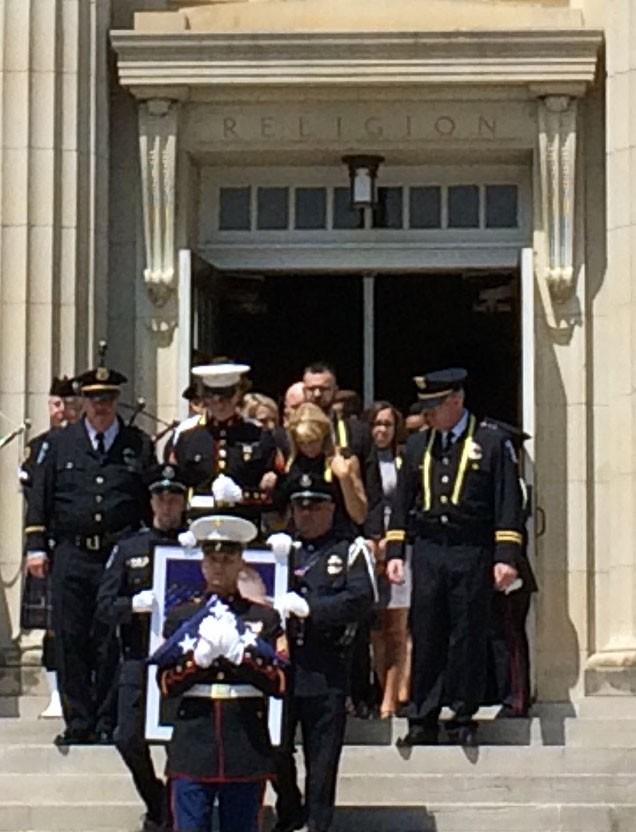 Richard Shafer, SMU Police Chief, spoke to Officer McCullers' career successes, including his nine years in the Marines and time serving the Bush Library. Shafer spoke of his conversations with McCullers when he expressed his goal to become an SMU police officer.
Shafer stated McCullers entered the EastField Police Academy to then be hired by SMU in February 2015. McCullers' days then consisted of responding to whatever situation appeared to keep students safe. McCullers received an honor in November for expertly handling a difficult situation in one of the Residential Commons.
Shafer also drew attention to Officer McCullers' boots at the foot of the stage, which were cleanly polished. Shafer joked the SMU police department knew when Officer McCullers was on duty due to the shine from his always polished boots.
Tiffany McCullers, McCullers' widow, then spoke to Officer McCullers' motivations and intense love for his six children and delivered a powerful remark challenging those who loved Mark to then go and "make their mark" on the world.
The rest of the memorial service lasted over an hour with tributes from SMU President R. Gerald Turner as well as Rev. Dr. Stephen Rankin.
After the service in McFarlin Auditorium, attendees processed outside as officers folded the American flag and presented it to McCullers' wife as well as shooting three sets of seven rifle shots. Nearly a hundred officers and first responders lined McFarlin Blvd. to show respect for their fallen colleague.
Throughout the day of the funeral, a SMU police vehicle was stationed at the top of the boulevard lined with notes of support from the community. Earlier this week, students also lined the boulevard with blue ribbons in memory of Officer McCullers.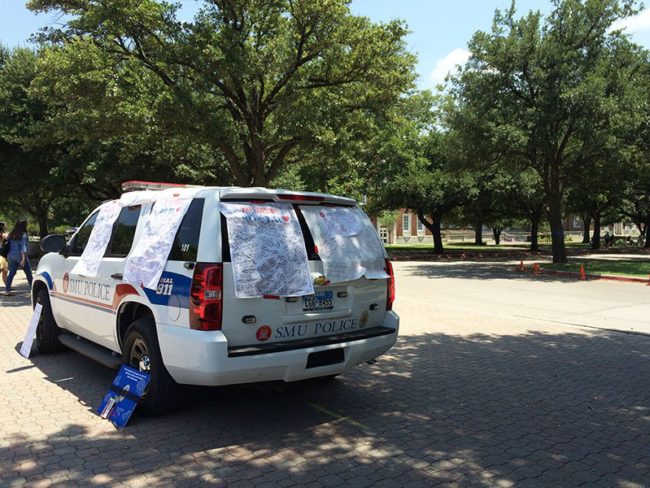 Donations are currently being accepted to the Officer Mark McCullers Memorial Account at any Wells Fargo bank.