By Olivia Nguyen and Jacquelyn Elias
UPDATE: 4:42 p.m. on Oct. 12:
The Dallas County Medical Examiner confirmed Jaime Shim's death as suicide by drowning.
UPDATE 5:14 p.m. on Sept. 29:
SMU identified 21-year-old Jaein "Jaime" Shim as the student found dead in SMU Barr Pool earlier this morning, according to the Student Affairs office.
Shim was a senior, President's Scholar and a member of the SMU Honors Program. He was from Seoul, Republic of Korea, studying English and Political Science through Dedman College.
The cause of death is still unconfirmed at this time. Dallas County Medical Examiner stated no official ruling would be announced until the autopsy is complete tomorrow.
UPDATE 3:14 p.m. on Sept. 29:
SMU Men's Swim and Diving Team had practice at 7:45 a.m. today at Barr Pool, according to a tweet by the SMU Men's Swimming and Diving account.
Mustangs getting after it this morning ahead of tomorrow's relay event at UNT #PonyUppic.twitter.com/vApkZ77GRr

— SMU Men's SwimDive (@SMUSwimmingM) September 29, 2016
The swimming and diving pools are separate, and the body found in the diving pool was located and recovered several hours after morning practice. 
UPDATE 12:47 p.m. on Sept. 29:
SMU released a statement on Twitter at 12:27 p.m. stating the body recovered from Barr Pool around 9 a.m. was an SMU student.
According to the press release, the student was found dead in the pool.
"Preliminary indications are that no foul play was involved, but an investigation is being conducted by SMU Police with assistance from the Dallas County Medical Examiner."
ORIGINAL 11:29 a.m. on Sept. 29:
Shortly after 9 a.m. sirens could be heard blaring down Hillcrest Avenue and emergency vehicles pulled into the SMU Barr swimming and diving pool, responding to a report of a body found in the diving pool. The man who made the report is unidentified. 
SMU Police Department and officials with Southwestern Medical Center came to the site to examine the body.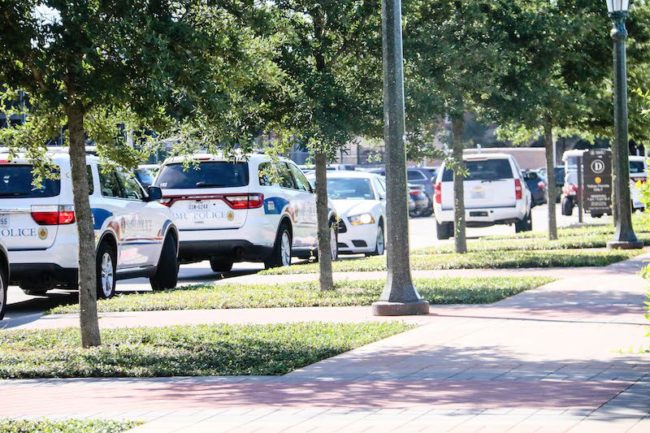 Senior Alexis Schrage watched the incident unfold and said the male that allegedly found the body talked to SMU PD.
"I overheard SMU PD asking if the person he found was breathing and he said no," Schrage said.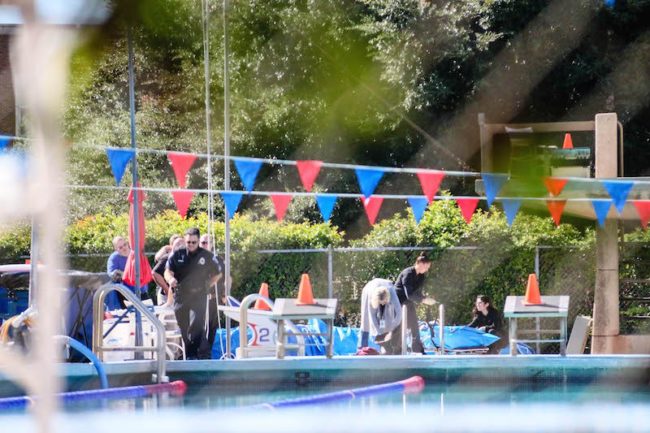 SMU released an informal statement stating that "SMU police are investigating. No foul play is suspected. More information will be shared when available."
https://twitter.com/OliviaQNguyen/status/781518570106728449
Nancy George, senior public information officer, said she could not give any additional information yet.
Kent Best, executive director of SMU news and communications, said more information is expected to be release in the afternoon.
@Jkfrancis_ @SMUTV SMU police are investigating. No foul play is suspected. More information will be shared when available.

— SMU (@SMU) September 29, 2016
Barr Pool released a statement saying Rec swim is canceled until further notice.
Watch the video below for more information on the incident.
BREAKING: Student's Body Found in SMU Pool from SMU-TV on Vimeo.
For information on suicide prevention and resources at SMU contact:
CAPS (Counseling & Psychiatric Services) 214-768-2211, SMU Police 214-768-3333 and Suicide and Crisis Center of Dallas (214)-828-1000. Information is also available on American Foundation for Suicide Prevention and Suicide Prevention Advocacy Network.