SMU's Program Council brings a guest performer to campus each year for a concert. This year, Program Council brought Cornell Iral Haynes, Jr., better known as Nelly, to perform at the university on Oct. 20. Moody Coliseum was filled with students and visitors alike who anxiously awaited the artist's on-stage arrival.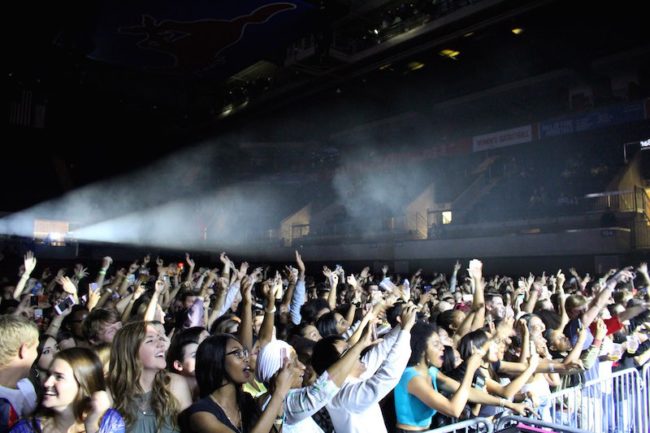 The coliseum's doors opened at 7:30 p.m., with Blue Apollo taking the stage not too long after. Around 9 p.m., the lights suddenly turned off and Nelly took the stage. His set list included hits such as "Hot in Herre," "Ride Wit Me," "Just a Dream" and "Grillz."
Nelly invited students on stage in addition to performing his hits. Three female students performed with him and the crowd went wild. SMU dance major Jennifer Nelson, a Nelly fan herself, was one of the selected few to perform with the artist.
"It all happened so fast," Nelson said. "I actually have trouble remembering it because it was so overwhelming."
She was happy to have been the first one to perform with Nelly though, as each student was asked to perform different tasks.
"I'm really lucky he picked me first out of the girls because I definitely can't sing," Nelson said.
She was asked to strut the stage like she owned it, which ensued to a dance with Nelly.
"Fortunately, I'm a dance major so I feel comfortable being onstage," Nelson said. "It felt natural dancing with him."
Nelson was even commended by Nelly himself for her performance.
"He told me I did a great job and he was surprised by how much I danced," Nelson said.
Nelson thoroughly enjoyed the concert and even earned fame because of her performance.
"My friend actually posted a video of me dancing with Nelly on Facebook and it got over 9,500 views in four days," Nelson said.
The concert received good reviews on social media as well. It was definitely one for the books.
It's clear the @SMUPC Concert with @Nelly_Mo and @BlueApolloMusic was a hit! @SMU @SMUStuAct @SMUsenate #JustADreamSMU pic.twitter.com/eUcemaC2UO

— Richmond Dewan (@RichmondDewan) October 21, 2016
.@Nelly_Mo I just want to say that you killed your concert at SMU tonight. Thank you 💯 #JustADreamSMU

— croc hunter Bai (@baikayyy) October 21, 2016
Fired up to relive my glory days at @SMUPC's Nelly show at SMU! #JustADreamSMU

— Stefan Scrafield (@StefanScrafield) October 9, 2016