With 5:11 left in the first half, SMU's Shake Milton drove the ball down the right side of the court. Milton dribbled to the free-throw line before floating a no-look pass to a mid-air Jarrey Foster for the dunk. The slam put the Mustangs up 44-12 on Stanford, one of the best defensive teams in the nation. The Cardinal, seemingly unable to stop SMU, would not come within 21 points of the lead for the rest of the game.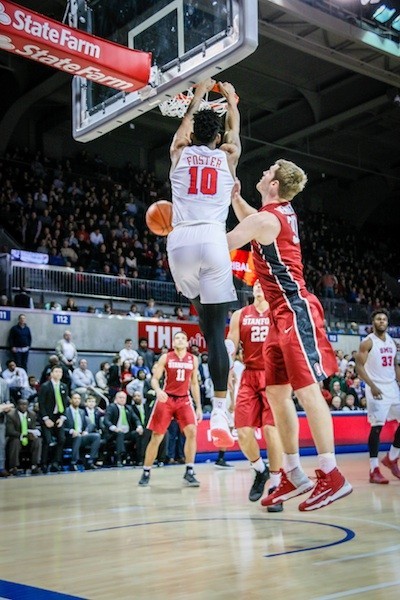 Stanford, known for winning games by shutting down opponents, was completely baffled by SMU for much of the first half. The Mustangs were finding open men at will with superior ball movement. Everyone contributed, allowing SMU to shoot 59 percent from the field in the first half to Stanford's 21 percent. That type of offensive synergy is what SMU head coach Tim Jankovich said he is looking for in his undersized yet potent attack.
"I like the direction that we're heading," Jankovich said in the postgame press conference. "I like our chemistry. I'm thrilled with the game."
Jankovich said a great week of practice after final exams really helped the team prepare for a Cardinal squad that has hung close with some of the better teams on its schedule. Stanford entered Monday night's game having already defeated Harvard and Seton Hall. Stanford's only three losses had come at the hands of KenPom top-25 teams.
"It's a good Stanford team," Jankovich said. "I watched them play at Kansas and they were right in the game inside of five minutes."
Stanford's inability to stop the red hot SMU was made worse by the Cardinal's stone cold shooting. Of the measly 19 points Stanford scored in the first half, only one was scored by a starting player. Forward Reid Travis, Stanford's leading scorer, not only did not score in the first half, but also did not attempt a shot from the field.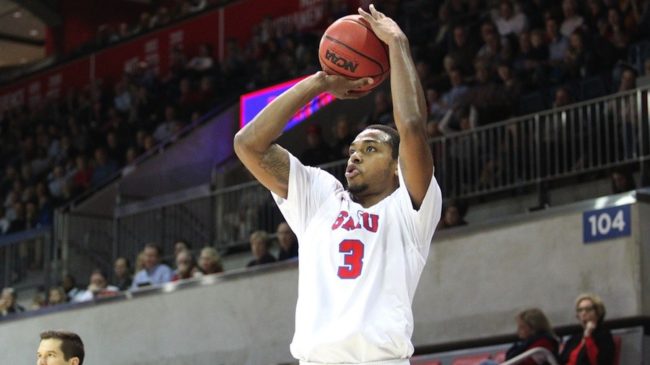 Meanwhile, on the other end of the floor, SMU's Sterling Brown was on fire, leading the team with 11 points. Brown would finish the night with a team-high 16 points on 67 percent (6-9) shooting from the field and 75 percent (3-4) shooting from deep.
Semi Ojeleye scored 13 points despite playing the fewest minutes of any starter. It was Ojeleye's 12th double-digit scoring performance of the season. Shake Milton had a quiet first half, but finished with 11 points and a career high nine assists.
"What we learned was, if we just do it as a team, we can go further than us being individuals," Milton said postgame.
Senior forward Ben Moore, SMU's tallest player following Harry Froling, who decided to transfer earlier this month, finished with 10 points and nine rebounds.
RELATED: Australian forward Harry Froling to transfer from SMU
Moore would have likely had a double-double if not for having his lip cut open in the second half. Jankovich said Moore required multiple stitches before he could return.
SMU slowed down offensively in the second half. The Mustangs suffered a five minute scoring drought in the middle of the half and ended up being outscored 30-24 in the second frame.
"They're a good defensive team," Jarrey Foster said postgame. "I would say it was more on us offensively. We weren't doing what we were doing in the first half."
Jankovich agreed that SMU's offensive execution lacked in some areas during the second half.
"I did think that we played poorly offensively for a good stretch," Jankovich said. "I think the toughest thing, I mean this sincerely, is to play really well the second half when you have a really really big first half lead."
Jankovich said SMU's 72-49 win over Stanford is a sign that the team is figuring out how to play together. He also said there is still work to be done.
"What I'm picturing and what I feel we're capable of…we've got a lot of growth potential left," Jankovich said. "I am very excited about that."
SMU's last opportunity for growth before conference play begins comes Tuesday, just 24 hours after the Mustangs' rout of Stanford. The Mustangs will face Albany, a team in rebuild mode after reaching the NCAA Tournament as recently as 2015.
"We're playing back-to-back," Jankovich said. "We did that kind of for a toughness challenge honestly, because the conference tournament is important and the conference tournament is hard. You don't get days to prepare. I hope they sleep well."