*Editor's Note: 3:40 p.m. March 7 – This story has been edited throughout.
The George W. Bush Presidential Library and Museum is acknowledging local African American artists in a special art exhibit titled Art Past and Present: From a Black Artist's Perspective. The exhibit will run through the end of February.
The Museum hosted a gallery talk with Dallas artist James E. Kemp on Feb.12. Kemp is one of many featured artists in the exhibit. He specializes in landscape artwork.
"I think I've painted more skylines than anyone. I like to incorporate the state bird, the state flag and the state flower in a lot of my work," Kemp said at the talk. "I like to paint where I came from."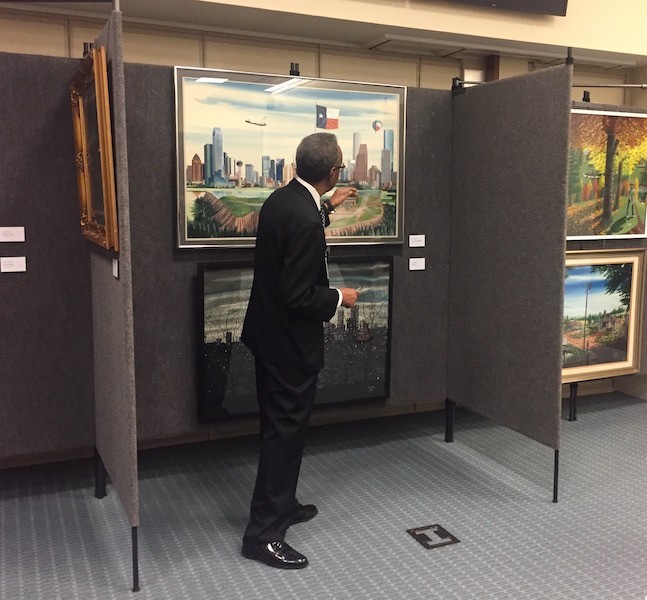 The intent of the exhibit and gallery talk is to highlight the work and accomplishments of African Americans in the Dallas community during February's Black History Month. Many pieces in the gallery are by young artists from Dallas' Booker T. Washington High School.
Fifteen people gathered around Kemp as he explained how his artistic inspiration came from his father, a fellow painter. The artist held back tears as he talked about his father.
"My dad painted most of the murals in the churches in Tyler. One day he found me trying to finish one of his paintings…and he let me," he said. "He gave me half the proceeds that he got from that mural."
Exhibit visitor and SMU student Gianna Sciortino said she felt very moved by Kemp's and the other artists' work.
"I was so intrigued by all of the artwork I saw and by James Kemp's story of how he got to where he is today," Sciortino said. "I can tell how important his work is to him. It was all very impressive."
Kemp has taught art classes at multiple universities in Texas. Through Dallas'El Centro College he became involved in a program that teaches art to inmates at local jails in order to help them rehabilitate.
During the Q&A portion of the gallery talk, an audience member asked Kemp about the young and aspiring artists in the Dallas community.
"Oh I'm afraid of up-and-coming artists, especially the ones whose artwork are on these walls because they are just so good," Kemp joked.