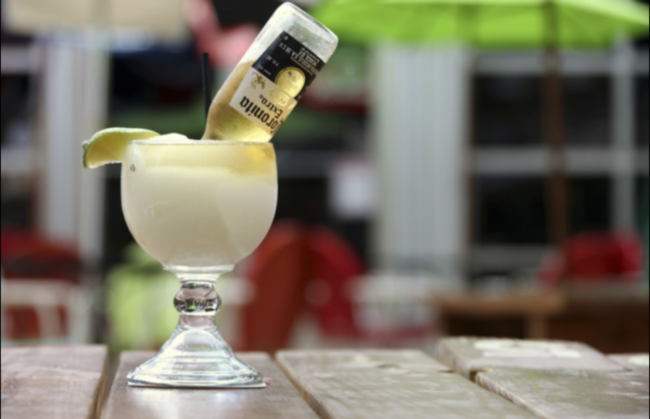 Even though it doesn't fall on Taco Tuesday, National Margarita Day, held annually on Feb. 22, gives way for a good time with friends (and family, if you are that brave). Wondering where to grab the best drinks and dips? Look no further, as The Daily Campus has found the seven best places in the DFW area to find the perfect pick-me-ups to get you through Hump Day.
Meso Maya
Located right between Uptown and Downtown, Meso Maya gets a perfect score in all categories: atmosphere, food and drinks. While it's a bit pricier than the typical Mexican meal, the top-notch tequila tastes even better when paired with beautifully-cooked carne asada, one of Meso Maya's best-selling dishes.
Drink: Avocado Margarita
Appetizer: Queso Fundido
Location: Uptown
Mi Cocina
The perfect ambiance for a night out with friends or for a first date, Mi Cocina delivers on both ambiance and taste. Their most popular beverage, the Mambo Taxi, remains a favorite for SMU students, while their Rico Salad and Sunset Enchiladas steal the show for lunch or dinner
Drink: Mambo Taxi
Appetizer: Ceviche de Camarones
Location: Inwood Village
Rusty Taco
By far the cheapest place you can find Mexican food close to SMU, but don't let the low prices fool you. Rusty Taco provides quality (and by that, I mean strong), not to mention that their chips and queso come in a generous portion, perfect to accompany a taco or two.
Drink: Margarita (made with "cheap tequila and lime juice")
Appetizer: Chips and Queso
Location: Greenville Avenue
Chuy's Tex-Mex
It's hard to not get excited about Happy Hour, especially when "Chuy's" is in the same sentence. The dive, located on McKinney, offers guests unbeatable prices from 4:00 p.m. until 7:00 p.m. Monday through Friday. Seriously, though, their margaritas range from $4.75 to $8.50 depending on size and their beers are only $3.00. But the best part? FREE Fully-Loaded Nachos!
Drink: Chuy's Famous Ritas (Rocks, Frozen, Strawberry, Swirl & Dot)
Appetizer: Queso Compuesto
Location: McKinney Avenue
Mesero
Complete with a beautifully lighted patio, Mesero delivers on not only on food quality, but also the wide variety of options offered to patrons. Their best-selling drink, the "Pepino", a cucumber-inspired margarita, pairs perfectly with their "El Miguelito," a spicy enchilada topped with chili con carne. Mesero even has a private room upstairs with a separate patio to accompany larger parties for special events.
Drink: Pepino
Appetizer: Quesadilla al Gusto
Location: Henderson Avenue
Torchy's Tacos
Among SMU students, Torchy's Tacos needs no talking up, but it's hard not to mention it, especially since it offers students a discount. Their best-selling tacos include their breakfast options such as The Wrangler and Ranch Hand, with options more suitable for lunch and dinner such as the Truck Yard (a personal favorite, especially when it's made "trashy" with queso). Oh, and their queso truly cannot be beat. Pro tip: Ask for extra chips, you're sure to run out. This place got even better when I realized they had margaritas, and the frozen lime was easily one of the best I've ever had.
Drink: Frozen Lime Margarita
Appetizer: Green Chile Queso and Chips
Location: Henderson Ave.
Bandito's Tex Mex Cantina
It's highly possible that Bandito's is one of the most frequented restaurants by SMU students, namely because of their flavorful strong drinks such as the Ethyl (a traditional frozen margarita topped with sweet red wine sangria) and their Beerrita, an upside down mini Corona inside of a traditional margarita. Watch out for the salsa, it'll get you every time.
Drink: Beerrita
Appetizer: Los Nachos Especiales
Location: Snyder Plaza
In preparation for my newest favorite holiday, call up your people, make a reservation at one of the places listed above and get ready to taste some tequila. But, don't forget to call your Ubers – no one should have to DD tonight.