Earlier this month SMU announced that a new Master's of Science Degree, Engineering Entrepreneurship, will be offered beginning fall 2017.
The new degree is unique in that it incorporates aspects from both the Lyle School of Engineering and the Cox School of Business. It will draw on ideas and concepts from both schools' courses.
The degree will allow engineering students to focus on the business and entrepreneurial side of engineering.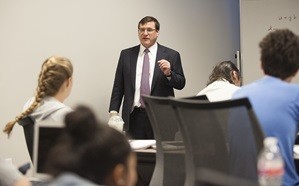 The program is expected to be highly selective; only 12-16 students that demonstrate excellence in both business and engineering will be admitted.
Students will explore commercial opportunities in new technology and conduct research in Lyle's labs. The goal of the program is to allow students to bring new forms of technology to the business world.
The Engineering Entrepreneurship Degree will bring two renowned schools together to create new opportunities that were not previously available to SMU students.
Students must have a Bachelor of Science in engineering to be accepted into the program. The new degree program will be directed by Associate Dean of Engineering Entrepreneurship, Duncan MacFarlane; Director of the Caruth Institute for Entrepreneurship in the Cox School of Business, Jerry White; and Associate Director of The Caruth Institute for Entrepreneurship, Simon Mak.
Students interested in applying for the masters program should contact program director Duncan MacFarlane at [email protected].