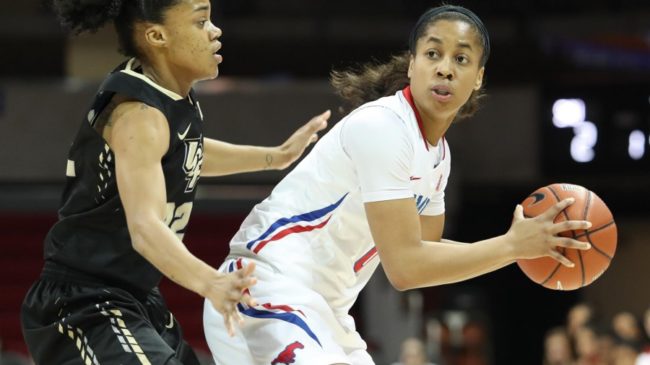 The SMU women's basketball team began wrapping up its regular season with their final regular season road game Saturday afternoon at UCF, in Orlando, Florida. The Mustangs beat the Knights at home 63-58 earlier this season (Feb. 4), but fell to the Knights 63-37 Saturday afternoon.
SMU outscored the Knights 19-13 in the third quarter, but overall the Knights dominated the scoreboard throughout the entirety of the game. Junior Alicia Froling led the Mustangs with 17 points. Froling wrapped up the third quarter by converting on an offensive rebound in the final seconds.
The Knights went on to score an additional 13 points in the fourth quarter, while the Mustangs added only five.
The pure statistics depict the Knight scoreboard dominance. UCF shot 52.0 percent from the field, while SMU shot 31.0 percent from the field. UCF shot an impressive 54.5 percent from the three-point-line. In contrast, the Mustangs only made one out of 13 three-point attempts.
This loss on the road made SMU fall to 6-9 in the AAC Conference, 15-13 overall.
SMU will host Houston on Monday night at Moody Coliseum to close their regular season. This final regular season game will begin and 7 p.m. and will include a special moment honoring the senior Mustangs.