"Caffeine," said Humans of New York (HONY) founder Brandon Stanton when asked how he starts his day. Stanton addressed SMU students, community members and Dallas-area high schoolers in the Turner Construction/Wells Fargo Student Forum March 7 before his Tate Lecture.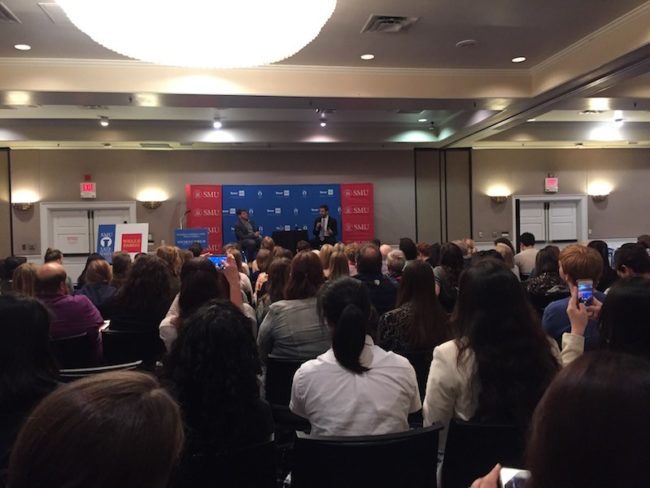 "I start off by reading for an hour," Stanton said regarding the second thing he does when he wakes up.
The Autobiography of Benjamin Franklin one of his favorite books. "I love biographies of presidents because it's history and biography," Stanton said. He also recommends The Power Broker or anything by Robert Caro.
His favored genre of books—biographies or "books about dictators"—nods to his love of history.
He studied history in college, became a stock broker and now photographer.
"I wanted to move to New York and make it as an artist," Stanton said about HONY's start. "It wasn't a flash of inspiration. I started loving photography, I did it every day, and it evolved," he said.
"It was inherently a selfish decision—eating cat food and sleeping on a mattress on the floor," Stanton said.
But he wouldn't have made it this far without discipline. "Discipline is the most ironic part of pursuing a passion," Stanton said; he took four portraits per day.
Humans of New York began as a photography project even before it had its acclaimed title, but it has evolved.
"I consider myself the middle man in something that has a social impact," Stanton said.
The randomness of the people he approaches and the randomness of what they say play a huge role. "It's the randomness that really makes it impactful," Stanton said.
Stanton now attributes the biographical aspect as his main effort in the project, even though it did not start out that way.
"I got better at stopping random people than I did at photography, and I got them comfortable," Stanton said.
It boils down to a certain "energy," he said.
However, stopping a person is only a portion of the work. Stanton must then make the person comfortable speaking with him.
"It has nothing to do with what you're saying—it's how you say it," Stanton said. It's an indescribable knack.
"I think the most interesting part is how it escalates," Stanton said. He begins with a calm tone, and after asking if he could take the person's picture and ask them a few questions, he tells them, "These questions will be hard, and you don't have to answer them if you don't want to."
"People never exercise that right, though. Even when I ask them 'tell me about the day your baby died,' 'tell me exactly how it felt when your father hit you,'" Stanton said.
Sometimes people aren't as open. "It never gets out of formality, and we skate along the surface, get along, and go our different ways," Stanton said. He does not publish those stories.
His successes—the stories that he publishes—are immense in quantity and impact.
In an end to his Pakistan series, Stanton published a photo of a "modern day Harriet Tubman" Syeda Ghulam Fatima, who fights slavery in Pakistan and has been shot twice and has broken bones in the past.
Although Stanton humbly described himself as a middle man, his post of Fatima gathered attention of many and raised $2.4 million in 72 hours. The amount is about five times that in Pakistani Rupees.
Stanton's project now reaches well far beyond his start with just a passion of photography.
Stanton is now working on a television series.